Microsoft Build 2023 was a two-day event that showcased the latest innovations in code and app development from Microsoft and its partners. The event featured keynote speeches, breakout sessions, workshops, and networking opportunities for developers of all levels and backgrounds.
Here are some of the highlights from Microsoft Build 2023. Spoiler, it all about AI, OpenAI, and Copilot… So yeah, all AI.
Advertisement - Continue reading below
Copilot in Edge
Microsoft's Copilot AI assistant is making a big debut in Microsoft Edge Browser and other products as you will find out shortly.
Copilot on Edge uses whatever website the user is currently visiting as context to complete tasks elsewhere — such as in Office documents, Outlook emails, and other places with Microsoft 365 Copilot reach.
Microsoft Entra
This new customer identity and access management platform from Microsoft enables developers to create personalized and secure app experiences for any external identity.
Microsoft Entra External ID, now in preview, offers a flexible, unified identity platform, adaptive access policies, and built-in identity governance.
Microsoft 365 Copilot in Windows
Perhaps one of the most exciting announcements from the Build Conference was the incorporation of an AI Copilot into Windows. This new feature allows users to invoke plugins within Microsoft 365 apps using natural language commands.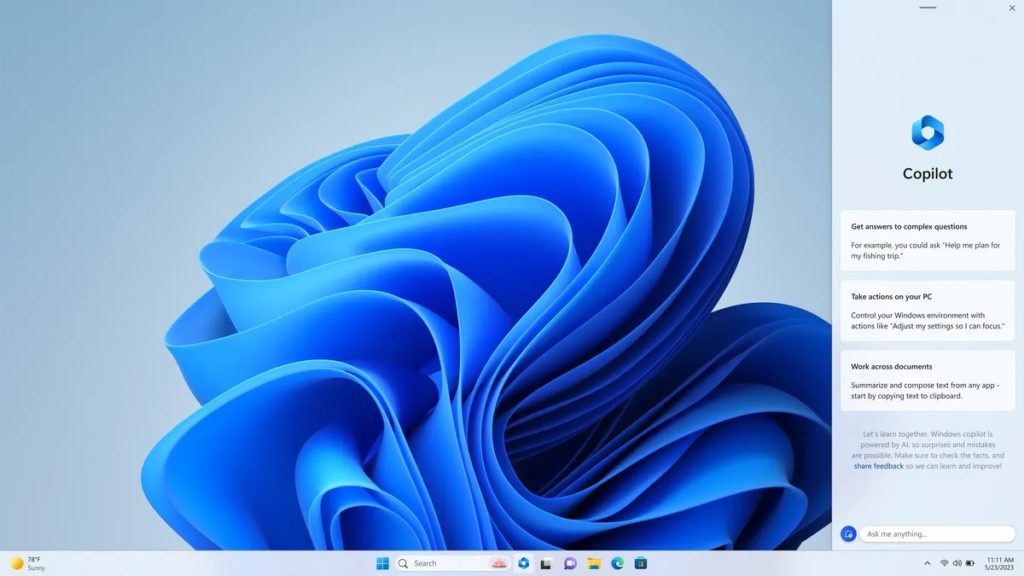 For example, users can say "create a poll" in Outlook or "summarize this document" in Word and Copilot will launch the relevant plugin. Copilot also leverages AI to suggest plugins based on the user's context and intent.
Advertisement - Continue reading below
Bing in ChatGPT
Bing will now be the default search engine in OpenAI's ChatGPT AI chatbot. Microsoft CEO Satya Nadella demonstrated how it works on stage at Microsoft Build today.
"This is just the start of what we plan to do with our partners in OpenAI to bring the best of Bing to the ChatGPT experience," says Nadella
OpenAI collaboration
Microsoft announced a new partnership with OpenAI, a research organization dedicated to creating artificial general intelligence. The partnership will focus on developing and deploying large-scale AI systems on Azure, such as GPT-4, a natural language processing model that can generate coherent texts on any topic.
Bing updates
Microsoft unveiled several new features for its search engine, Bing, that aim to make it more intelligent and intuitive. Some of these features include: Bing Chat Plugins, which provides support for third-party access to the chatbot.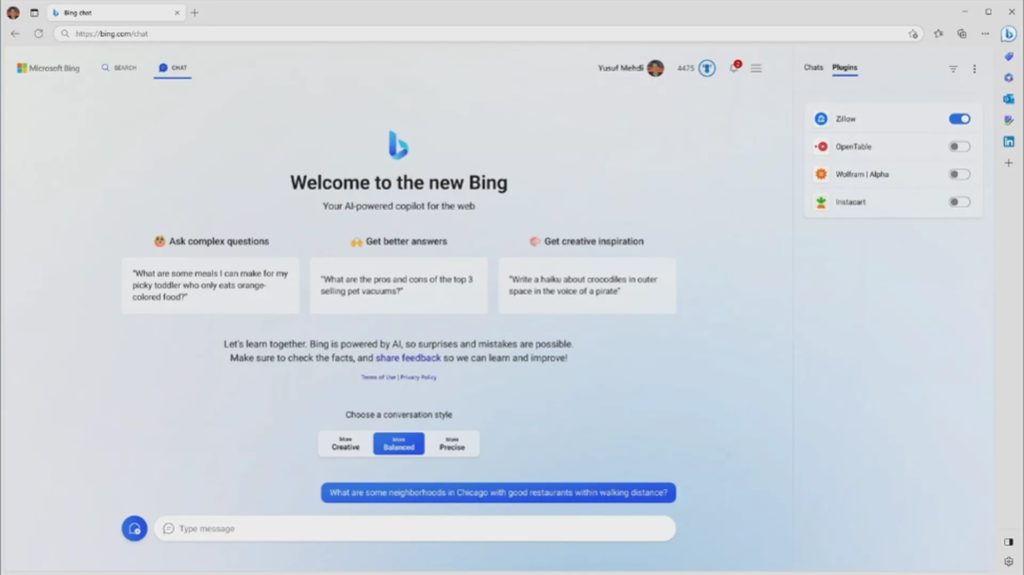 With this, developers and users can create plug-ins that work across multiple chatbots, thanks to Microsoft's close partnership with OpenAI.
ChatGPT updates
Microsoft also announced several improvements to its conversational AI framework, ChatGPT, which powers chatbots and voice assistants.
Some of these improvements include:
ChatGPT-4, a new version of the model that can handle longer and more complex conversations;
ChatGPT Skills, a set of pre-built capabilities that enable chatbots to perform tasks such as booking appointments or ordering food; and
ChatGPT Composer, a tool that helps developers design and customize chatbot personalities and responses.
These are just some of the announcements from Microsoft Build 2023 that demonstrate how Microsoft is empowering developers around the world with cutting-edge technologies and tools.
Advertisement - Continue reading below
To learn more about Microsoft Build 2023, visit https://news.microsoft.com/build-2023/.