In High School, I took Music as a unit for my entire course and while there were lows, I really did enjoy the rich history that classical music had. The Johan Sebastian Bach and Ludwig Van Beethovens of this world and their life works are something I did enjoy.
Of course, my teenage self was a soup of hormones and I couldn't help but pine over Jordin Sparks and Chris Brown but deep down, I wished there was a way to sample some of the very consequential works that I was studying in class.
Advertisement - Continue reading below
When I heard that Apple was working on a dedicated app for Classical Music, I was intrigued to say the least. Not because I was a diehard fan of classical music, but because it offered me an avenue to explore and reminisce, and discover the works that I had studied for years.
What is Apple Music Classical?
Well, Apple Music Classic is a dedicated app for classical music lovers. As the name suggests, it is made by Apple and is part of the Apple Music platform, Apple's music streaming platform that competes with the likes of Spotify, Amazon Music, Deezer and YouTube Music.
This app aims to provide a comprehensive streaming experience, offering an extensive catalog, optimized search capabilities, high-quality audio, curated playlists, and exclusive features. The app debuted on iOS and recently, was made available for Android and in this post, I dive into the app to give insights on various aspects of the app experience, the catalogue and much more.
What does this App have to Offer?
Well, Apple Music Classic has a lot going for it, but for the most part, it benefits from the wealth of experience that Apple has from running Apple Music and Classical borrows many aspects from Apple Music to offer a proper experience.
Below are just some of the strengths that I saw from using the app for a little over a week.
Extensive Classical Music Catalog
Apple Music Classical boasts an impressive catalog, featuring over 5 million tracks encompassing a wide range of recordings. From celebrated performances to hidden gems, the catalog caters to listeners of all levels of familiarity with classical music.
Advertisement - Continue reading below
The app provides curated selections through its Editor's Choice feature, making it a great starting point for beginners. Additionally, exclusive albums, including recordings by renowned orchestras, further enrich the classical music collection.
Optimized Search Functionality:
Searching for classical music can be a complex task due to the intricacies of compositions and multiple recordings. However, Apple Music Classical has revamped its search feature to deliver accurate and instant results.
Users can search using various combinations of keywords such as composer, work, opus number, conductor, artist, instrument, and even a work's nickname. The search results display comprehensive information, including all available recordings and an Editor's Choice performance.
Users can also explore a composer's entire body of work through the dedicated search feature. This is such a helpful tool for someone trying to explore compositions by given composers. Granted, this can be intimidating for noobs but Apple Music Classical does a really good job in simplifying these.
User-Friendly Interface:
Apple Music Classical features an interface designed specifically for classical music. It provides users with detailed information about the composition they are listening to at a glance.
Each work's name, orchestra, conductor, contributing artists, and year of recording are prominently displayed. Moreover, the app supports classical-specific categories like works, composers, and recordings, allowing users to curate a personalized library beyond albums and tracks.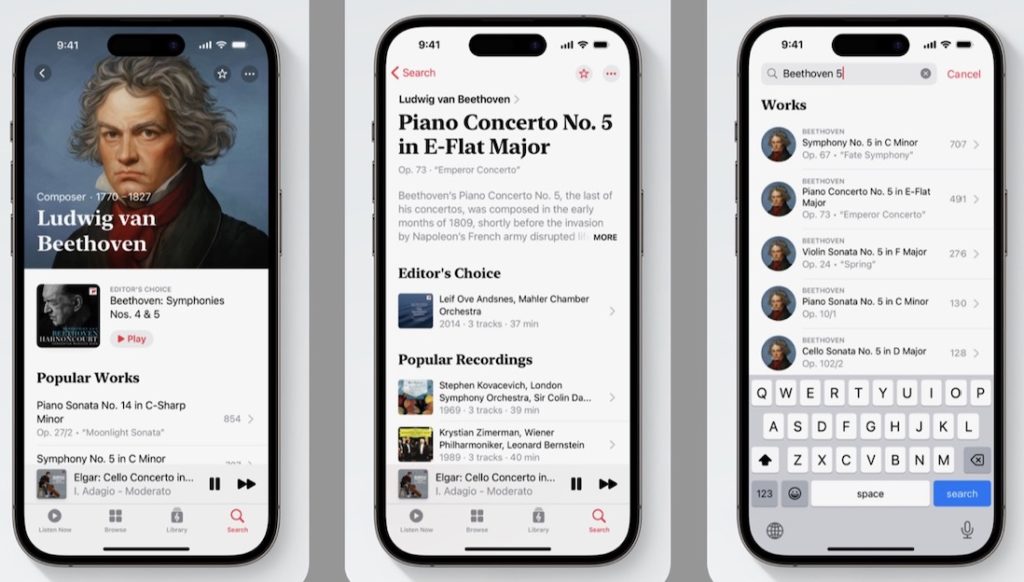 The look and feel of the app is almost exactly like that of Apple Music so users of the platform will feel right at home. This level of consistent design is much appreciated and will prove inviting for people familiar with Apple Music as a platform.
High-Quality Audio Experience:
One of the standout features of Apple Music Classical is its audio quality. It offers lossless audio of up to 24 bit/192 kHz, enabling listeners to appreciate the nuances of every performance.
Advertisement - Continue reading below
In Hi-Res Lossless mode, the sound quality is remarkably clear and detailed, creating an intimate connection with the music. In my testing, I wasn't able to take full advantage of the Lossless quality because I don't have equipment to do so, but neither do normal people who casually listen to music on their setups via TWS.
The app also incorporates Spatial Audio with Dolby Atmos, providing a 360-degree soundscape that replicates the immersive concert hall experience.
Expert Recommendations and Classical Insights
Apple Music Classical includes over 700 playlists curated by expert editors, guiding listeners, noobs and pros alike, through the vast world of classical music.
For beginners, the app offers "The Story of Classical" audio guides, which blend expert commentary with selected works to provide an educational introduction to key composers, periods, instruments, and classical terminology.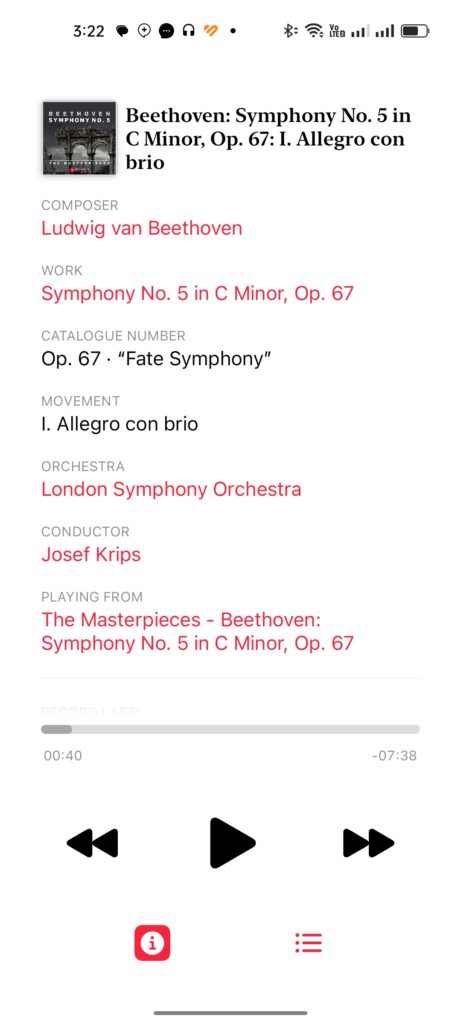 Moreover, track-by-track audio commentary by leading artists offers behind-the-scenes insights into selected recordings. The app also highlights hidden gems and presents Composer Undiscovered playlists, encouraging users to explore lesser-known works and gain fresh perspectives on famous composers.
Seamless Exploration
The Browse tab in Apple Music Classical facilitates effortless exploration of the extensive classical music catalog. Users can explore composers, instruments, periods, conductors, orchestras, choirs, and classical genres such as chamber music and stage works.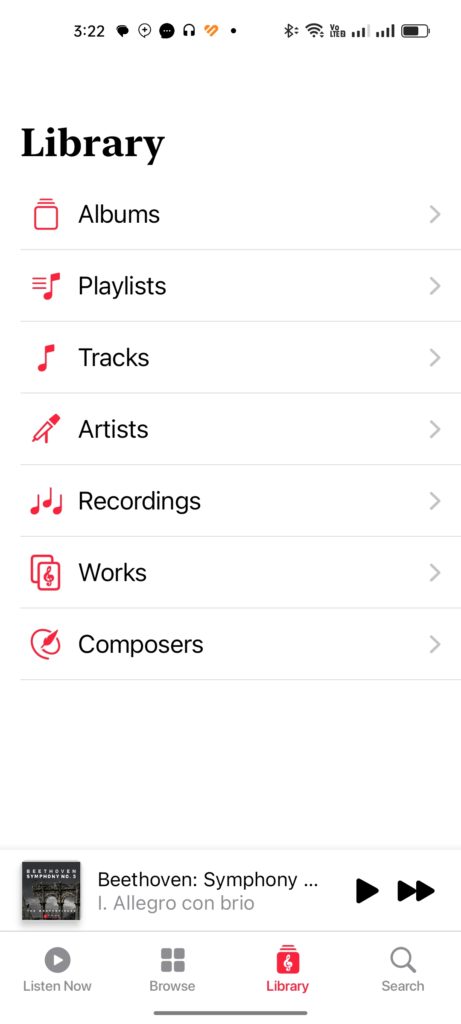 This feature empowers listeners to discover new favorites and expand their classical music repertoire based on their interests.
Exclusive Artwork
Apple Music Classical enhances the visual experience by providing listeners with exclusive high-resolution artwork. This includes captivating playlist covers and digital portraits of iconic composers.
Advertisement - Continue reading below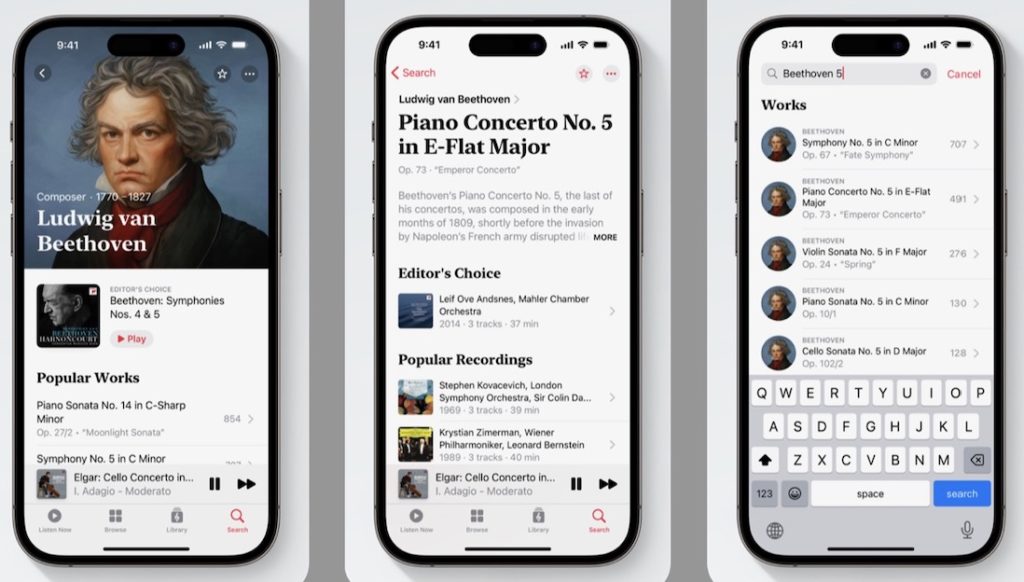 Pricing
Apple Music Classical is not without its flaws. One of the main drawbacks is that it requires an Apple Music subscription, which costs $9.99 per month or $99.99 per year for individuals, maybe less depending on your geographical location.
If you are already subscribed to another music streaming service, such as Spotify or YouTube Music, you might not want to pay extra for Apple Music Classical. Moreover, if you are not interested in other genres of music, you might find Classical too limited in its scope.
You can download Apple Music Classical on Google Play Store. But remember you need an active Apple Music subscription to access its catalog. In fact, you need both apps installed on your phone.
Conclusion
Classical is a great service for classical music lovers who have an Apple Music subscription and a compatible Android device. It offers a rich and diverse selection of content that caters to different tastes and preferences.
Ultimately, Apple Music Classical is not for everyone. It is meant for enthusiasts who would appreciate a carefully curated classical music experience but for the casual music streamer, stick to Apple Music. But since you already have an Apple Music subscription, why not try it out for kicks and giggles?