Amazon Prime Video is a movie streaming service by Amazon. And it is one of the main rivals to Netflix, in the global movie streaming space. And just like Netflix and other movie streaming platforms (HBO, Hulu, etc), Amazon Prime Video offers loads of fantastic TV shows and movies for users to watch on the go, on any device with a display that can connect to the internet.
You can stream Amazon Prime video movies on devices including your smart Tv. For many Smart Tv brands like Samsung, LG, Hisense, Sony, etc, the Amazon Prime Video app is pre-installed by the manufacturer.
Advertisement - Continue reading below
If you own a smart TV that doesn't have the app pre-installed, all you just need to do is download the app from your Smart TVs app store.
Now, here is how to watch Prime Video on your Smart TV
---
---
Watch Prime Video on my Smart TV
Once that is done, open the app on your smart TV.
Tap on Sign in and start watching. A code will be displayed on your screen when you do this.
Next, open the Prime Video website on your Laptop or desktop, then register your device by selecting Register on the Amazon website.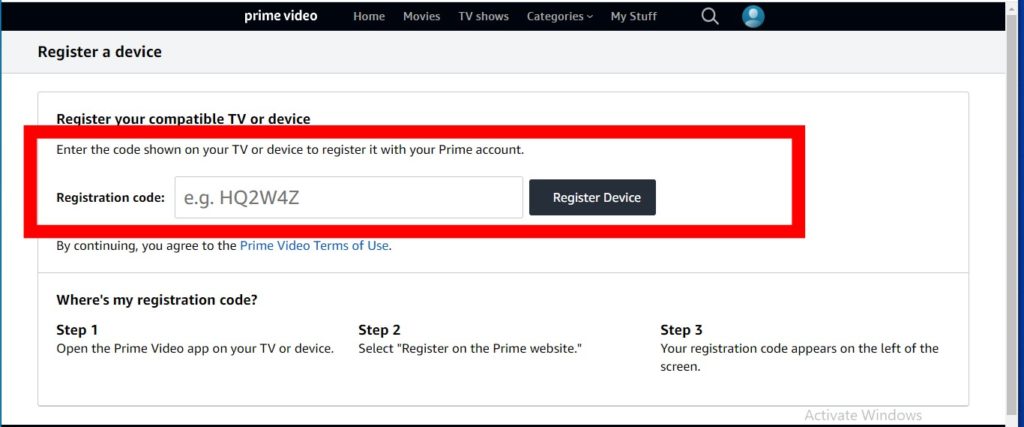 Enter the code displayed on your smart TVs into the Registration code area and tap Register Device.
Before you can get access to the streaming service on your smart TV, you'd need to first create an account and subscribe to any of its plans.
You can either subscribe to the Amazon Prime membership plan ($139/Annual or $14.99/Monthly), subscribe to access Prime Video for $8.99 a month, or try the 7-day trial of Amazon Prime Video.
Once that is done, you will be able to watch all the movies available on the service, on your smart TV.
Advertisement - Continue reading below