With the current data rates in Uganda, every MB counts — literally. Now we know Whatsapp is a must have app for most of you which is also true for us as well. Whatsapp depends on data to send and receive messages, therefore chances are you'll always have the data switch turned on, right?
While Whatsapp takes only a fraction of data, it can be a real data hog if not tamed well. This is especially true for some of you who are subscribed for several Whatsapp groups who keep sharing funny memes and videos. By default, WhatsApp will automatically download images over your cellular connection to provide you with quick access to your latest photos.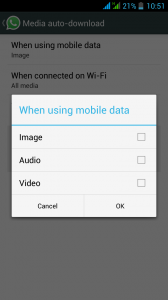 Advertisement - Continue reading below
That means images shared with you by friends or in those Whatsapp groups that you don't even want will auto-download without your permission taking your data.
Now of course it's possible to tame this behaviour on your Whatsapp. To configure automatic photo, video, or audio downloading, simply go to WhatsApp >Menu Button > Settings > Chat settings > Media auto-download. You can tweak your Whatsapp further from here.
You can tell Whatsapp to automatically download media when connected to cellular data, Wi-Fi or while roaming. Simply check or uncheck the appropriate fields to choose how Whatsapp downloads media on your phone. We recommend you only let it autodownload images and photos when on Wi-Fi, but by Wi-Fi we mean when not tethering (using your smartphone as a hotspot) from your or your friend's smartphone. We mean the workplace, campus or restaurant Wi-Fi.
Image: mediabistro.com
Advertisement - Continue reading below