Are you the kind of person that would like to account for each SMS that you receive via your mobile phone? Or is it space that keeps haunting you, to the extent of wishing you had a backup of the messages somewhere?
There's always a way out on something, and that's the reason we write for you. For Android smartphones, you can download and install the an app, in this case SMS Backup+, to always automatically keep a copy of your messages, and lower your worries about losses and costs.
Advertisement - Continue reading below
SMS Backup+ does require IMAP access to your Gmail account to function. This means that you will have to login to your Gmail account and configure the settings. Under Settings, go to Forwarding and POP/IMAP, and check Enable IMAP. Don't forget to Save Changes.
After toggling on the Gmail account IMAP features, Download the app and install it on your device. The device should contain the SIM card(s) on which your SMSs always come. After the application is installed, launch it.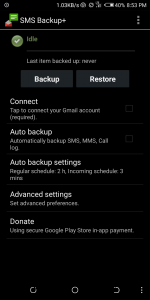 Then, set up a connection to your Gmail account by tapping Connect. The Account Picker on your Android phone will launch, and you'll be prompted to choose the Gmail account you want to use for backing up your messages.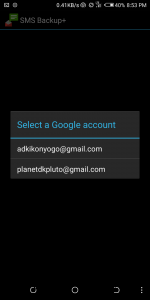 Choose your account and grant the requested permissions.
Advertisement - Continue reading below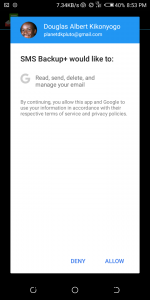 You'll be prompted to begin a backup immediately or skip the initial backup.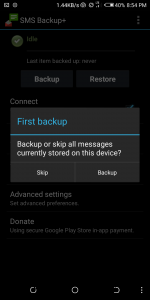 If you tap Skip, then all the messages on your phone will be flagged as already backed up and will be ignored. So, tap Backup. The backup process will start, and depending on how many messages you have, will take anywhere from a minute to a half hour to complete. It clips along at about a message per second.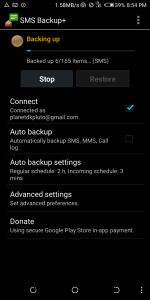 ---
Read About: How to send an SMS using Gmail
---
To check the progress, log in to your Gmail account from a web browser and you'll see a new label in the sidebar: SMS. Click on it.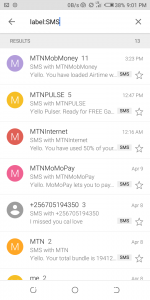 Advertisement - Continue reading below
From the main screen, tap Auto backup to turn on automatic backing up, and then tap on Auto backup settings to configure the frequency. You may wish to decrease the frequency of backups in terms of time or set it to only backup with Wi-Fi if you want to save your mobile data.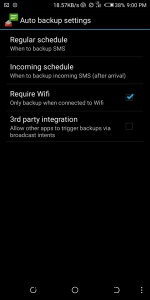 All your text messages including multimedia attachments are backed up within Gmail where you can easily search them and restore them to your handset when you need them.