Rocket Health Wholesale and Pezesha have joined forces to bring flexible and affordable credit options to healthcare facilities in Uganda. This collaboration is set to revolutionize the way pharmacies, hospitals, medical centers, and all health facilities acquire essential products, making it easier for them to access what they need and pay later at a low 4% interest rate per month to Pezesha when repaying the loan.
Rocket Health's simple and modern eCommerce website makes it easy for healthcare facilities to order the products they need, and Pezesha's automated credit scoring system ensures that they are approved for the loan they need.
Advertisement - Continue reading below
How to Buy Pharmacy Products on Credit in Uganda Using Rocket Health Wholesale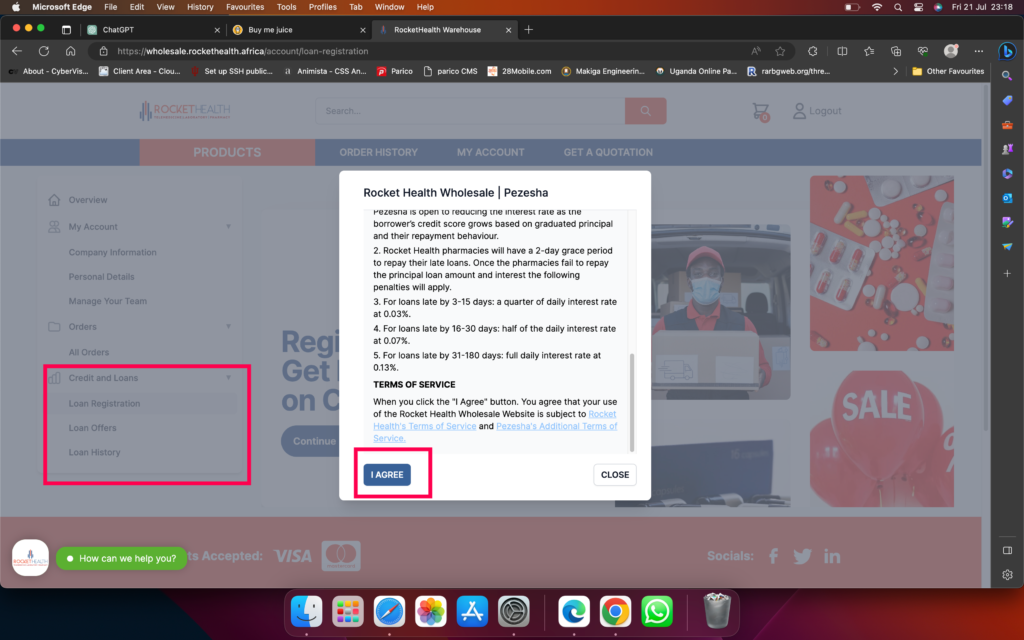 Step One: Search for Rocket Health Wholesale and register an account. The registration process requires you to put your facility details including the address and facility documents for approval.
Step Two: The way the loan product works is you are required to have a transaction history with Rocket Health Wholesale as a customer. Go ahead and order products using the website to build your transaction profile. The website has interesting features which allow you to negotiate for a discount if buying products in bulk. All you have to do is "Generate a Quotation" and talk to the dedicated Rocket Health customer support team available by phone, chat, or email.
Step Three: Once you have transaction history, go to the My Account > Credit and Loan section and Register for the loan. All you have to do is read and agree to the terms and conditions to register for a loan and it's free of charge.
Step Four: Rocket Health Wholesale will then KYC information, and transaction history with Pezesha for them to give you a credit score and loan limit. Once you have a loan limit. Place an order and on checkout choose "Credit" as a payment option to buy your products in loan.
Speaking at the launch, Jesca Tusiime from Pezesha noted that before entering into this partnership, they made findings that most people in the business sector need loans but they lack a reliable service provider who can answer their needs promptly.
"Once you are Registered with Rocket Health, you won't be required to fill any other new forms , we shall have to asses your data (already provided) to establish the loan limit you can access from us."

Advertisement - Continue reading below
The loan amount ranges from five hundred thousand (500.000 UGX) shillings to forty million (40.000.000 UGX) shillings but the limit grows as you pay your loans faithfully.
Understanding the Repayment Terms
1. Pezesha charges 4% for 30 days as the interest rate range for all borrowers under the Rocket Health partnership, Pezesha is open to reducing the interest rate as the borrower's credit score grows based on graduated principal and their repayment behavior.
2. Rocket Health wholesale customers will have a 2-day grace period to repay their late loans. Once the pharmacies or medical facilities fail to repay the principal loan amount and interest the following penalties will apply.
3. For loans late by 3-15 days: a quarter of daily interest rate at 0.03%.
4. For loans late by 16-30 days: half of the daily interest rate at 0.07%.
5. For loans late by 31-180 days: full daily interest rate at 0.13%.
You can pay back your loan either by cash, mobile money, or bank transfer to Pezesha's accounts.
The partnership between Rocket Health Wholesale and Pezesha is a win-win for both parties. Rocket Health gets to expand its reach to more healthcare facilities, and Pezesha gets to provide credit to a new market. The 4% interest rate is competitive and better compared with other loan sharks or credit options available to healthcare facilities in Uganda.
Advertisement - Continue reading below
This value-added service not only enhances customer retention but also attracts new customers, driving improved customer acquisition for Rocket Health. Share with us in the comment section your thoughts about this partnership.