If you have ever purchased a fake product, then I am sure you know the feeling of being duped. No one wants to buy fake products. When it comes to Tecno products, there hasn't been a lot of counterfeiting especially in Uganda. However, we have heard of how hard Tecno has had to fight counterfeiting in Nigeria. In this post, we want to show you how to verify if your Tecno smartphone and battery are genuine or not.
Tecno has really been smart about this by creating a platform/website – more like a database that has the serial numbers of all the devices they have ever manufactured. The website allows you to input the IMEI of your Tecno phone and your VC number. Once you input the two and submit, Tecno will let you know if the device is genuine or not. You can also do the same for your Tecno battery (The battery verification works with only the IMEI and no VC number).
Advertisement - Continue reading below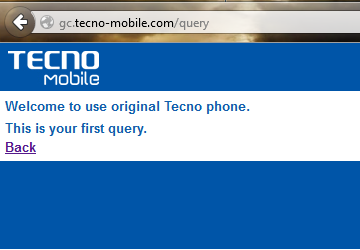 ---
Read more: 4 Steps To Getting A Genuine Tecno Phantom In Uganda
---
How to verify
Check your device packaging/box for an IMEI and VC number. (The VC number can be found on the box of your device alongside the IMEI. Possibly on the back or bottom of the box) You can also access your device IMEI by typing *#06#. When you do that, the IMEI will appear on your screen.
Log on to the Tecno Verification Website and feed in your device IMEI and VC number. Click submit. After clicking, Tecno will show you a message indicating whether or not your device is genuine.
Advertisement - Continue reading below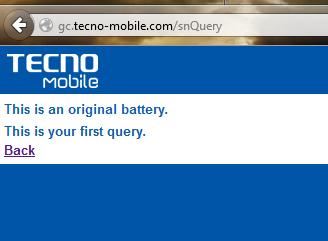 And that is how you can verify if your Tecno smartphone or battery are genuine.