The iDroid Royal V7 is the first flagship smartphone from iDroid USA, a U.S-based company that manufacturers smartphones and tablets.
Idroid USA is operational in the U.S, Europe, Asia and Africa. They launched in Uganda in March with two smartphones; the iDroid Tango A5 and the iDroid Royal V7.
Advertisement - Continue reading below
The iDroid Royal V7 specs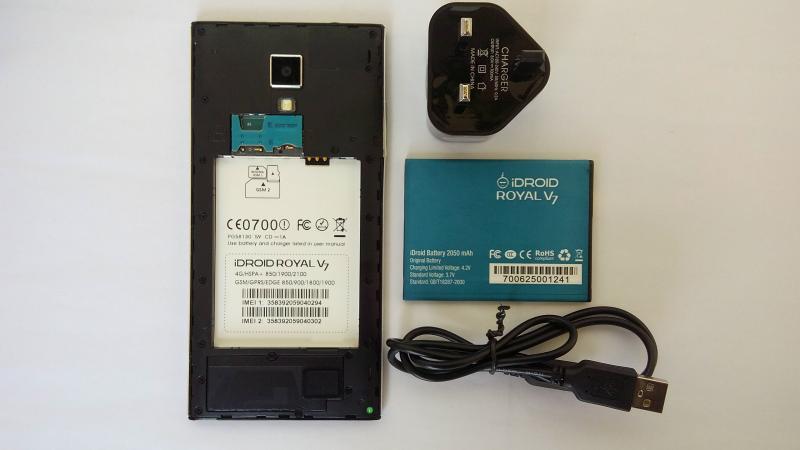 The Royal V7 is a phablet that spots a 5.5 Inch IPS touchscreen with a resolution of 540×960 pixels (240dpi). Now we think 240dpi isn't sufficient pixels for a 5.5" screen, but hey, this is their first smartphone.
The Royal V7 runs on a MediaTek MT6582 1.3Ghz Quad-core processor and Mali-400MP GPU. Having 4 cores on a smartphone these days is kind of the norm now even though 2 of those cores will lie idle until you summon them while playing a game or editing a video. Those 4 cores will hold up while you multi-task your smarphone with Whatsapp, Twitter, Facebook, Email all open at the same time. But you'll be limited by the RAM.
The phone runs on 1GB of RAM. Now we would expect iDroid USA to at least put 2GB of RAM on its flagship 5.5" device. Unfortunately a device running 1GB of RAM on Android Kitkat can't sit on the table of "High-end Smartphones". That's not to worry though. With 1GB of RAM, your phone will function well only if you don't over-task it with many applications opened at the same time.
But the real achilles heel of the iDroid Royal V7 we think is the internal memory. 8GB of ROM is a little cartoon for a big smartphone with big camera specs. The operating system and some in-built apps take up about 2GB of memory leaving you to play with only 6GB which is bummer.
For the camera and selfie enthusiasts, the iDroid Royal V7 is for you. The phone comes with 13/5MP back and front cameras. It shoots full HD images and videos.
Advertisement - Continue reading below
Design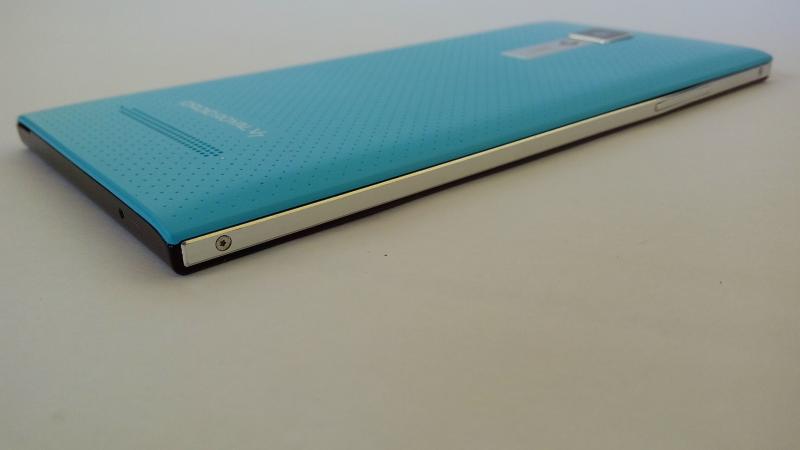 If there's anything iDroid USA nailed with the iDroid Royal V7, it's design. Right from the packaging to the physical design of the smartphone, iDroid USA spent some considerable time thinking about aesthetics of the device.
The phone comes in a well-designed, solid box that just feels and looks premium. Inside the box is a detectable USB charger, a pair of earphones, and 3 swappable covers in blue, yellow, white covers you can use to customize your phone.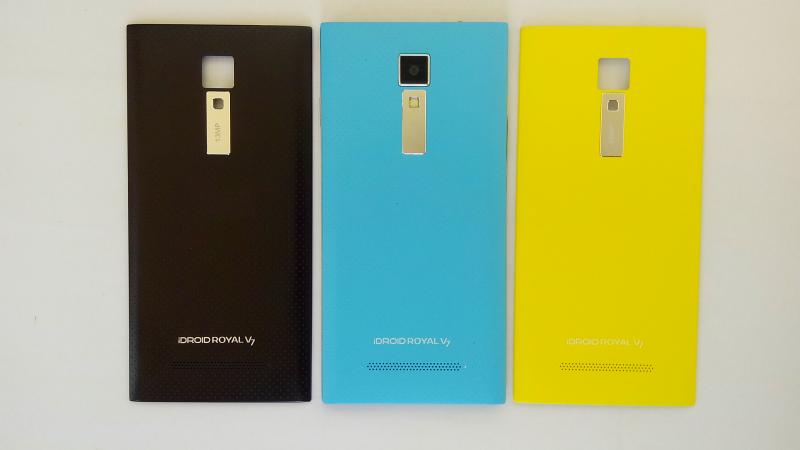 The phone itself is thin and slim with metal edges. The iDroid Royal V7 doesn't have rounded corners you see with the Samsung Galaxy phones or iPhones. Instead they've gone for edgy rectangular corners akin to those found on Microsoft Lumia phones.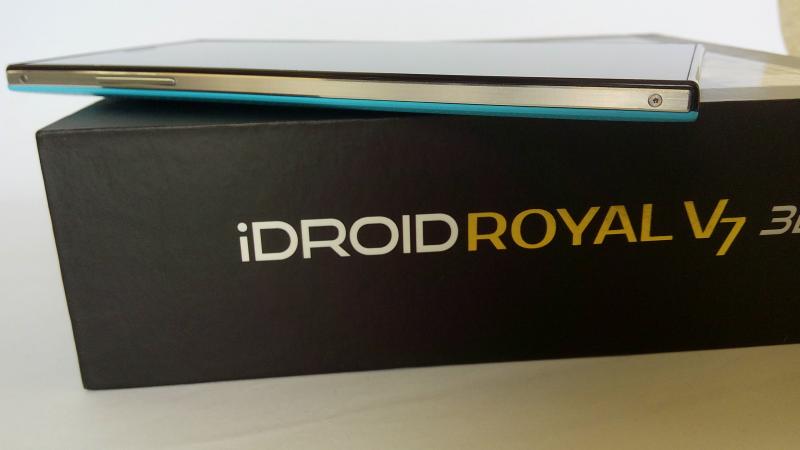 The 13MP LED Flash camera sits on the back on the phone. Unlike most phones we've seen that have protruding cameras that feel like foreign objects to the phone, the Royal V7 camera and Flash just feel part of the phone.
User Interface and features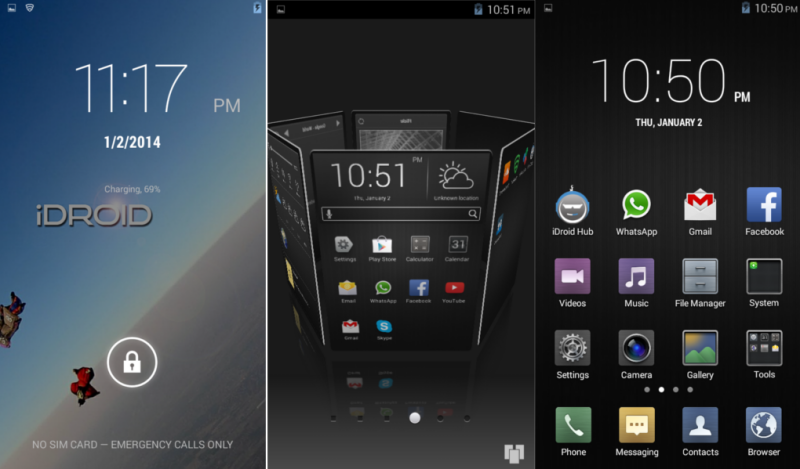 Advertisement - Continue reading below
When it comes to phone features and User Interface (UI), this is where we really think iDroid USA really falls short in comparison with other vendors.
Now iDroid wants us to believe that its got a "3D" phone. Well, if everyone installed the Yandex launcher on their Android-phones, well, then they also have "3D" smartphones.
While it boils down to personal preference, I found 3D effects from the Yandex launcher annoying. So I immediately searched the Google play store for more cleaner, less fancier launchers such as the Nova or Apex launchers both of which are clean and great.
The other features on the camera such as voice commands that activate the camera or take a picture aren't also unique to iDroid phones. These are features that can be found on any other smartphone with the right app or settings.
Anyway marketing hype aside, iDroid Royal V7 comes with one unique feature we found interesting. They call it the "iDroid hub". The iDroid Hub is your support center where you can get instant help on anything concerning your smartphone. Idroid has a team based in the USA ready on standby to respond to your queries instead of spending countless hours Googling. While this might be a nifty feature of the Smartphone-savy customers, it might be less attractive to the average Ugandan smartphone user who might prefer walking to a store and speaking with a local. We know it's not just iDroid that would fall short on this one. A number of vendors don't take customer care and support quiet seriously in Uganda with the exception of Tecno and its excellent CarlCare support centers across the country.
That aside, the iDroid Royal V7 comes with some pre-installed apps such as Skype, Twitter, Facebook, Whatsapp that could save you lots of data installing from the Google Play store. For FM Radio enthusiasts, the Royal V7 comes with one too.
One more notable thing is that the iDroid Royal V7 has software updates. So you can expect OTA(Over-The-Air) updates for your phone which is a big plus for iDroid USA. We are not sure if the device will be updatable to Android Lollipop though.
General Performance and Connectivity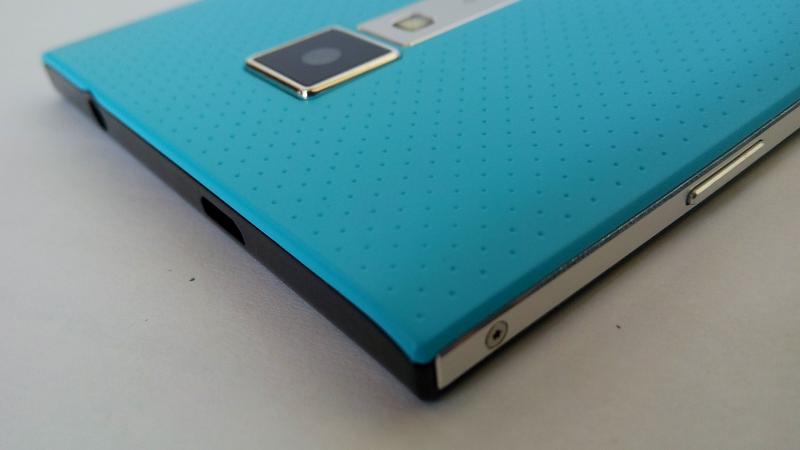 Advertisement - Continue reading below
The iDroid Royal V7 comes with all connectivity options you would expect; Bluetooth, Wi-fi, GPS, and the usual accelerometer, light and proximity sensors. iDroid says their phone is a 4G LTE phone, but given the time we had with the device, we were unable to verify this. It's also dual-SIM.
The phone also comes with HotKnot, the NFC-like Technology developed by Mediatek that enables sharing of contacts, photos, videos, Apps between two Hotknot-supported smartphones.
With its Quad-core processors, we were able to play fast-racing games on the device without glitches. Multi-tasking Apps was fluid and fast. But as we have said, you can only go so far with 1GB of RAM.
Battery and power management
The iDroid Royal V7 comes with a 2050mAh battery. Well for a 5.5 Inch screen with 4 cores with 3G connectivity, you know what to expect; 4-5 hours max of 3G browsing. If you turn your phone to 2G or EDGE, you might hit all-day battery with cautious usage.
Price and Availability
You'll be spoiled for choices when it comes to where to buy the iDroid Royal V7 in Uganda. You can find it with down-town Kampala phone shops and mobile networks. You can get it Airtel, Africell and MTN Uganda with data packages to go with. Or You can also conveniently shop for it online from Jumia Uganda at price of Ugx 569,000 down from Ugx 949,000 when it first launched.
Dignited Rating
We really think iDroid USA nailed the design of the iDroid Royal V7 – right from the packaging to the physical ecstatics of the phone. They made a very thin, light, customizable device with updates and a good camera. But that's on the outside. Things got a little wacky with actual specs and features that we hope iDroid will rectify in the subsequent versions. Hence, from averaging rating from our editors, the iDroid Royal V7 gets a 3.8/5 rating.
Rating: 3.8 out of 5.
iDroid Royal V7 Gallery
Advertisement - Continue reading below