The digital TV train has already set off. It's not coming back or even stopping. But getting on that trains means you either have to pay by subscribing to Pay TV providers or you can get yourself a free-to-air set-top box or decoder and enjoy a free ride.
"Best-Digital HD decoder" gave us our first hands-on experience with free-to-air digital TV in Uganda.
Advertisement - Continue reading below
Summary
What we didn't like
Non-detachable power cable
What we liked
Full HD support
Multiple video output formats such as HDMI(V1.3C), YPbPr, CVBS
USB support with various supported media formats like MP3, WMA, JEPG, BMP, AVI
Affordable price
Lets start by saying "Best-Digital HD decoder" is the actual branding of this decoder not that we are saying its the best digital HD decoder in the market. But whether its the best digital set-top box out there is something we are about to find out.
The Best-Digital HD Free-to-air decoder is currently being sold by Jumia Uganda for a price of Ugx 130,000. This HD decoder is approved by UCC, supports full HD, is 3D ready and is compliant with the DVB-T2 digital TV broadcasting standard.
We took the set-top box for a ride
In the box
This free-to-air decoder comes with Composite AV cable (banana pins), a remote control and the decoder itself. These items are enough to get you watching your favorite free-to-air channels except there's still one thing that you need – an antenna. You might already be having an external antenna if you've been watching analog TV or digital terrestrial pay TV such as GoTV or Startimes.
Advertisement - Continue reading below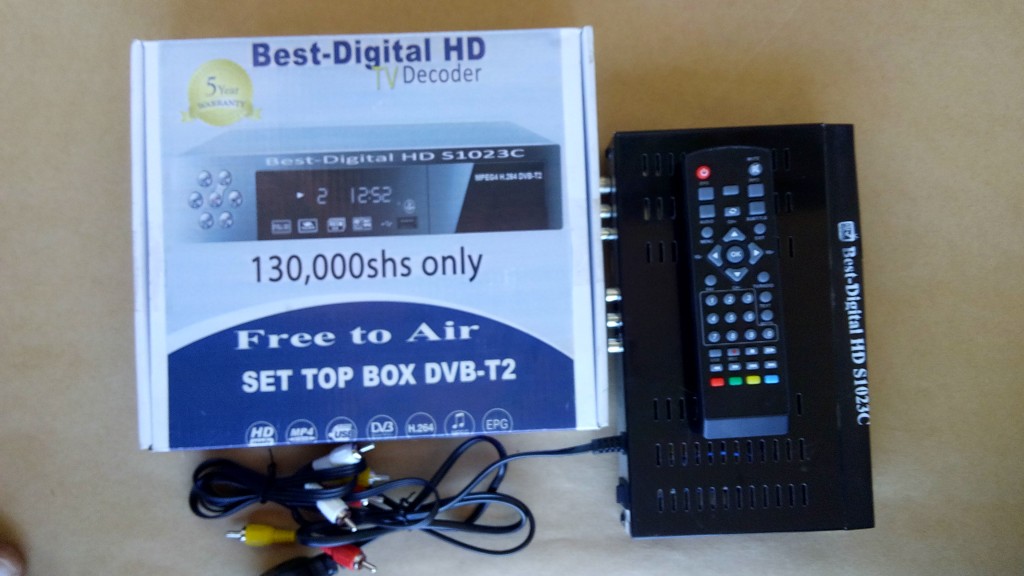 The remote doesn't come with batteries, so you'll have to improvise. We particularly didn't like that the power cable was attached to the decoder which is very odd. This means that should the power cable become dysfunctional, then you might have to get yourself another decoder instead of simply replacing the power cable from the nearest electronics shop.
Features and User experience
The "Best-Digital HD decoder" comes with a great number of features that make your TV watching experience pleasant.
The decoder supports both automatic and manual channel searching. When you plug the decoder to your TV, apart from setting the language and region, it'll try to do a channel search. The decoder supports input frequency from 48 to 862MHz. We were able to find upto 32 free-to-air channels that include UBC, WBS, NTV, Al Jazeera, France 24, Miracle TV, Bukedde 1 TV, among others listed on the table below. What's weird is that the decoder was able to pick paid-for channels such as E! Entertainment, Telemundo, MTV but we weren't able to view them on the TV. Hence in total we able to scan a total of 139 channels with this decoder.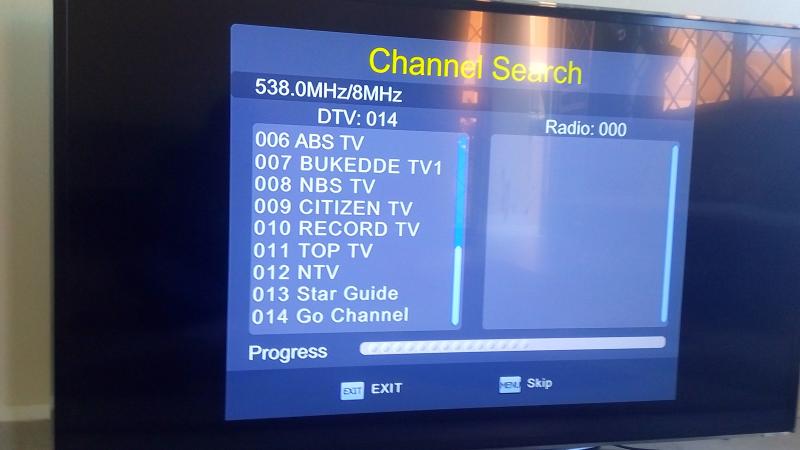 This decoder has a simple to use user interface that walks you through the decoder's features such as parental control, volume control, channel editing and navigation, event timers, multimedia playback. You can control the decoder using the decoders navigation buttons or the decoder's remote control. The remote control also include shortcut buttons you can easily use to access specific features on the user interface.
Advertisement - Continue reading below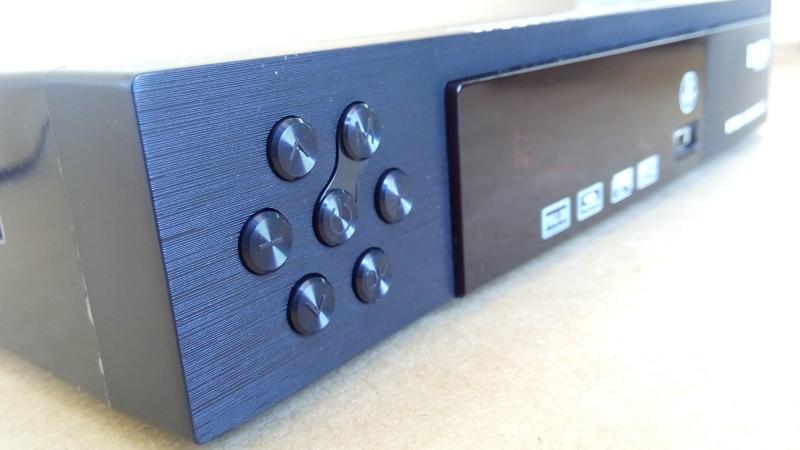 When it comes to video output, the decoder supports full HD with 576p, 720p, 1080i,1080p 50MHz output formats. However, you can only benefit from this feature if the channel you are viewing is broadcasted in HD as well. Now we know almost no Free-to-air channel in Uganda is broadcasting in HD. But when they do in the future, this decoder will able to beam that crisp picture to your HD screen.
The decoder also supports a wide variety of media formats. You you view photos, play music and watch video files in MP3, WMA, MP4, JEPG, BMP, AVI formats. We tried playing some videos files through the decoder's USB 2.0 port without a problem.
Technical Specs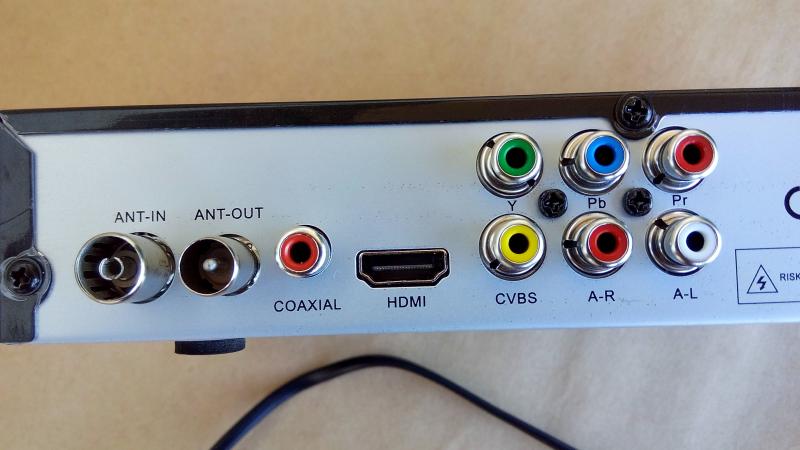 The "Best-Digital HD decoder" is compliant with the DVB-T2 digital TV standard recommended by UCC. This decoder is capable of receiving frequency range of 48 to 862MHz which falls within the digital TV spectrum in Uganda.
The decoder supports 1080i resolution which is Full HD and aspect ratios of 4:3, 16:9 and Auto. It means the decoder is cable of outputting good images to TV screens of all sizes.
When connecting the decoder to the TV, you can either use YPBPr or CVBS and Audio L/R pins (banana pins) or HDMI cable. The banana pins come with the decoder, but if you wish to connect via HDMI, then you have to buy yourself an HDMI cable.
Connecting the decoder to an antenna/aerial is equally easy. The decoder has a female RF port meaning you can plugin you indoor/outdoor antenna cable straight to the decoder. If you already have startimes antenna, it can also work. However, GoTV users can't use their existing antennas without some slight tweaking. We tested the decoder using a DIY antenna and GoTV antenna. However, we had to use a male RF connector instead of the default GoTV female RF connector.
Advertisement - Continue reading below
Best-digital hd decoder technical specs
Item
Sub item
Parameter
Tuner
Input frequency
48~862MHz
RF Input Level
-20~ -82dBm
IF Bandwidth
7MHz and 8MHz
Modulation
QPSK, 16QAM, 64QAM, 256QAM
Video
Decoder Format
MPEG4 AVC/H.264 HP@L4, MPEG2 MP@ML/HL
Output format
576p, 720p, 1080i,1080p 50MHz
Aspect ratio
4:3, 16:9, Auto
Output port
HDMI(V1.3C), YPbPr, CVBS
Audio
Decoder format
MPEG-1(layer 1&2&3), WMA
Audio output
S/PDIF(Coaxial), RCAx2(L/R)
USB 2.0
supported capacity
unlimited
supported media
MP3, WMA, JEPG, BMP, AVI
Power
Supply Voltage
100-240V 50/60 Hz
Maximum power
10W
Standby Power
<0.8W
If you wish to play multimedia files on your TV via the decoder, then you can plug in a USB flash. The decoder has a USB 2.0 port, however, your flash must be FAT 32 file system formated. Don't worry what this means because when you click "format" USB flash on your windows computer, it will automatically use FAT 32 by default.
Dignited Rating
The "Best-Digital HD decoder" is a great decoder. We think the vendor should have done better with the branding and the general design of the device. Our editors were impressed by the decoders user experience, rich multimedia support and great video output. The decoder averaged a cool 4.1/5 rating.
4.1/5
Price and availability
You can order this fta decoder online from Jumia Uganda for price of Ugx 130,000.
Gallery