The Regulation of Interception of Communications Act of 2010 provides for registration of existing SIM cards. From the 1st of March 2012 all new and existing mobile phone numbers were to be registered to be activated on any mobile network in Uganda.
The cut off date or deadline for SIM card registration for existing mobile subscribers was 1st March 2013. Two and a half years later, we still have SIM cards being sold on the street and activated immediately upon purchase. Allowing this practically invalidated all the efforts made to register SIM cards in Uganda.
Advertisement - Continue reading below
---
Read More: UCC to switch off fake phones
---
SIM card registration was intended to help law enforcement agencies to identify the mobile phone SIM card owners, track criminals who use phones for illegal activities and curb other negative incidents such as; loss of phone through theft, nuisance/hate text messages, fraud, threats and inciting violence among others.
---
Read More: Confusion looms over unregistered SIM card disconnection in Uganda
---
We are still not sure as to why SIM cards were not switched off after the registration exercise but according to UCC itself ,
Failure to register is a breach of the law and the service provider shall not provide any communication service to a person who fails or refuses to register. Your SIM card shall be deactivated and you will not be able to make or receive calls
So the paradox is why UCC hasn't enforced the switching off of unregistered SIM cards. On the 30th of October 2015 UCC posted on their Facebook page that they have given all telecoms till 30th November 2015 to block unregistered SIM cards.
Advertisement - Continue reading below
---
Read More: Deactivate all unregistered SIM cards or face penalty UCC tells Telecoms
---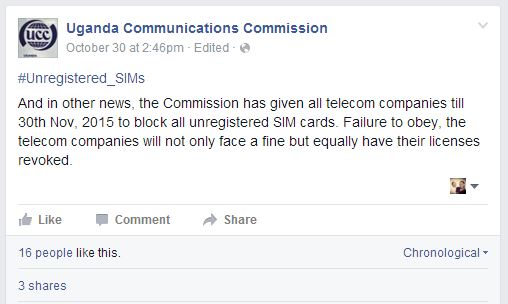 Failure to do so will attract fines and possible revoking of licences. Sadly MTN Uganda seems to be only one that is currently making efforts to register any unregistered SIM cards on their network. We will wait for 30th November to see what UCC will do.