A driving permit is one of the key personal identifiers here in Uganda, and despite being the indicator of your expertise in driving vehicles, it is an information storage tool about the holder. A loss of it is a major disappointment because your personal information is at risk as thieves may have lots of ways to use it. The quicker you respond the better.
Before you pronounce it completely lost, calmly retrace your steps and check all the usual areas you normally leave your Driving permit, for example; Laundry basket, Pockets of the clothing you wore when you last had it, Washing machine and car, among others. If you still come up empty, then it is lost – to either thieves or to thin air.
Advertisement - Continue reading below
Are you wondering what to do in order to have it replaced? This guide takes you through the different steps required, what to do and where to go. Replacing a lost Driving Permit or Drivers License is the work of Face Technologies, a government institution under the ministry of works and transport.
Report to the police.
Begin by reporting the permit loss of your driving permit at the nearest police station. Your ref will be entered and then request for a to whom it may concern letter from police. That police letter must be signed and stamped and it should have your name and permit number.
Pay duplicate fees
1. Visit URA web portal and go to eServices.
2. Click payment registration and tick NTR box.
3. Select Duplicate D/P and fill all other required information.
4. Select the bank of choice, enter letters and submit form.
5. Verify the input details and print the payment slip.
6. Go to the selected bank and make a payment and get a receipt.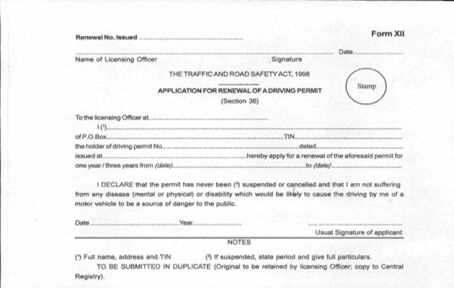 Go to any URA branch;
From URA, you will be able to pick the Drivers license application forms. These are two; Form A – Make sure to check box with Driving Permit replacement and Form B – Medical form.
Fill in the form A and take form B to the nearest clinic or hospital for thorough check up on especially the eyes.
Take back the filled forms together with your bank payment receipt and drop them to the URA branch of your choice.
---
Related Article: How to Get a Computerised Driving Permit In Uganda.
Advertisement - Continue reading below
---
Attach and go to any Face Technologies branch near you.
Attach all the above documents and proceed to a Face technologies branch so you can submit. You will be issued with a temporary driving permit upon payment of the required fees and you will be told when to go back and collect your Driving Permit.
To replace a driving permit, the holder must present himself in person to replace his permit, but in theory he must be in Uganda.