As a new tourist visiting an African country, it might be overwhelming at first. There's an order to the chaos that is public transport in Africa, whether or not you can see it initially.
Public transport comes in all forms, from buses, mini-buses, Toyota HiAce vans, repurposed trucks, and everything in between. A number of countries label them the generic bus or taxi. A taxi might mean the Uber sort of arrangement or a 14-seater mini-van.
Advertisement - Continue reading below
Funmi Oyatogun who identifies herself as a vibrant explorer and travel entrepreneur took the time to draw up an infographic depicting the varied names the minivan takes on depending on which country you're in.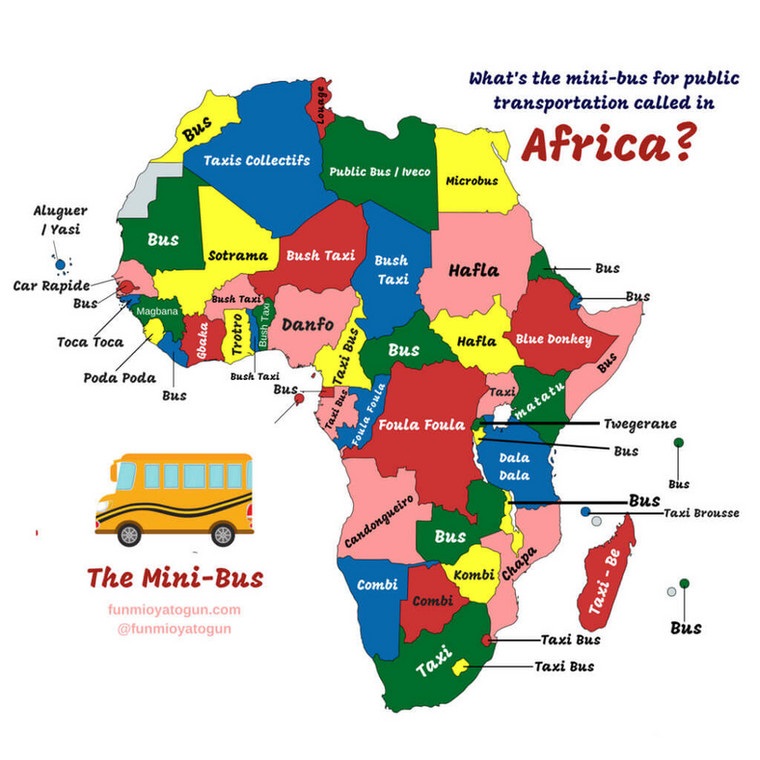 | | |
| --- | --- |
| 1. Algeria – Taxis collectifs | 28. Liberia – Bus |
| 2. Angola – Candonguiero | 29. Libya – Iveco/Public Bus |
| 3. Benin – Bush taxi | 30. Madagascar – Taxi Be |
| 4. Botswana – Combi | 31. Malawi – Bus |
| 5. Burkina Faso – Bush taxi | 32. Mali – Sotraka |
| 6. Burundi – Bus | 33. Mauritania – Bus |
| 7. Cabo Verde – Aluguer/Yasi | 34. Mauritius – Bus |
| 8. Cameroon – Taxi bus | 35. Morocco – Bus |
| 9. Central African Republic (CAR) – Bus | 36. Mozambique – Chapa |
| 10. Chad – Bush taxi | 37. Namibia – Combi |
| 11. Comoros – Taxi brousse | 38. Niger – Bush taxi |
| 12. Congo, Democratic Republic of the – Foula foula | 39. Nigeria – Danfo |
| 13. Congo, Republic of the – Foula foula | 40. Rwanda – Twegerane |
| 14. Cote d'Ivoire – Gbaka | 41. Sao Tome and Principe |
| 15. Djibouti – Bus | 42. Senegal – Car rapide |
| 16. Egypt – Microbus | 43. Seychelles – Bus |
| 17. Equatorial Guinea – Bus | 44. Sierra Leone – Poda Poda |
| 18. Eritrea – Bus | 45. Somalia – Bus |
| 19. Eswatini (formerly Swaziland) – Taxi bus | 46. South Africa – Taxi |
| 20. Ethiopia – Blue Donkey | 47. South Sudan – Hafla |
| 21. Gabon – Taxi bus | 48. Sudan – Hafla |
| 22. Gambia – Bus | 49. Tanzania – Dala dala |
| 23. Ghana – Trotro/Trosky | 50. Togo – Bush taxi |
| 24. Guinea – Magbana | 51. Tunisia – Louage |
| 25. Guinea-Bissau – Toca Toca | 52. Uganda – Taxi |
| 26. Kenya – Matatu | 53. Zambia – Bus |
| 27. Lesotho – Taxi bus | 54. Zimbabwe – Kombi |