Opera, yesterday, in a new version update, added a free VPN service to its Android browser. The Norwegian company had previously experimented its VPN service as a standalone (Android & iOS) app in 2016 and subsequently incorporated the VPN feature into its desktop app. In 2018, however, Opera discontinued the service during the company's acquisition by a Chinese firm.
Now, following series of beta testing, Opera has relaunched its VPN service but this time, as a built-in feature in for the latest Android version (Opera v51) of its mobile browser. The service still remains free, limited and requires no subscription whatsoever. and users can use it to surf pages on the internet more securely. The new Opera v51 is available for download on the PlayStore and it comes built-in with a 256-bit encrypted VPN with standard and advanced VPN features.
Advertisement - Continue reading below
Opera VPN: Use Cases
The average VPN can be used for a whole lot. The built-in VPN for the Android Opera browser can also be used to do a whole lot but according to Opera, the major point of the VPN feature is to make users feel more secure on the internet and protect their privacy.
"We want to make VPN adoption easy and user-friendly, especially for those who want to feel more secure on the Web but are not aware on how to do it. This is a free solution for them that works."
The new Android Opera VPN isn't sophisticated enough for activities such as pinpoint bypass of geo-restrictions, choosing an exact location etc. Yes, while you can change your location to regions such as America, Asia, and Europe, users cannot pinpoint their locations to mirror specific countries.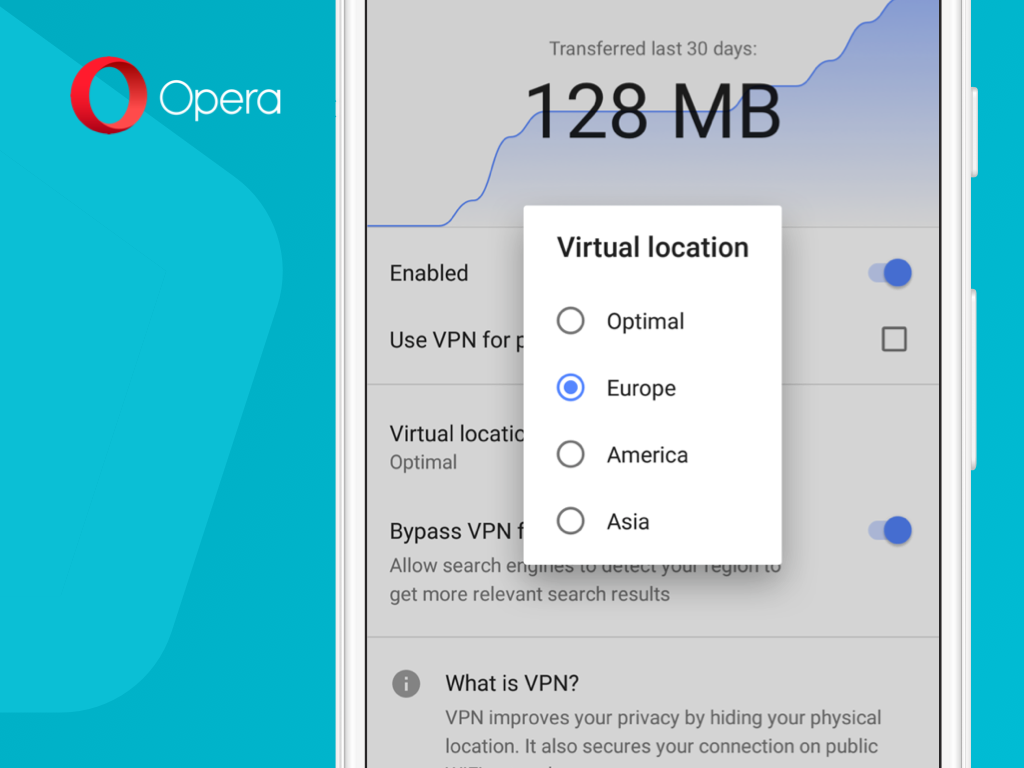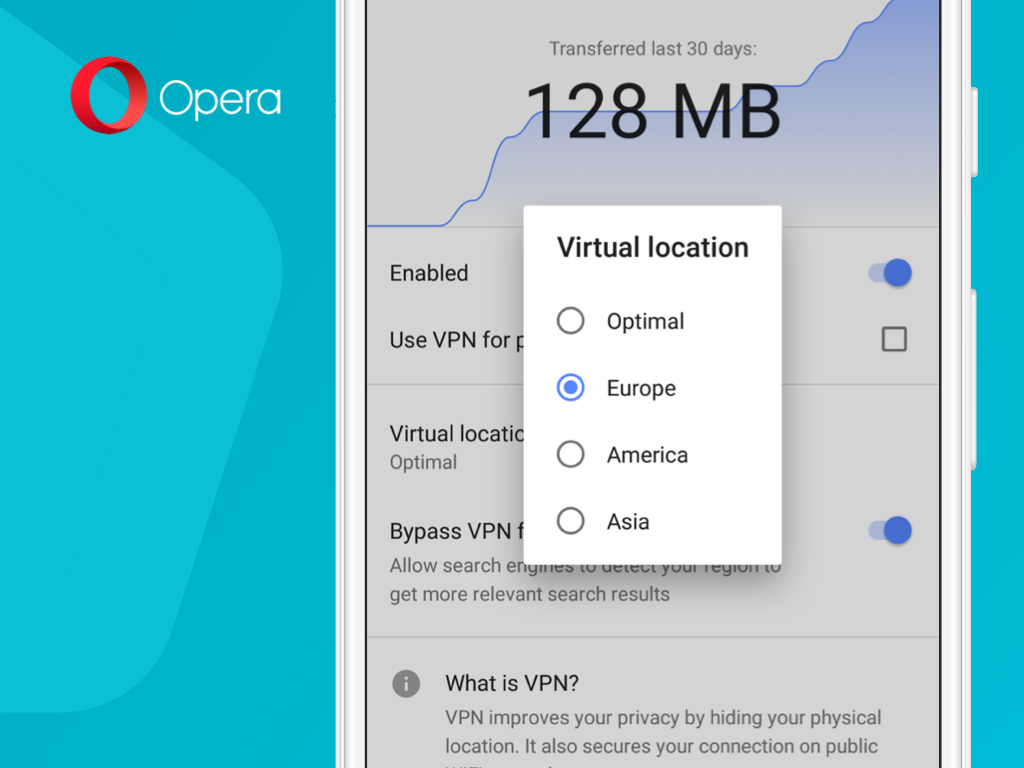 1. Minimal Online Tracking
When the VPN feature is turned on in your Android browser, Opera automatically replaces your original VPN with a virtual one. This makes it difficult and next to impossible for websites to track your location or devices and steal data from you.
2. Public network protection
Advertisement - Continue reading below
We use public WiFI networks almost every day — at the airport, cafeteria, bar, coffee shop, events etc. However, despite their ubiquitousness, there are a number of security risks attached to using public networks. Using a VPN keeps you safe when surfing on a public network. And if you use Opera on your Android smartphone, the new built-in VPN features eliminates the need for a standalone VPN app.
3. Permits Local Search
Using a VPN not only changes your IP address (read: location) but also influences the type of contents and results you'll be presented by search engines. Opera VPN comes with a "Bypass VPN for Search" feature that automatically instructs your search engine to ignore your virtual location and show you results based on your actual location. When you click on a search result, it continues to the destination URL over the VPN.
You can turn off the search bypass feature if you want your search engine results to be tailored to the virtual location.
How to activate Opera's new VPN for Android
Opera's built-in VPN can be used for regular and private browsing. To use Opera's new VPN feature: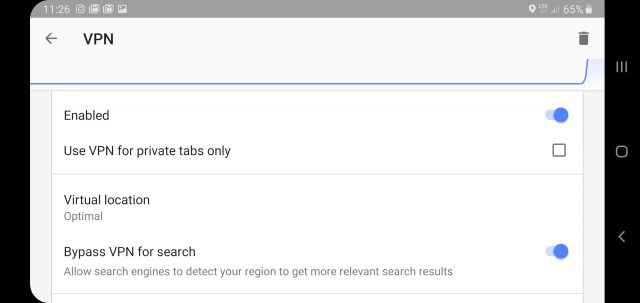 Download the latest version of the Opera Browser on the Google PlayStore.
Launch the Browser, click on the "Menu" button
Tap "Settings"
Under the "Privacy" section, tap on "VPN"
Toggle on the "Enabled" bar to activate the VPN feature
Upon activation, an icon showing the status of the VPN appears on the address bar. Users can also proceed to choose the desired virtual location/region from the list of options.
The VPN feature is still being rolled out globally. It is available to some users on selected regions while other regions should get the feature on their browsers in the coming weeks. Again, the VPN service is completely free, and you don't have to worry about Opera using or selling your data. According to Opera, it just wants people using its brosers, so the VPN feature is a perk.
In fact, as reported by VentureBeat, Opera's VP of Product Marketing, Jan Standal, assured users that the company does not record, log, or monetize the activity and data of users.
Advertisement - Continue reading below
"The service is provided fully free of charge as a unique feature to improve the privacy and security. Opera monetizes from other unrelated mechanisms, and unlike other VPN services, Opera doesn't depend on monetizing the browser VPN service," said Jan.