Until cars become fully autonomous which isn't so far from now, you will have to get a driving permit if you want to get behind the wheel in Uganda. But getting a driver's license can prove to be a daunting challenge for newbies much like any other government document processing procedure.
What forms do you need
If you are processing a driving permit, you need Drivers license application forms also known as form UCDP1. It has Form A – Driving Permit application which also carries your personal details and Form B – Medical form which is signed by a medical doctor concerning the state of your eyes. You can pick this form from any URA branch or download one online from this link (https://www.ura.go.ug/manageManualForm.do?dispatch=openFile&formId=6).
Advertisement - Continue reading below
You should fill in the form A and take form B to the nearest eye care clinic or hospital for thorough check up on the eyes.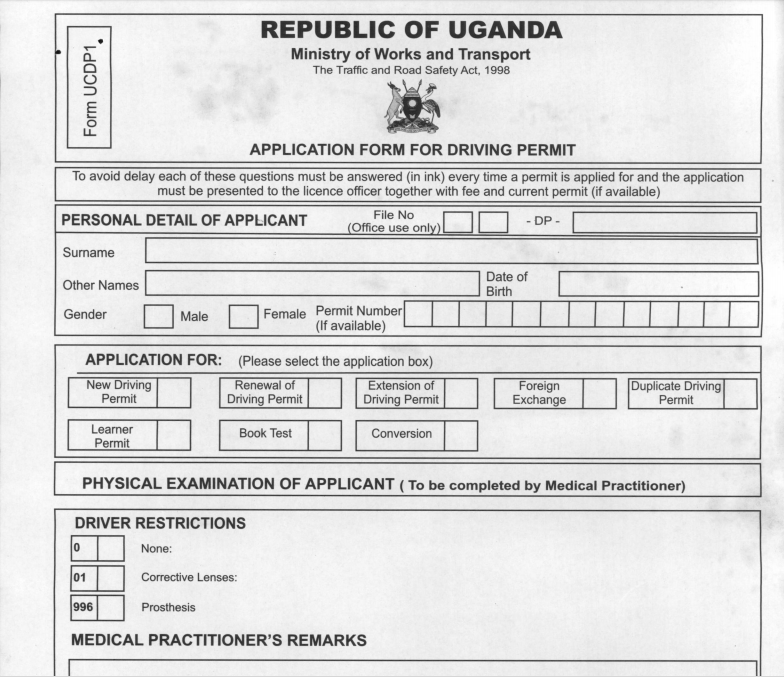 Now take back the filled forms together with the bank payment receipt and drop them off at the URA branch of your choice. After that, take the forms to Face Technologies at Kyambogo, the official Driving permit processing center after the period as recommended by the URA staff. Face Technologies will issue the Learners' Permit after payment of the required fees.
At Face Technologies
Face Technologies was contracted by the Ministry of Works and Transport for the 'Designing, Printing and Supply of Computerised Driving Permits (CDP). At Face Technologies, after going through security checkpoints, you will submit your forms at "Form Collection" point after which you take a sit and then your name is called. You have to line up in a not-so-long queue to points also called "Live Scan" rooms where your biometric data will be captured.
After that, you will be asked to pay transaction fees at the Payment points. You need a form of identification which can be National ID, Passport and transaction fees applicable to the type of permit you are processing.
You will be given your learner's driving permit valid for one month and a real driving permit after you have passed driving tests from the area Police Inspectorate of Vehicles driving test office.
Advertisement - Continue reading below
Driving permit rates payable at Face Technologies
Driving permit rates payable at Face Technologies
Transaction type
Fees(Ugx)
Learner's/provisional Permit
30,000
New driving permit
60,000 (1 YR)
60,000(3 YR)
Renewal of driving permit
60,000 (1 YR)
60,000(3 YR)
Class extension per permit
60,000
Foreign Permit Exchange
60,000
Duplicate Driving permit
30,000
Duplicate Learners/Provisional Permit
30,000
Uganda Driving Permit Classes
If you are a regular reader of this website, you most likely need a Class B permit which allows you to drive motor vehicles and dual-purpose motor vehicles. Generally, these are passenger vehicles you would ordinarily import or buy from the car bond. It goes without saying that you are only permitted by the law to drive a vehicle whose permit you possess.
Uganda Driving Permit Classes
Group A
Motorcycles
*Group B
Motorcars and dual-purpose motor vehicles
Group CM
Motorcars and dual-purpose motor vehicles
Group CH
Heavy goods vehicles
Group DL
Light omnibuses
Group DM
Medium omnibuses
Group DH
Heavy omnibuses
Group E
Combination of vehicles
Group F
Pedestrian-controlled vehicles
Group G
Engineering plant vehicle
Business/working hours
Monday – Friday 8:00am – 5:00 am
Saturdays 8:30am – 1:00 PM
Face technologies address and contacts
Face Technologies
Address: Kyambogo Industrial Area, Uganda, Kampala
Kampala +256 39-3-518-615 / +256 39-3-518-586
Email: [email protected]