Without great content, nothing else matters. But data drives content strategy. Chris Bitti, Group CEO, Digital Brands Group.
This arguably sums up the social media summit that was held on 3rd December in Kampala, Uganda.

Advertisement - Continue reading below
This year marked the second inaugural summit and had the theme: social means business.
Sure, social means business
Long gone are the days when social media was treated like a second class citizen by marketing and social affairs departments of companies and government agencies. The declaration that social means business, transcends just from one sponsoring advertising campaigns on social media. In fact, it means that customers are being attended to in real time, especially on the platforms they love to hang out on, it means brands are selling themselves to the world by building meaningful relationships and not merely treating customers as another sales aggregate funnel. And in this meritocracy of social, content is a currency.
But of course, you need to know where to put the money. You just won't want to indulge in random postings about random things that don't benefit anyone, no even you. The importance of using a data driven approach is that it guides you to put the money where the mouth is. If WhatsApp is the channel with the most activity or engagement, then you ought to channel your content there. Chris Bitti couldn't emphasize this any better. Marvin Bisanga of AIM group in Tanzania tipped off the audience in light that video is the next big thing on social, especially YouTube. From his slides were stats of YouTube media consumption in Tanzania which stood at over 80 million users per month, and that was a big vote of confidence to develop a video strategy.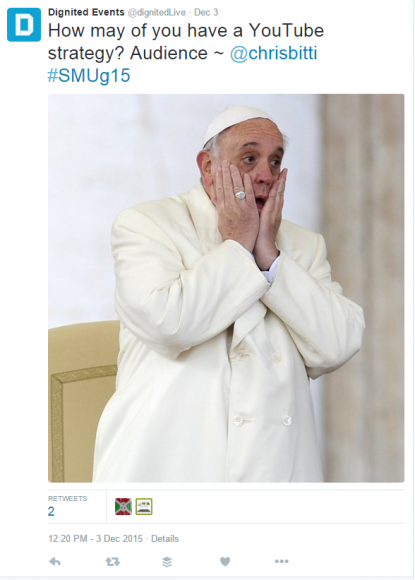 One of the speakers, Mark Kaigwa, stressed the importance of storytelling. All buzz this year alone has immensely stressed the importance of storytelling. In a space where attention has been commoditized, only the best content will float atop people's news feeds and these definitely will be good and interesting stories.

Advertisement - Continue reading below
The brand alone may not have the clout to tell stories and engage with social. It sometimes needs to borrow some star power in the name of influencers. But who is an influencer? What criteria should be followed to identify and hire one? Are influencers some sort of sales bot? But why? Kwani? This was the most invigorating question in the summit. Philip Ogola, a popular Kenyan social media consultant set rather stern guidelines for this: that they should be people of integrity, and yes, they shouldn't be interns. Panelist Albert Mucunguzi, secretary general of ICT Association of Uganda had a nuanced approach of engaging who of whos on social media. He argued that it didn't make sense to respond proactively to a bot or a troll regardless of their clout on social media. This conversation was one that was taken to the cocktail after the summit. It was kind of dark; people had sharp and contrasting opinions.
Dark social
It's not some technosocial blackhole that consumers dark matter. It's actually far from it. Dark social consists the likes of WhatsApp, WeChat, Viber and many other apps that have an abstracted layer of social in their fabric. They are hard to track and undeniably the fastest growing channel of social. At the moment, dark social has worked concomitantly well with social media, especially in the field of destination marketing. Just to illustrate, borrowing from Simon Kaheru, a media analyst and Amos Wekesa, Great Lakes Safaris founder and tourism aficionado, destination marketing entails packaging content based on local context. It doesn't matter whether you have a DSLR or a simple smartphone camera. As long as you took a picture of Uganda's sunset, for example, and tagged it on Instagram, then probably you'd be telling a story with such candor and innocence.
Dark social has however created a new sort of dilemma for marketers and digital strategists, but if harnessed, they could hit way above their targets. For now, they're still figuring out and experimenting figuratively. And that is the thing about social and life at large, there is no that one magic bullet or formula that will return your investment. Even though ROI is a very important business aspect, often times it requires a methodology of planning, creating, and measuring. Rinse. Repeat. Rinse.
In summary, the summit had a star line of presenters and panelists who shared many brilliant insights that can not be fitted in this spread. The gist, as reported above, shows you the things that excited us and, with discretion, the audience and the other speakers themselves.
The speakers and panelists of the day were: Bronwen Auret, Philip Ogola, Chris Bitti, Mark Kaigwa, Simon Kaheru and Amos Wekesa, Marvin Bisanga, Lisa W. Omwandho, Dr.John Mark Bwanika, Albert Mucunguzi.
A round of applause post event to them, and while we're at it, special thanks go to the sponsors, with the main sponsor being UCC.
Let's meet at the other side of social.
*Addendum*
Advertisement - Continue reading below
Special thanks to Sarah Kagingo, who catered for the lunch and buffet for everyone at the summit. Atop of launching her own agency called SoftPower Communications. We wish her the best. Follow them on Twitter @SoftPowerPR
Image: Access Films Uganda