On the morning of the 18th February 2016 Ugandans woke up to a Social Media black out. As citizens lined up braving rain and the hot sun to cast their ballot, they soon realised that Facebook and Twitter weren't working. Whatsapp soon followed. The internet as we know it in Uganda was down. Since necessity is the mother of invention, It didn't take a while for Ugandans to get around the Social Media blockade.
Ugandans take to Virtual Private Networks (VPNs)
What is amazing is that while many Ugandans struggle with basic technology, it is shocking how fast they caught on and reacted to their being blocked from accessing their beloved social media channels. In less than an hour, thousands of Ugandans had shared VPN (Virtual Private Network) apps for Android, iOS and Windows that enabled them bypass the blockade.
Advertisement - Continue reading below
Since it was only Social Media that was blocked, people were able to download apps from the Google Playstore,Apple App Store and the Windows Store. Upon installing these apps, Ugandans were now able to access the Social Media channels
It's said that in just 48 hours Ugandans downloaded over 1.5M VPN apps across mobile platforms.
Blocked but not shut down – Uganda trends on Twitter
While Social Media had been blocked by the telecoms upon UCC Orders, they didn't seem to have thought it through. On the same day of the Social Media blackout the hashtag #UgandaDecides trending at No.1 on twitter with Ugandans express
The Telecoms Apologise
As soon as the blockade was effected, Ugandans called the customer care centres of their respective internet service providers to find out why they weren't able to access internet. Many people were lied to that it was a temporary interference that would soon be rectified. With VPS installed many began to probe their ISP's on Social Media with little response. Later MTN and Airtel apologised stating that they had been directed by Uganda Communications Commission to block Mobile Money and Social Media. (Facebook, Twitter and WhatsApp).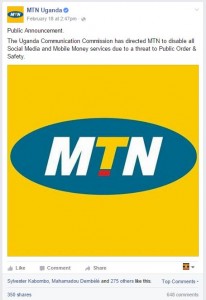 As of writing this post, What was an Apology was turned into a "Public Announcement" informing the public of the UCC directive rather than apologizing unfortunately we didnt take screen shots.
Africell, Vodafone and UTL didnt issue any apologies yet they followed the directives too.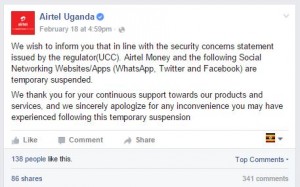 Advertisement - Continue reading below
Electoral Commission denies while UCC threatens to arrest citizens for treason.
When asked about the blockade, the Electoral Commission denied any knowledge of it and mentioned that issues to do with communication are handled by UCC and not them.


While UCC was awfully quiet about the entire incident, Ugandan TV station WBS posted a communication on their Facebook page alleged to be from UCC. The message made it clear that the internet was purposefully blocked and anyone accessing it illegally was going to found and charged for treason.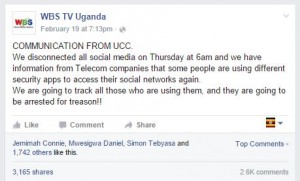 Reactions to this were funny since major government bodies including the Electoral Commission, presidential candidates, and Telecoms were all using social media.
Government ends social media blackout and Mobile Money after elections.
While on Capital Gang – A popular political radio talk show, government spokesperson Ofwono Opondo made it clear that government not NRM was responsible for blocking Social Media. On Social media he got his fair share of backlash.
When asked about the Social Media blackout, the president in a press conference from his hometown said that he was aware of it and that it was done for security purposes so that individuals who misuse social media do not peddle lies and incite the public.
Prime minister Ruhakana Rugunda after the presidential results were announced said in an interview that they had indeed blocked Social Media and mobile money which shall be switched back on after elections.
As of yesterday, government ended the social media blackout allowing Ugandans to freely access social media. Mobile money was restored and we can confirm that Airtel Money and MTN Mobile Money are both working.