Infinix has become a popular smartphone brand in much of Africa. We haven't heard of any reports of the phone being counterfeited but you do not have to wait to be the first to purchase a fake Infinix smartphone. Infinix has created an online platform that helps you verify if your Infinix smartphone or battery is genuine.
The platform allows you to input the IMEI and VC number of your Infinix smartphone phone. (You can get your device IMEI on your purchase box or dial *#06#. For the VC number you have to check on the battery or phone itself. It is usually below the battery compartment.)
Advertisement - Continue reading below
Once you input the two and submit, Infinix will let you know if the device is genuine or not. You can also do the same for your battery (The battery verification works with only the IMEI and no VC number).
How to Verify if your Infinix smartphone and battery are genuine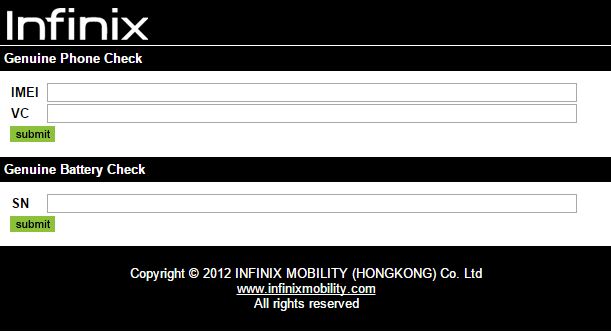 Step 1: Login into the Infinix Verification tool 
Step 2: Insert your IMEI and VC number
Step 3: Submit and wait for results.
itel will inform you if your smartphone or battery are genuine Infinix products.
Advertisement - Continue reading below