At its recent October 30 event, the Cupertino-based trillion-dollar tech company announced the latest iteration of its iPad Pro alongside updates to other product lines like the Mac Mini, MacBook Air, and a new Apple Pencil. The October event came no too long after the company unveiled its 2018 iPhones and Watches. One of the highlights of the event, however, was the iPad Pro 2018. The tablet, for a lot of reasons, came as a total refresh to what we have seen on previous iPad Pros.
When the iPad Pro was unveiled, some of its features like the edge-to-edge display, removal of home button for Face ID, and other aesthetical modifications were quite expected, no one really saw Apple dumping its native Lightning port for the universal USB-C.
Advertisement - Continue reading below
Connection ports on Apple's iPad: Brief History
The 2018 version of the iPad Pro is the first ever (iOS) product from the Apple to utilize any a third-party port aside from the usual Lightning port as its only connection port. Before the Lightning port though, Apple had used 30-pin connectors on the first three editions of iPad and about 5 generations of iPhone before the lightning port debuted on the iPhone 5 in 2011. Its (lightning port) arrival on iPads happened a year after (in 2012) with the iPad 4.
Now, 4 years down the line, it seems as though the end has come for the all-digital lightning port on iPads as Apple is now going down the USB-C route for its tablet line of devices.
iPad Pro USB-C: What does this mean for your iPad?
While there has been so many official and unofficial explanations as to why Apple ditched the lightning port in favour of USB-C, the launch of the new iPad showed us that the iPad is no longer just a tablet. And yes, change of connectivity port does mean there'll be a change in the way you charge your iPad; the USB-C supplies more power (up to 100 Watts) to the iPad Pro compared to lightning port. It, however, doesn't end there — it goes way beyond that.
1. Connect to a computer
Of course, this is basic stuff any phone or tablet should be capable of irrespective of the port type or version they rock. The iPad Pro with USB-C will also be able to be synced with computers with regular USB-A or USB-C ports.
However, unlike older generations of iPad where you have to specifically make use of lightning ports to sync with a computer, you can pick up your phone's USB-C cable or any third-party USB cable at all to make it happen.
Advertisement - Continue reading below
2. Connect to external displays
Although 5K displays aren't exactly common at the moment, the new iPad Pro can directly send signals to them through the USB-C port (and a cable) if you have one. The connection can only be made over the DisplayPort standard to monitors with USB-C ports. Mirroring to a TV or monitor with HDMI will require a USB-C to HDMI adapter though.
The new iPad Pro can connect directly to USB-C displays, that communicate over the DisplayPort standard. You can plug a USB-C cable into the iPad on one end and an external monitor with a USB-C port on the other.
3. Reverse Charging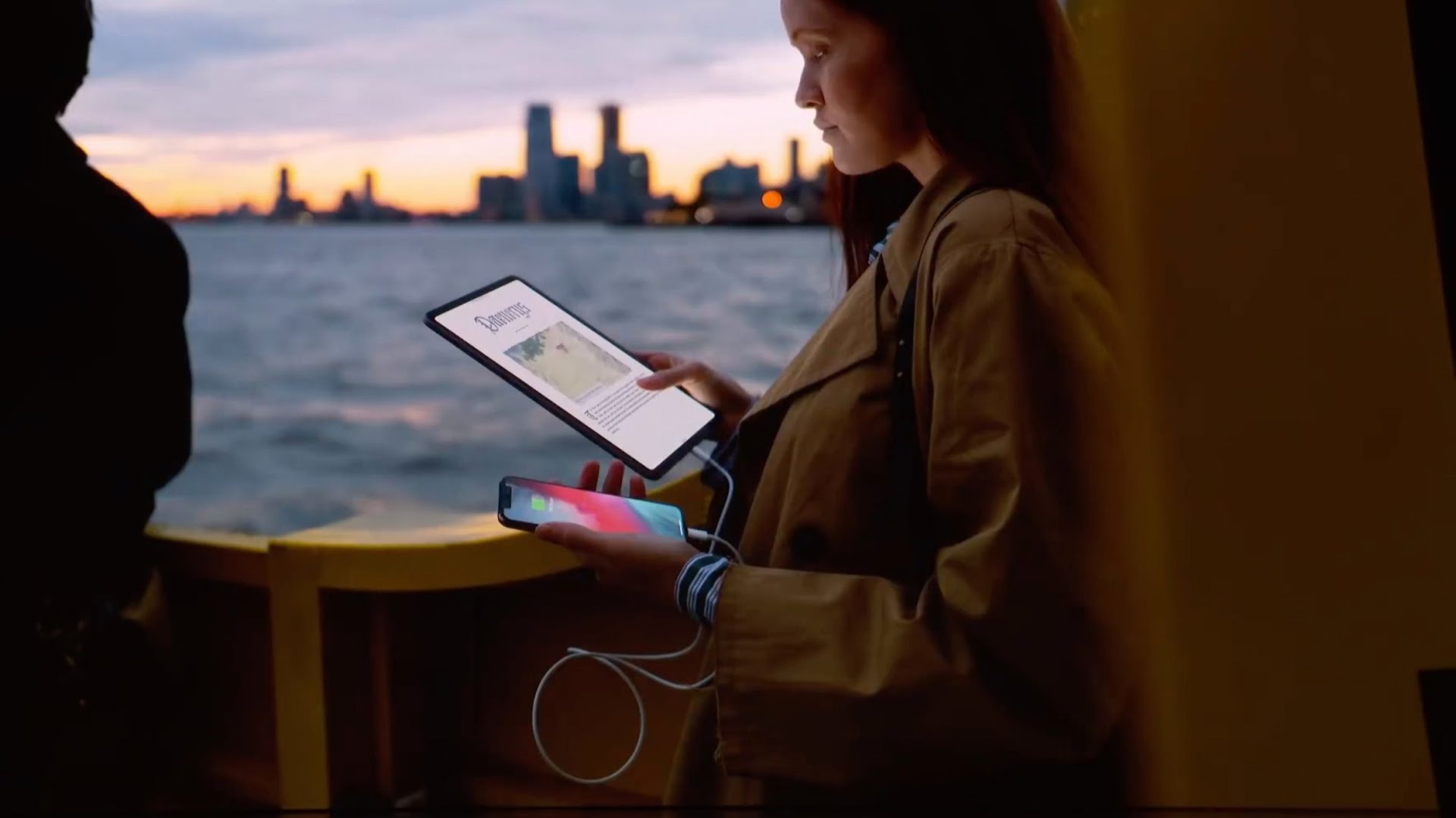 The new iPad Pro, through its USB-C port, will now allow users charge other phones and tablets, given you have the appropriate adapter(s) and cable(s) to make such happen. On older previous generations of iPads, connecting devices or accessories could power them, but not for long before the "the attached accessory uses too much power" warning pops up.
The new iPad can power iPhones and other phones at a charging speed of up to 7.5W.
4. Headphone jack and Audio devices
Advertisement - Continue reading below
The introduction of the USB-C port on the iPad Pro also prompted Apple to remove the 3.5mm headphone jack from its iPad line of products — a trendsetting move it started with the iPhone 7 and 7 Plus. To use headphones, you'll need to shell out extra dough for a USB-C to 3.5mm audio dongle or adapter. What this also means is that if you own an iPhone and an iPad, you cannot use the same headphone adapter for both devices; you'd have to carry two different adapters to work or when traveling.
The USB-C port also permits direct hook-up of the iPad Pro with audio devices and musical instruments like speakers, microphones and MIDI keyboards.
5. Keyboard? Yes. Mouse? No.
Like older iPads, the new USB-C iPad Pro supports the use of external keyboards via adapters. Using a USB-C to USB-A adapter will allow you get this done on the new iPad Pro. Sadly, users are still stuck with navigating the tablet by touching the screen as there is no support (on the software side) for using external mouse yet.
This makes it less close to a laptop or laptop replacement than Microsoft's Surface Pro.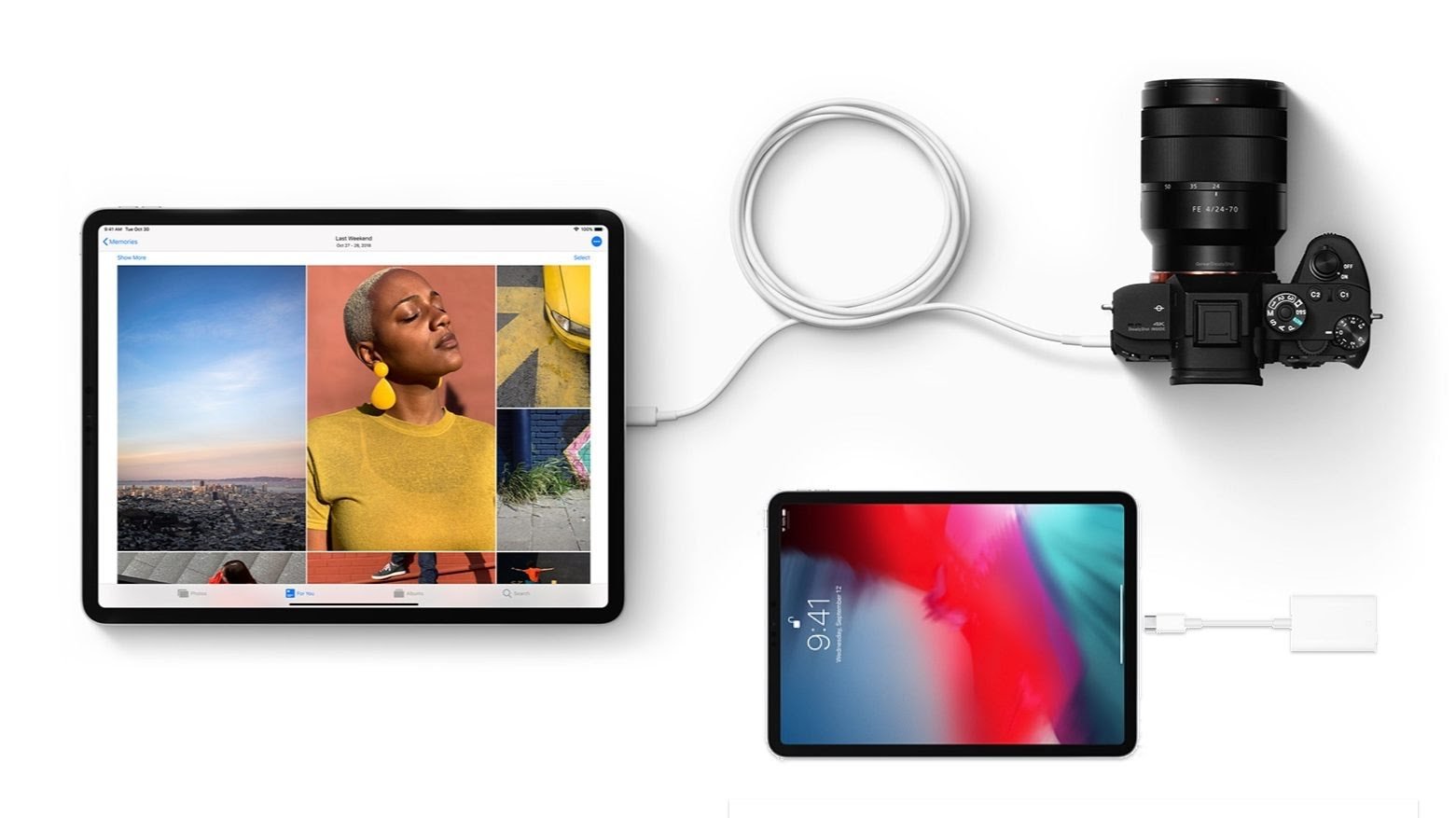 Another thing the USB 3.1 Type-C Gen 2 of the iPad Pro can do is allow fast data transfer from devices like cameras and storage devices like SD cards. You should know that the due to software limitations, the iPad Pro 2018 cannot directly read files and documents wither from SD card and drives. You can, however, import photos and videos via the Photos app.
Will the USB-C be coming to iPhones in the future?
Apple began its USB-C journey with the MacBook about three years ago, in 2015. Ever since, the connectivity port has found its way to several of the company's products, with the 2018 iPad Pro being the latest. The iPad Pro is, however, the company's first trial of the USB-C port on a device that isn't a laptop. It isn't perfect yet, but it's exciting to see it on the new iPad.
Advertisement - Continue reading below
But does this signal that, perhaps, Apple might make similar changes on iPhones later in the future? Is there any chance of seeing a USB-C iPhone being released by the Cupertino giant?
Mostly likely not — at least not anytime soon.
The possibility isn't ruled out but it would cost Apple a lot, particularly revenue-wise. A USB-C iPhone also translates into Apple having reduced control over iPhone; the iPhone will loss a bit of its uniqueness if its uses USB-C.
Yes, a USB-C iPhone would be a good thing on the path of the average iPhone user. Because USB-C phones and cables are ubiquitous, they can leave their chargers at home and be sure someone's got a (spare) USB-C charger and other USB-C accessories at work. However, this would mean reduced said of accessories for Apple.
Money and control aside, the USB-C on the iPad Pro still very much needs some improvements and development to undergo. Besides, the USB-C port in itself isn't perfect yet. So if the port is ever going to come to iPhones, Apple would most likely want it to be perfect on iPads before throwing them on iPhones, I guess.
Conclusively, USB-C boasts of a number  of advantages over Apple's proprietary lightning port. However, ditching lightning ports for USB-C means Apple has one less thing unique to its mobile brand. A way around this though, is releasing different iPhone flagship models with USB-C and lightning ports and leaving the users to make the ultimate decision.
Should this happen, which model of iPhone will you opt for? A USB-C iPhone? Or one with a lightning port?
Advertisement - Continue reading below