If you want to connect your laptop to your  TV, the choice is almost obvious — HDMI. And when you want to connect your laptop to a secondary HD monitor, options begin to be confusing.  Your Laptop could be having an HDMI port but then you have an older monitor which only accepts VGA inputs.
Video/Audio connectors and interfaces are rapidly evolving as are your devices. Moreover, videos are getting higher resolutions such as 4K. It doesn't help that there are so many ports on your TV or computer and that's precisely why vendors such as Apple are pushing for a single port that rules them.
Advertisement - Continue reading below
Will it be USB Type C or Thunderbolt or a combination of HDMI and USB-C? We don't know yet. Until then, it's important to understand the various technologies and where to apply them.
VGA/D-Sub connector: Analog display for your old monitor
Before LCD computers monitors were made, we had the old-school CRT tube monitors. Designed in 1987, Video Graphics Array (VGA) enables video signals to be sent by analog means from the computer's  three-row 15-pin DE-15 VGA connector to the monitor's VGA port via a VGA cable.
VGA resolutions  range from 640×350px @70 Hz to 1280×1024px (SXGA) @85 Hz (160 MHz) and up to 2048×1536 px (QXGA) @85 Hz (388 MHz). VGA is a very old standard with very limited device support today. A lot of projectors still have VGA ports though. If you need to connect from newer laptop with HDMI port to an old projector, then you will need a HDMI-to-VGA converter.
VGA was soon replaced by DVI which added support for both analog and digital data streams.
Digital Visual Interface (DVI): Digital connector for your monitor
Released on April 1999, DVI came just on time when LCD monitors were replacing CRT counterparts and added support for digital video data. LCD monitors accept digital data and support DVI format. The DVI specification supports both analog and digital video standards which means it's backward compatible with the older VGA standard via a DVI to VGA adapter. DVI does not support audio though.
DVI digital connectors  DVI-I and DVI-D come in two varieties. Single Link which supports resolution 1920 × 1200 and Dual Link with 2560 × 1600.
Advertisement - Continue reading below
DVI-I (Integrated): combines digital and analog in the same connector. Connects to monitor that accepts analog or digital signals. Digital may be single or dual link.
DVI-D (Digital):  Digital only and supports single link or dual link.
DVI-A (Analog): Supports analog only.
DVI can handle 4K at 30fps, uses the RGB color model but lacks optional support for HDCP which means it won't be able to show protected content. Most monitors have support for DVI, but it's soon being replaced by DisplayPort.  In December 2010, Intel and AMD, and several computer and display manufacturers announced they would stop supporting VGA and DVI-I. So it's time to consider DisplayPort(DP).
DisplayPort: A modern display connector for your pc and monitor
DisplayPort(DP) came as replacement for DVI as a new standard for tablets, notebooks, and desktop computers as well as monitors. It's not supported by many smart TVs and probably won't be since HDMI is doing just fine. Developed by Video Electronics Standards Association (VESA), DP is capable of carrying audio, USB, and other forms of data.
DisplayPort is specifically attractive for space-constrained devices such as ultra-thin notebooks, netbooks and graphic cards where connector space is at a premium and where display performance really matters. DP supports higher resolutions, faster refresh rates and deeper color depth with budget cables.
The other cool with DP is that with Multi-Stream feature enables multiple monitors to be connected to a single computer using daisy-chain or hub configuration. DisplayPort supports multi-channel audio and many advanced audio features. DisplayPort to HDMI adapters also include the ability to support HDMI audio.
DisplayPort v 1.3 supports 8192 x 4320 (8K) resolution with bandwidth of up to 32.4Gbps. DP doesn't  support ethernet data though like HDMI.
HDMI: The port that's everywhere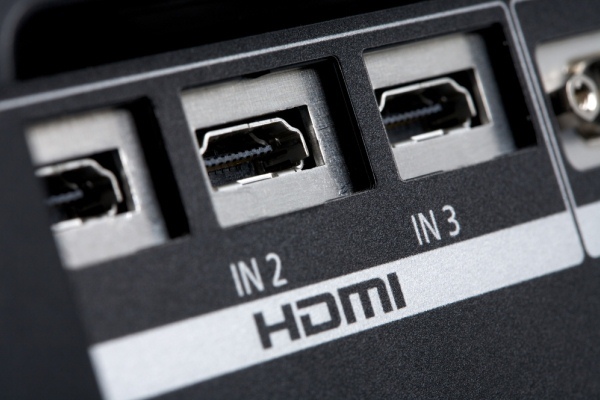 HDMI short for High-Definition Multimedia Interface is  a video/audio standard for transferring uncompressed audio and video data for consumer electronic. HDMI's main advantage is ubiquity; it's on over 4 billion consumer devices.
---
Related post: Beginner's guide to HDMI: Features, Specs, speeds and release dates
Advertisement - Continue reading below
---
Unlike VGA, DVI and DisplayPort, HDMI has support for carries digital audio signal via a  Audio Return Channel (ARC). It also supports internet sharing between devices through HDMI Ethernet Channel (HEC) and remote control of connected gadgets via  Consumer Electronics Control(CEC). HDMI's latest specification 2.1 supports speeds of up to 48 Gbits/s, higher refresh rates, higher resolutions of 4K, 5K, 8K and 10K.
Thunderbolt 3 and USB-C: The one port to rule them all
Developed by Intel and Apple, thunderbolt is the next-generation video/audio standard for connecting devices to video displays. Thunderbolt has evolved from version 1 and 2 which use the same connector as Mini DisplayPort (MDP) supporting speeds of up to 20 Gbit/s speed.  With such high bandwidth, it's able to transfer 4K video and display simultaneously.
---
Related post: Thunderbolt 3 vs USB Type-C: The spot-on difference
---
Thunderbolt 3 uses USB Type-C connector. It doubles the bandwidth to 40 Gbit/s while at the same lowering the power consumption making it suitable for portable devices such as netbooks, ultrabooks, smartphones and super sleek monitors.
While Thunderbolt has been supported in iMacs and Macbooks, in 2015 thunderbolt started appearing on netbooks running Microsoft Windows from vendors such as Acer, Asus, Clevo, HP, Dell, Dell.  In mid 2017 Intel announced that Thunderbolt 3 would become a royalty-free standard to OEMs and chip manufacturers in 2018, which means it will come in a lot more devices.
Feature Image: bestadvisor.com