With the expanded notoriety of distributed and cloud computing, organizations across the globe are getting away from the customary on-premise IT services that they have come to depend on for a while. In this article, we are going to understand these cloud computing forms; IaaS, PaaS, and SaaS mean. We shall also compare them and give examples of each.
Cloud-based administrations and computing services have changed how organizations are functioning currently. They permit them to utilize IT infrastructures, platforms, software, and applications via the Internet. This was drastic with the coming of Covid 19. So let's get started with SaaS;
Advertisement - Continue reading below
---
Also Read: Does cloud computing work in Africa?
---
What is Cloud Computing?
Cloud computing is the on-demand delivery of IT resources over the Internet with pay-as-you-go pricing.
Today, there are several examples of cloud computing applications used by both businesses and individuals. One type of cloud service would be streaming platforms for audio or video, where the actual media files are stored remotely. Another would be data storage platforms like Google Drive, Dropbox, OneDrive, or Box.
SaaS
Software as a Service (SaaS) is a software distribution model in which a cloud provider hosts applications and makes them available to end users over the internet. It is a form of cloud computing that delivers an application where users subscribe to an application rather than purchase.
Examples of SaaS include; Google Workspace (formerly GSuite), Dropbox, Salesforce, and Cisco WebEx. There are many others that deliver the same and can be categorically considered SaaS eg MailChimp, HubSpot, BigCommerce, etc.
PaaS
Platform as a service (PaaS) is a cloud computing model where a third-party provider delivers hardware and software tools to users over the internet. This form usually uses virtualization to offer an application-development platform to developers or organizations.
Advertisement - Continue reading below
Examples of PaaS include;
OpenShift
Heroku
AWS Elastic Beanstalk
Force
Google App Engine
This form of cloud service usually requires some technical knowledge and understanding of the underlying technology. Other examples include Dokku, AWS Lambda, SAP cloud, etc.
---
Related: Which Cloud Storage Service to Pay For in 2023
---
IaaS
Iaas is also known as Hardware as a Service (HaaS). It allows customers to outsource their IT infrastructures such as servers, networking, processing, storage, virtual machines, and other resources. Customers access these resources on the Internet using a pay-as-per-use model.
Here are some examples of IaaS which stands for Infrastructure as a Service; Amazon Web Services, Google Cloud, IBM Cloud, Digital Ocean, etc.
SaaS vs PaaS vs IaaS
We have already looked at the examples and definitions of each form, but to help you bring it out clearer, here is a different table that you can use for your reference;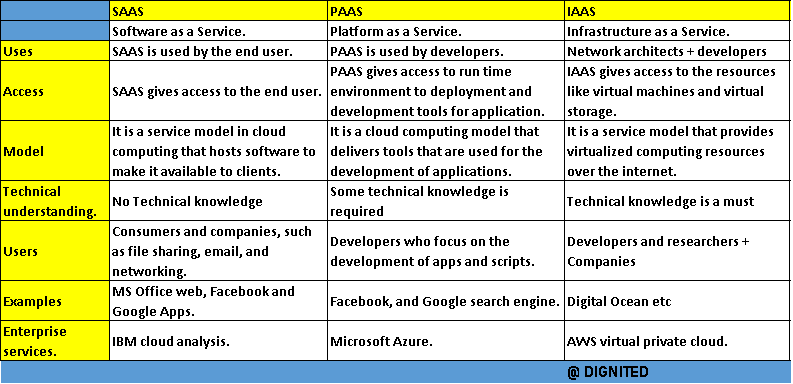 Conclusion
That's it for today! We hope you have learned what these different forms of cloud computing do and grasped the difference between them. We have also seen various examples of each. There is a lot more nowadays lie Blockchain as a Service, Storage as a Service, Network as a Service, etc but those three are the foundations of everything about cloud computing.
Advertisement - Continue reading below