Nearby share is a fast and easy way to share text, images, files, and web pages between your Android phone and Chromebook. If you're coming from the Apple ecosystem, you probably know how easy and convenient AirDrop is. With Apple's Airdrop, you can easily share small and big files between Apple devices even without an internet connection. I constantly Airdrop photos and videos I take with my iPhone to my Mac Mini for editing. It's absolutely a killer feature.
Google brought a similar feature to Chromebooks. With Nearby share, you can send files between Android phones or between Android phones and Chromebooks, or between Chromebooks. The feature is expected to come to Windows PCs later in 2022 enabling you to share files between Android phones, Chromebooks, and Windows PCs.
Advertisement - Continue reading below
---
Read more: How to share files with Android's Nearby Share feature
---
Enable Nearby share on Chromebook
On Chromebooks, Nearby share is turned off by default. To enable it and send or receive files on your Chromebook, go to Settings > Connected Devices > Nearby share.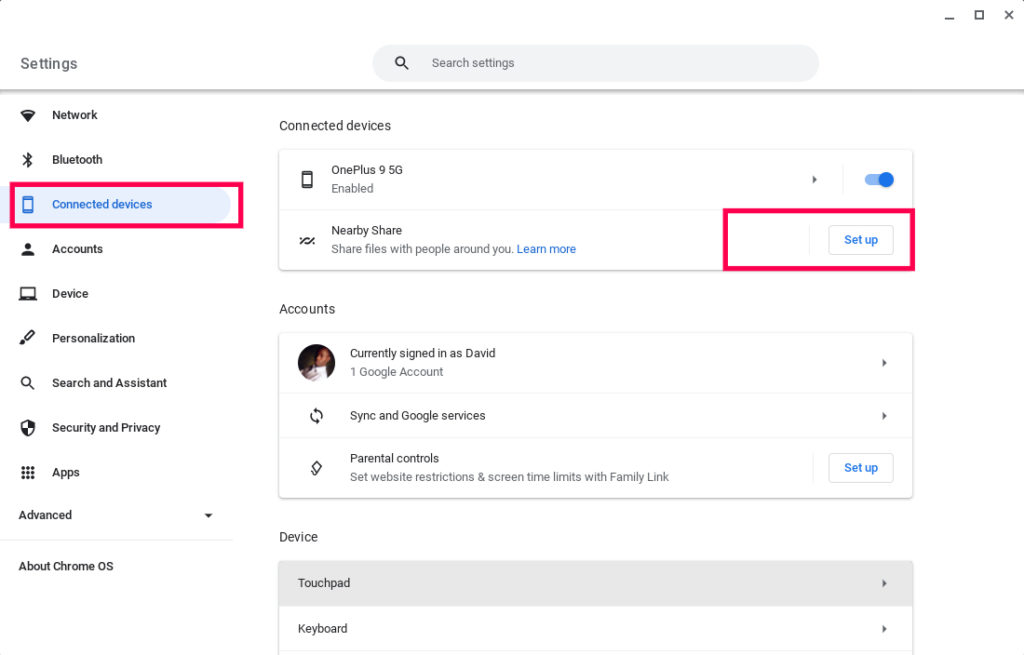 Enter a name for your device. Then choose your device visibility. There are three options; All contacts, some contacts, and hidden.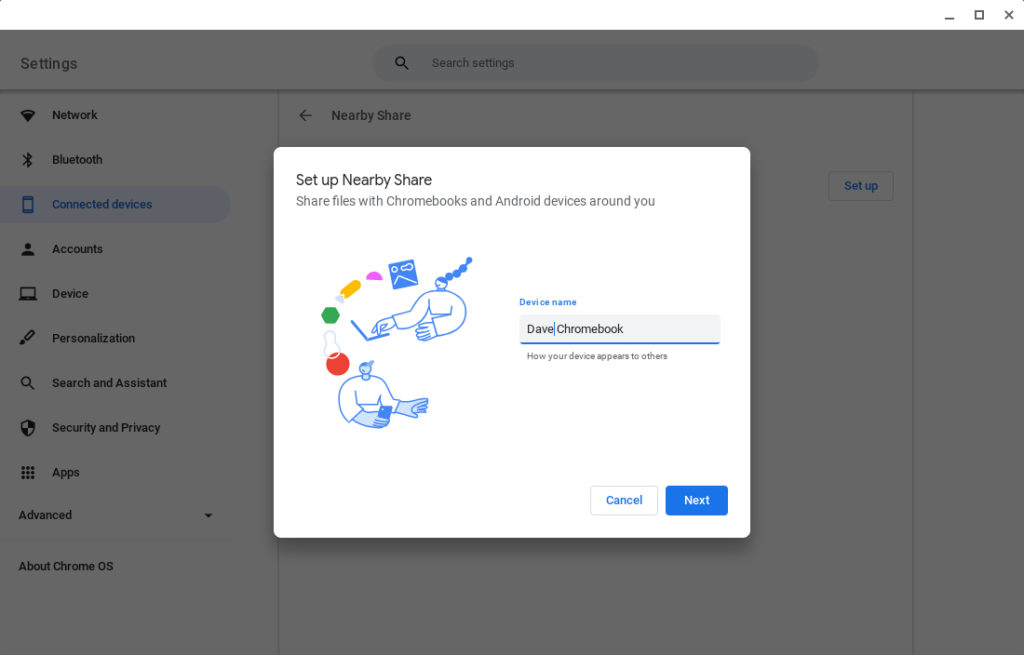 With the All contact visibility option, you allow all your contacts to share data with you. Your contacts can share with you when they are nearby. With hidden, No one can share with you until you make yourself visible. You can make yourself visible temporarily by opening the status areas and turning on Nearby visibility.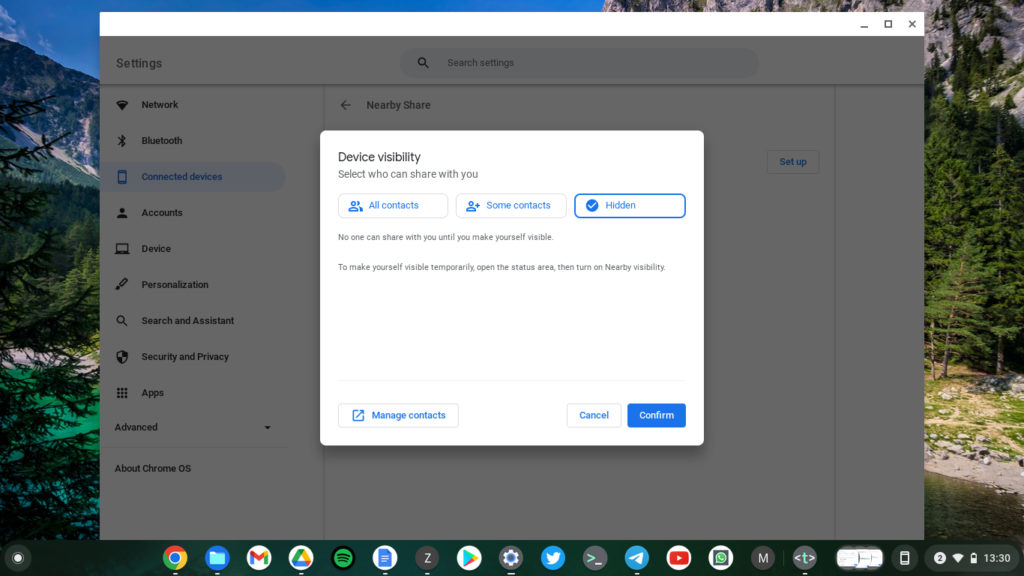 Confirm your settings and Nearby Share should now be set up.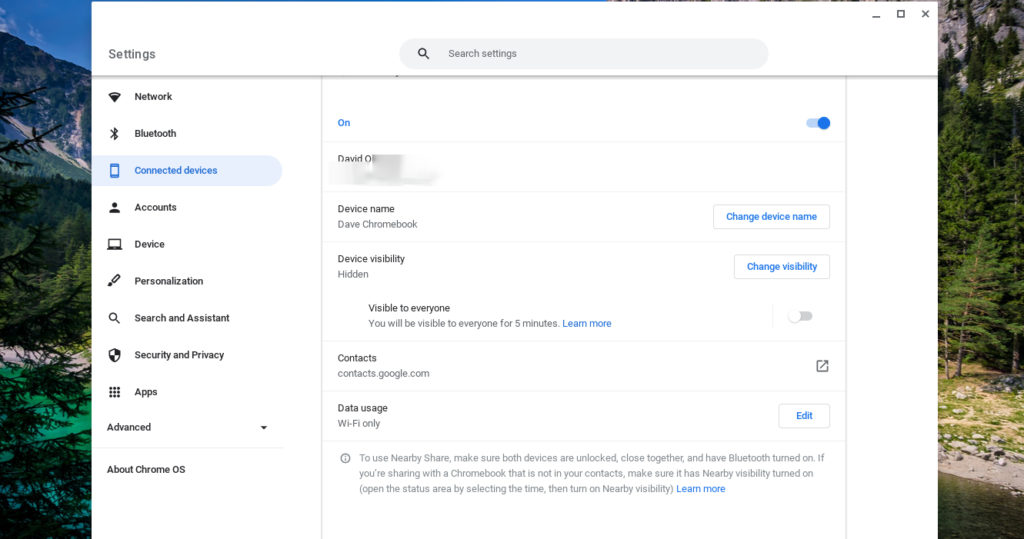 Send files from Chromebook to Android Phone
Now to share files from your Chromebook to your Android phone, open the files App, right-click on the file, then select share.
Advertisement - Continue reading below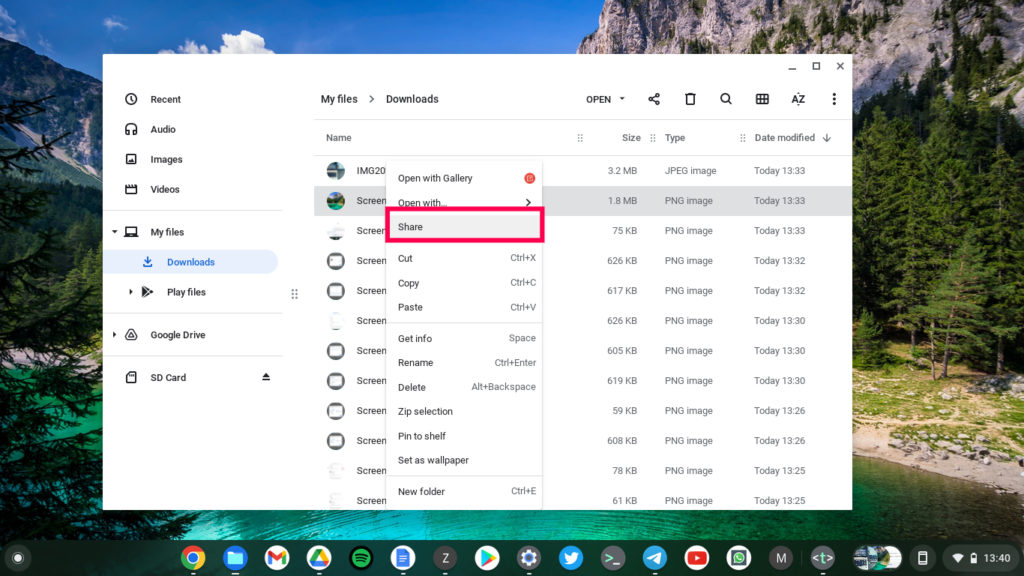 Under share options that come up, click on Nearby share.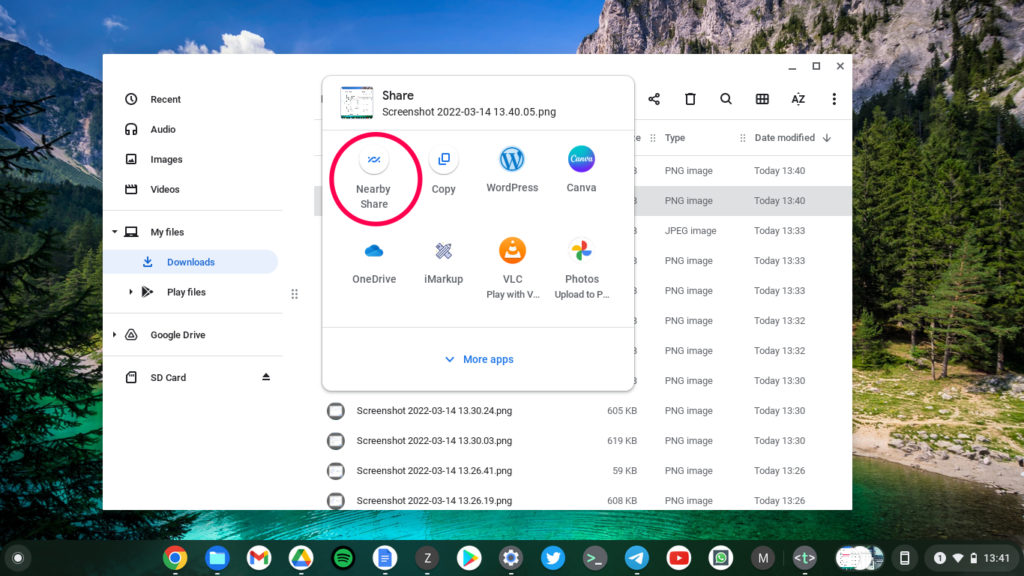 Chromebook will start searching for Android phones with nearby share turned on. Make sure, nearby share is turned on your Android device. Select your Android phone and click on next.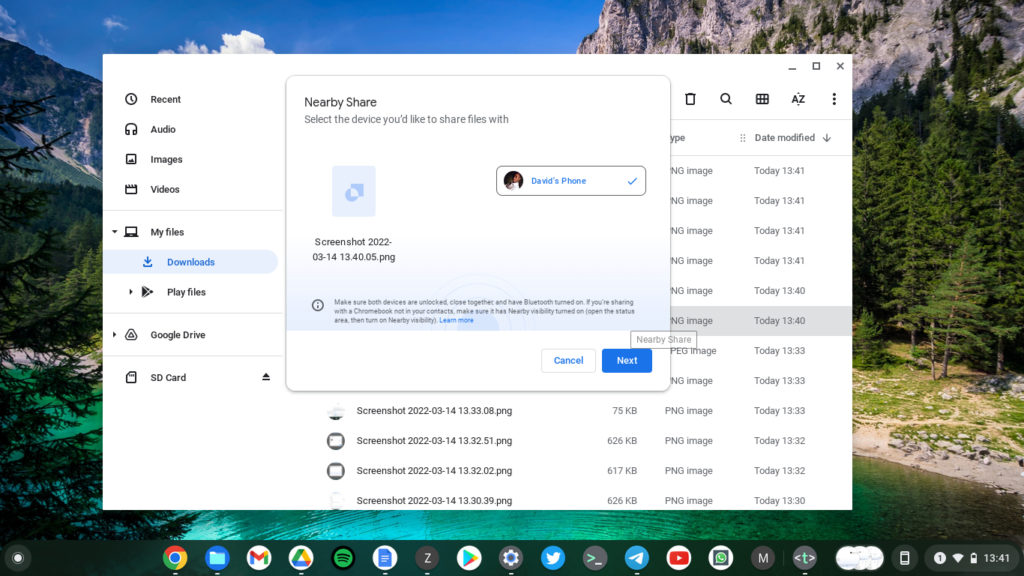 A prompt will appear on your Android phone asking you whether you want to receive files from the Chromebook.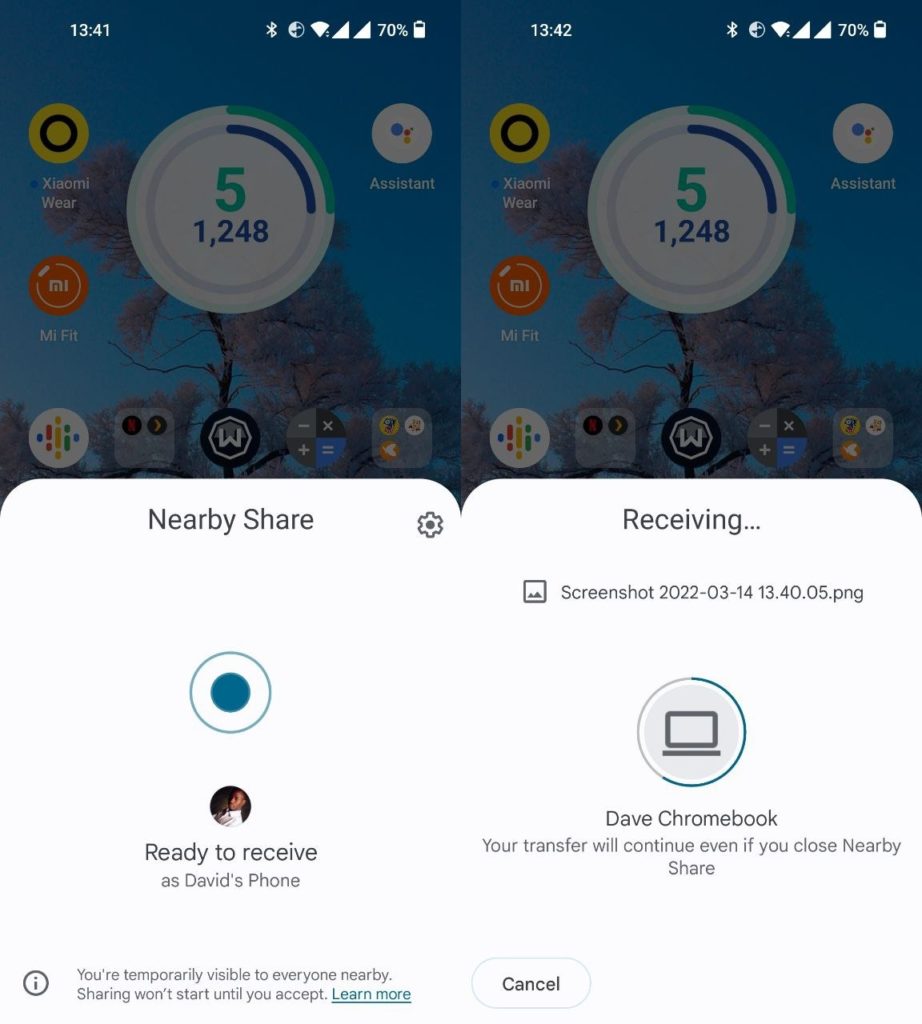 The file will download to your Phone.
Send Files from Android Phone to Chromebook
Now to send Files from your Android phone to your Chromebook, select the file/photo you wish to share, then tap on share, then nearby share. Your Chromebook should appear under nearby devices, select it and the file transfer should start in a few seconds.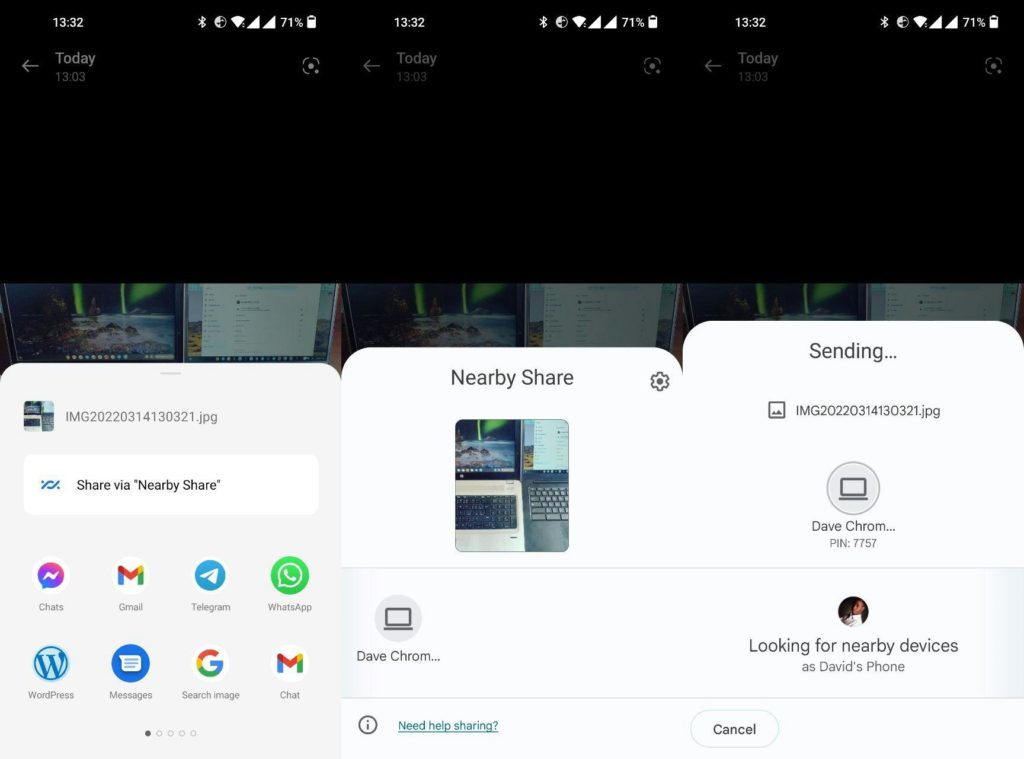 Under the Chromebook system tray, you should see a notification of file being transfered.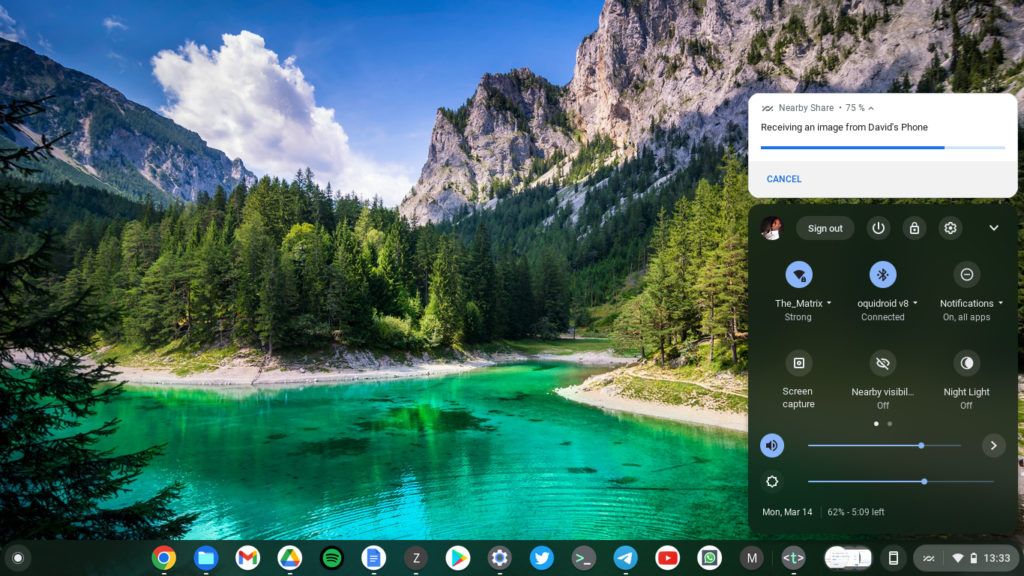 I found Nearby share quite slower than Apple's Airdrop. Apparently, the reason is that Nearby share primarily uses Bluetooth instead of WiFi to transfer data. We know that Bluetooth is much slower than WiFi. Nearby share, however, tries to escalate from Bluetooth to WiFi for bigger files, however, this sometimes doesn't happen, leaving you stuck with the slower Bluetooth.
Advertisement - Continue reading below