Cloud storage can be thought of as a hard drive on the internet that you can access from anywhere via the internet. It is a relatively convenient way of storing and sharing files, especially files that you do not want to lose. The basic idea with cloud storage services is that you pay a subscription to use the storage. Currently, there exist many companies offering cloud storage services, many that you may never have heard of. So, how do you know which one is the best for you? You have probably heard of big names like Google Drive, Microsoft One Drive, or Apple iCloud.
Since "the best" can vary from user to user, in this post we intend to break down the best six such cloud storage services. That way you can be able to tell which is best for you before giving your credit card information for a monthly or annual subscription. It all boils down to more than just how much you pay per Gigabyte. But also how you access and interact with the cloud storage plus other features such as security also plays a big role. So let us get started.
Advertisement - Continue reading below
---
Also Read:
---
1. Google Drive
As soon as you set up a Google account, you are eligible for 15GB of free storage that you can use to store or backup files. You can store literally any type of file that can be stored in a hard drive; from photos to videos and documents. The main benefit of google drive is that it readily integrates with Google's free suite of office apps that you can access via a browser or an app on your phone. The user interface is quite straightforward and functions pretty much just like any other file explorer.
It shouldn't take you a whole lot of time to get used to. Some notable features of Google Drive are the ability to share links to files and folders and also to set the level of access that the recipient will get. Google Drive has apps for a wide variety of platforms; Windows, Mac, iOS, and Android. Another feature of Google Drive is that you can access and open a file that is already open on another device. Below are the current pricing plans for Google Drive.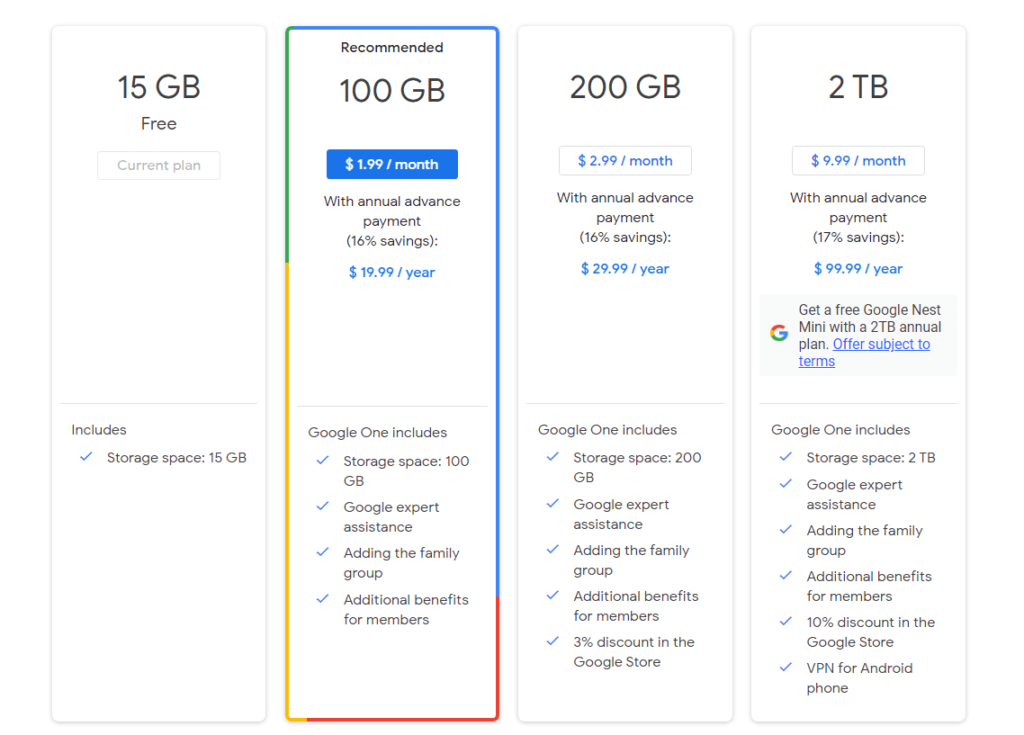 Once you exhaust the 15GB free storage you can move to their Google One plans. And in my opinion, the best part is that you can share the storage with up to 5 other people. And if you choose to pay annually instead of monthly you get between 13% and 17% discounts. Even though it is arguably the best cloud storage overall, a downside to Google Drive is that it does not have end-to-end encryption.
---
Also Read:
---
2. Microsoft OneDrive
If you are an avid user of Microsoft services like Office and windows, this should be your go-to cloud storage service. This is because Microsoft One Drive is properly integrated into windows and office products. The initial free offering is a meager 5GB that is bound to fill up in no time. Key features of OneDrive include web access, advanced search, automatic photo backups, and mobile access.
Advertisement - Continue reading below
There is also a File On-Demand setting that keeps files online only saving space on your local storage. Once you step up to the paid subscriptions after exhausting your 5GB free offer you get several perks. Below are the pricing plans for Microsoft OneDrive.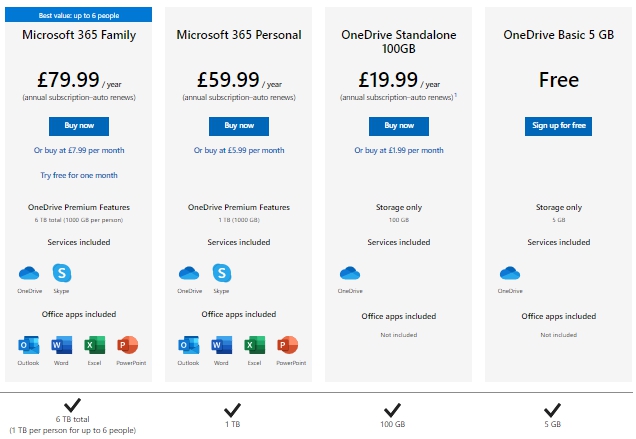 The first and perhaps the most lucrative feature is the ability to restore the entire storage to any point within the past 30 days. Other features include password protection on shared files, the expiry of shared links, and offline folders on mobile. With a paid subscription you also get to share ten times the amount of quantity allowed per day. If you need big quantities like 1TB, Microsoft 365 is your best value for money since it comes with office apps.
---
Also Read:
---
3. Apple iCloud
This is a cloud storage service that is primarily intended for people who use Apple products. It is an integral part of both iOS and macOS. It only makes sense if you are using it on the Apple ecosystem. This doesn't mean you cannot access it via other platforms like a windows PC. All files such as videos, photos, and music from your Apple device are stored in iCloud. The pricing plans for iCloud are; 0.99$ for the 50GB plan, $2.99 for the 200GB plan, and $9.99 for the 2TB plan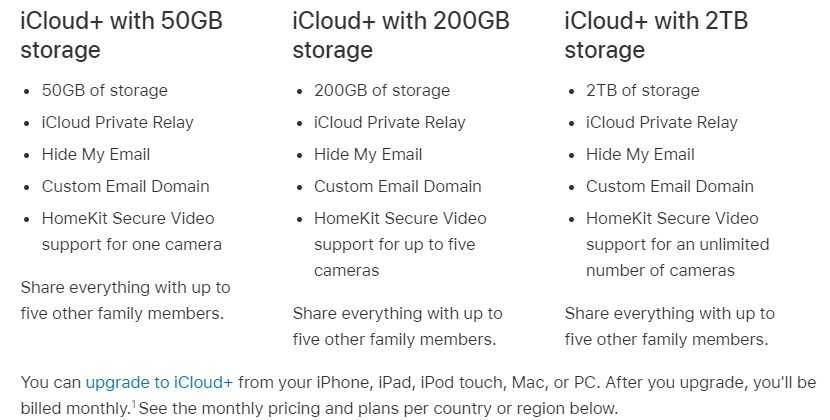 It also includes backup for other items such as calendars, contacts, and messages. Similar to Microsoft's OneDrive, the free storage limit is 5GB after which you need to start paying. The best part about iCloud on Apple devices is that it is almost 100% automated. You don't need to do anything to initiate backups after you set it up. Also if you migrate from an Apple device to another Apple device you will be able to transfer all your data in a matter of minutes courtesy of iCloud.
---
Also Read:
---
4. Mega Cloud Storage
This is a cloud service based in New Zealand that offers 15GB of free storage for starters. They previously used to offer 50GB but have since been downgraded to 15GB. You get additional capacity as a reward for something they call "achievements". These are things like inviting friends, installing sister apps, and validating your mega accounts. Below are the pricing plans for Mega.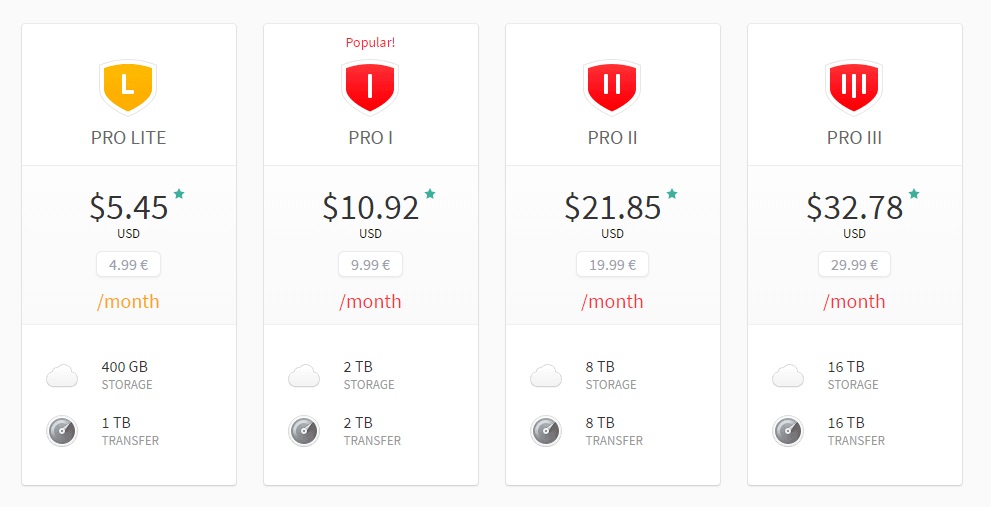 Mega comes with browser extensions, an Email add-on to share large files easily plus a secure chat platform for other mega users. The biggest selling point for Mega is its end-to-end encryption. This is why they warn you that if you lose your password not even Mega can help you recover your encrypted files. Objectively, Mega is a good value for money, fast and easy-to-use online storage service.
Advertisement - Continue reading below
---
Also Read:
---
5. Dropbox Cloud Storage
Dropbox is among the most notable names in the online storage business. The biggest selling point for Dropbox is support for compatibility across various platforms. Dropbox can be integrated into Windows and macOS and has native support for a lot of third-party apps like Google Docs. This is a cloud storage service that you can count on if hop from platform to platform. Or even if you use a lot of third-party apps. Below are the pricing plans for Dropbox.

on the downside, you get just 2GB of free storage limited to three devices and lack a key feature of setting restrictions on recipients of a shared file. All in all, Dropbox is good value for small teams and businesses with very flexible needs.
---
Also Read:
---
6. pCloud
pCloud is a Swiss-based cloud storage company that majors on keeping your files safe, secure, and available on all your devices. With pCloud, the initial free offering is a decent 10GB but you need to unlock 3GB by completing a few tasks. The tasks include downloading the mobile app and sharing the service with others. A downside of pCloud is that unlike Google and Microsoft they do not offer any office suits and other extras. Their focus is on security and accessibility.
Their security is so strong that they keep five copies of each file scattered across different servers worldwide. They also use 256-bit AES encryption on all their servers. pCloud also offers extra encryption on the client side before data leaves your phone for a monthly fee of $4.99 or a lifetime fee of $125. Some other strengths of pCloud are that it doesn't have a limit to the size of a single file you can upload. And you can also restore your storage as far back as 30 days.

You are also able to preview some common file types when using a browser and also play music directly from pCloud. Their pricing is what stands out from the ordinary with either annual or lifetime subscriptions for 500GB, 2TB, and 10TB. This one-time lifetime subscription option is what makes it of great value as it pays itself after a couple of years and you essentially continue using the storage for "free".
What other cloud storage services have you been using, perhaps from other companies? And would you recommend them to other potential users? Kindly go ahead and let us know your cloud storage experiences in the comments section below.
Advertisement - Continue reading below
Featured Image Credit: kinsta.com