Tecno took things a notch higher when they recently introduced the official Tecno Forums called Tecno Spot. These forums are the place where all Tecno fans in Africa are meant to connect and share tips, tricks and information about all things Tecno.
It was from the forums that leaks about the upcoming Boom J8 and the anticipated HiOS were made. Users have also gone on to share lot's of information about their devices ranging from where to buy, how to root, update or maximise their devices.  On the Tecno forums, the topics are around Tecno Products, HiOS, Downloads, General and Feedback.
Advertisement - Continue reading below
The Forum is free for all to Join but we our initial attempts to sign up were frustrated by what seemed to be a bug. We finally managed to sign up (We hope your experience is better than ours). This is a bold move by Tecno to seal it's share of the African Market by rallying up the fans they have amassed over time into a community. Online communities in Africa have always been problematic with a few documented successes like Nigeria's Nairaland among a few others.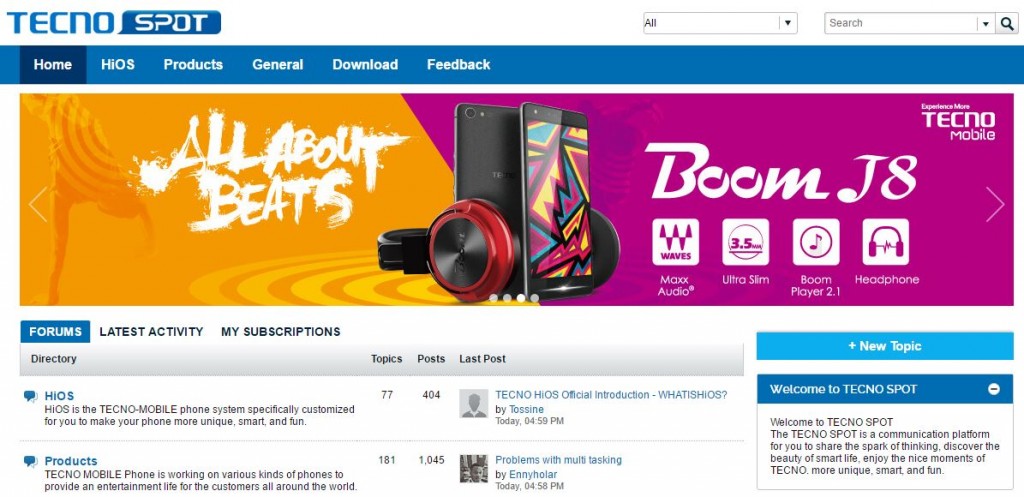 The forums are great way to engage and interact with current and prospective customers and Tecno has learnt this. Both Infinix and Tecno now have their own forums that offer a lot of useful and timely user generated information. If you are a Tecno fan, sign up and stay informed about what is happening in the world of Tecno.