MTN Uganda has today introduced a new bundle they are calling MTN Pakapaka. The bundle gives customers 30 minutes for MTN to MTN calls at only 1,000/-, valid till midnight for 24 hours
Update: MTN Uganda has now made the Paka Paka bundle valid for 24 hours instead of midnight.
Advertisement - Continue reading below
The bundle is an improvement of an existing bundle that gives you 15 MTN-MTN for 1000 valid until midnight. The increase from 15-30 minutes is a significant improvement and voice offering.
It's hardly a week since MTN launched the Zone Bundles and other offerings in the 1st quarter. They are on a roll and promise to continue innovating to bring customers the best offerings says MTN CMO Mapula Bodibe
"MTN will continuously gain insights into consumers' needs to offer our customers the most affordable products that suit the unique needs of all Ugandans."
This offer is a big deal for a couple of reasons.
Approximately 6 out of 10 numbers you will be calling are MTN
Many customers are looking for the best deals on voice calls to stay in touch with friends and family or to run their businesses
It adds onto the existent voice offers to meet the needs of different MTN customers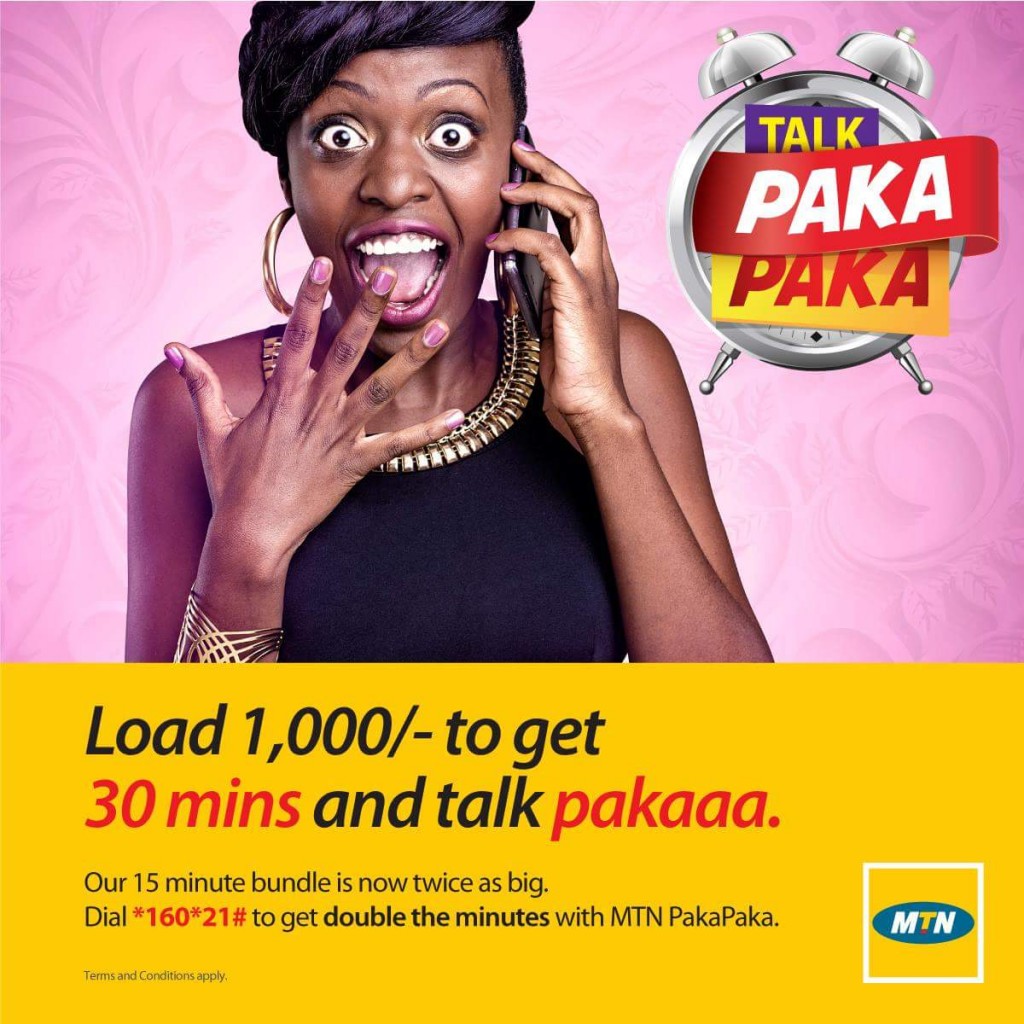 Some of the other MTN Voice bundles
Call all networks at 3/= per second
Tooti bundle gives you 30 On-Net minutes valid for 30 minutes at Ugx 500
1000 minutes per month for 30,000/=
Voice, Data, and SMS bundles at different costs/plans like per day/week/month
While other Telecoms had already embraced bundles and offers of this nature, offering upto unlimited calls for 24 hours for just 1k, MTN took their time. Also this seems to be the closest we shall get to a voice bundle that offers unlimited calls for a day from MTN. However, with the multiple voice offerings to suit the needs of different customers , the 24hr unlimited offering may not be necessary.
Advertisement - Continue reading below
Another thing that would be nice to add to this package would be to give it a 24 hour validity rather than just expiring by midnight. That means that if I loaded the Pakapaka bundle at 3pm, it would expire by 3pm the next day and not at midnight.
To activate the MTN PakaPaka, and talk longer with double the minutes, customers can dial on *160*21# to activate.