The Uganda Immigrations Department has introduced a seamless online process through which one can apply for an e-Visa along with other documentation. Uganda online Visa application will streamline the process of getting the right documentation for entry into the country. This new arrangement is poised to cut down on time spent processing Visas on entry,  boost Uganda's tourism potential, cross border trade and more.
The chaps over at the Directorate of Immigration and Citizenship Control (In other words, Immigrations) appear to have cracked the oyster open. Now the Pearl of Africa will be more accessible by all wishing to visit Uganda for business or pleasure. Or a little bit of both.
Advertisement - Continue reading below
Immigrations will completely scrap the current visa processing on arrival system by 31st July 2016 in favour of the e-visa system. We are not so sure this would be a wise decision, seeing how not everyone who flies is tech-savvy. An incentive to tilt the bias towards online visa processing would work better than outrightly stopping visa processing at entry.
Other than visa, what can be applied for on the immigration website includes: Certificate of Residence, Dependant Pass, Entry Permit, Special Pass and Student Pass.
---
UPDATE: With effect from today July 22nd, tourists seeking to come to Uganda will pay half of the money they have been paying for single entry tourist visas. – See more at: New Vision
---
The entire process to apply for Visa itself is split in four simple steps: You are required to specify the Application type after which you Fill the forms (personal information and passport details), Add Supporting Documents and finally, Submit. The entire process shouldn't take more than 15 minutes. Below are the requirements needed to apply for a Visa to Uganda. For Ordinary Visa, you only need a Passport copy, recent Passport Photos and a Vaccination certificate. The requirements increase for other types. Read more below:
Uganda Visa Application requirements*
Passport copy (bio-data page)
Recent Passport-size Photograph
Vaccination Certificate (Yellow Fever)
Transit (A letter stating reason for transit and country of destination)
Diplomatic/Official (Copy of Diplomatic Note – Note Verbale)
Multiple Entry (1. Police Clearance from Interpol or home country
2. Recommendation letters from 2 Referees in Uganda
3. Cover letter stating reasons for Multiple Entry)
Advertisement - Continue reading below
East Africa Tourist Visa* (1. Travel Itinerary
2. Return Ticket)
*Supported formats are : PDF, JPEG, PNG, BMP
**Minimum file size is 5 KB. Maximum file size is 250 KB
***Visa fees vary from $0 for Diplomatic/Official $50 for Ordinary, $100 (East Africa, Transit) to $200 for 2-3 year Multiple Entry. The Visa fee is paid on entry into the country.
****Holders of the East Africa Tourist Visa are free to roam the Republics of Uganda, Kenya and Rwanda without need for another Visa.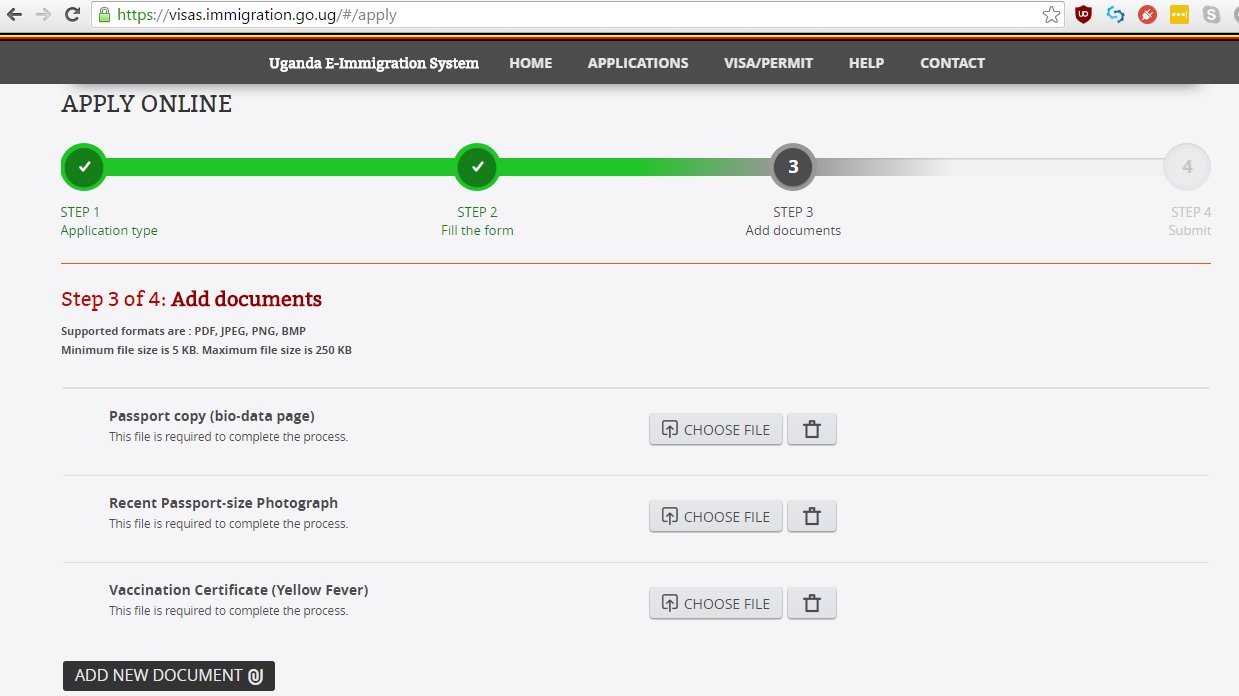 Visa Fees
Diplomatic/Official $0
Ordinary $50
Transit $100
East Africa Tourist $100
Multiple Entry $100 (6-12 months), $150 (12-24 months), $200 (24-36 months)
Visa Exempt countries on entry to Uganda
Angola,Eritrea, Malawi, Madagascar, Seychelles,Swaziland, Zambia, Comoros, Kenya, Mauritius, Zimbabwe, Tanzania, Rwanda, Kenya,  Burundi, Antigua, Barbados, Fiji, Grenada, Lesotho, Sierra Leone, Solomon Islands, The Grenadines, Vanuatu, Cyprus, Bahamas, Belize, Gambia, Jamaica,
Malta, Singapore, St. Vincent-Tonga.
Featured Image: travelnt.com
Advertisement - Continue reading below