With barely two months to the 2022 General Elections, everything is escalating into high gear as aspirants and wannabe political appointees traverse the country to solicit support from Kenyans in the upcoming polls.
Politics can be a dirty game, which would explain the general despise and disinterest from many Kenyans, especially the youth but in the end, it is an incredibly important democratic process that essentially determines the future of the country. As such, it is very important that everyone with an identification card, meaning any adult, should vote.
Advertisement - Continue reading below
The Independent Electoral and Boundaries Commission (IEBC) in Kenya has been registering voters for the past few years with mass registration campaigns in the past few months.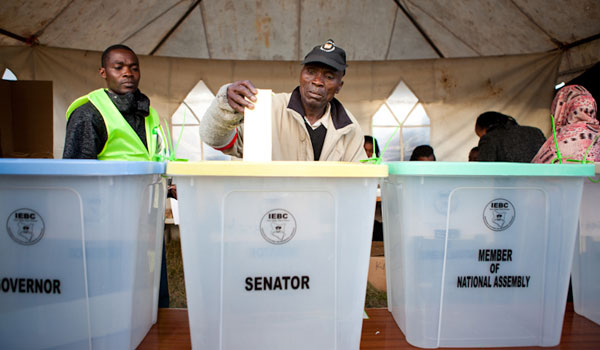 Right now though, the voter register is closed and as the Commission proceeds to vet and audit the said register, it is also important that Kenyans get a way to check their details, and ensure that they are in order which will allow them to vote in the General Elections.
Well, that is exactly what the IEBC has done and now, Kenyans can check to verify their voter registration details.
Kenyans now have two methods of verifying their voter registration details, one that involves querying the register via SMS and another that requires them to check on IEBC's online portal.
How to Check your Kenyan Voter Registration Details via SMS
Open your SMS app
Enter 70000 as the recipient
in the message body type in your ID Number and your Year of birth in the following format IDNumber#YearofBirth, e.g. 12345678#1234
Ensure you have at least Ksh. 20 of Airtime on your phone and send the message
That's it!. The system should respond with your voter details including your county, constituency, ward, and polling station.
How to Check your Kenyan Voter Registration Details Online
Well, disclaimer, many Kenyans, yours truly included, haven't been able to get this method to work but it is available if it works fr you.
You can go to https://verify.iebc.or.ke and if this loads up for you, you will need to provide your ID Number and the system will pull up your voter registration details.
Already, there have been complaints online of voters being moved to polling centers that are nowhere close to their region in Kenya with others reporting errors in their names and details, errors that might not allow them to vote come August 9, 2022.
It is, therefore, worth spending some time or some little airtime to confirm that your details are indeed in order so you avoid inconveniences and frustrations on the polling day.
Featured Image courtesy of AP.