The Uganda Parliament passed the Anti-Pornography Bill in 2014, appended with the President's signature to make it into law. The Anti-Pornography Act 2014 instituted a Pornography Control Committee to monitor and enforce the laws. Government allocated Shs. 2.6 billion ($772,000) to kick-start the process, with Shs. 300 million ($89,000) already spent on a pornography detection machine. 
Aware of how little Ugandans actually know of this Anti-Pornography Act, we are going to break it down to the gist. The reason for our interest stems from a technological aspect. We will broach the subject on how the Anti-Pornography Act will affect the average Ugandan internet consumers and all else they need to know.  For a deeper understanding of our subject matter, we advise every citizen to read the Anti-Pornography Act 2014 (PDF)
Advertisement - Continue reading below
Pornography Control Committee
Notable among the Committee members is Ethics Minister Father Simon Lokodo and Anti-gay Pastor Martin Sempa. Other committee members include Dalton Opwonya, Mohammed Ali Waiswa, Joan Kyomugisha, Gastone Byamugisha, Hafisa Kabagonja, Victoria Sentamu and Mr Fred Nyakori. The committee is chaired by Anette Kezaabu Kasimbazi. The Committee comprises of representatives from the Uganda Law Society, Media and publishing houses, the Arts and Entertainment Industry, Education and Health Professionals. Two members in the committee represent cultural and religious leaders.
Among the many functions of the Pornography Control Committee, they will are mandated to do the following:
Functions of the Pornography Control Committee
(a) to take all necessary measures to ensure the early detection and prohibition of pornography 

(b) to ensure that the perpetrators of pornography are apprehended and prosecuted

(c) to collect and destroy pornographic objects or materials with the assistance of the police

(d) to educate and sensitise the public about pornography 

Advertisement - Continue reading below

(e) to promote the rehabilitation of individuals, groups and families or communities affected by pornography

(f) to expedite the development or acquisition and installation of effective protective software in electronic equipment such as computers, mobile phones and televisions for the detection and suppression of pornography~Anti-Pornography Act Section II Act 7
Pornography detection Machine
Little is known about this 'pornography detection machine' other than the fact that it is South Korean in origin. The New Vision quoting Father Lokodo stated that the 'Machine' cost Shs. 300 million and will arrive in Uganda in next month (September). The 'Machine' will detect pornographic content on internet-connected devices such as smartphones and computers. Those found in possession of said content will will charged in courts of law. The penalty if caught and convicted stands at Shs. 10 million and imprisonment for 10 years. Or both. The penalty is worse for consumers of child pornography.
Internet Service Providers (ISP)
An Internet Service Provider (ISP) who, by not using, or enforcing the means or procedure recommended by the Committee to control pornography , permits to be downloaded or uploaded through its service, or any content of pornographic nature, commits an offence and is liable , on conviction, to a fine not exceeding 500 currency points (Shs. 10 million) , or imprisonment not exceeding 5 years or both. ~Anti-Pornography Act, Part III, Act 17
If history is anything to go by, Internet Service Providers will gladly comply with government directives as per law. Consider this for a moment: ISPs like MTN, Airtel, Smile, etc, can monitor and record your online activities, especially unencrypted content. They can easily pinpoint where you live and pass this information on to government when called upon. ISPs can alternatively block certain content and websites on the internet deemed pornographic. We imagine this will be the route they will take so as not to contravene the above quoted law. All indication point to this censorship coming into effect on the arrival of the 'Machine' in September.
Implications
The implications of accessing censored internet in Uganda is a whole new dynamic for internet users and activists alike. Understanding the implementation of this censorship and the consequences will take time. We have a number of questions we would like to be addressed by this law: Will certain content or whole websites be blocked by the ISPs? Where will the 'Machine' be installed? How will it work? What constitutes pornographic content? What about sex education websites? And what if a person took a nude picture of themselves, would the 'Machine' be able to detect this and charge them under the law? How will this impact internet usage in the country? Will certain content on social media sites such as YouTube be blocked? Does the prospect of a software scanning private smartphones and computers contravene international privacy laws?
We are not in position to answer all these questions much as they will shape the way we consume and share content online. A closer inspection of the Anti-Pornography Act and its implications is in order.
Lastly, what criteria will be used to include someone on the Register of Pornography offenders? Can someone's name be scrapped off the list if they are proven to be innocent? Below is a sample form the Pornography Control Committee will keep of pornography offenders:
Advertisement - Continue reading below
Registry of Pornography Offenders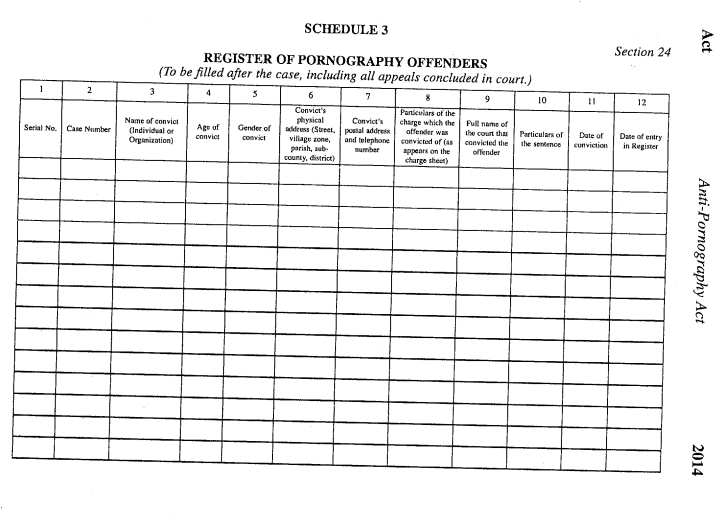 The government will keep a register of pornography offenders, including their age, contact details and convicted offence. Other countries usually have a registry of sex offenders.