Facebook is in the process of rolling out Facebook Marketplace to users 18 years and over in the US, UK, Australia, and New Zealand with more countries to be added in due course. Marketplace will allow users to buy and sell their items in their neighbourhood using a tab on the homepage of their Android and iOS smartphones. The desktop feature might be added if Marketplace picks up steam.
Facebook Marketplace will directly compete with local players such as OLX classifieds which offer a similar service. A quick perusal through the OLX Facebook page indicates that indeed people want to buy or sell certain items much as they might not know how to go about doing just that. In the comments, OLX keeps informing them to install their app after which they can place an ad selling whatever it is they want to sell. But here's the thing: People don't really want to leave Facebook, because the numbers are there. And if at all this interest is any indicator, Facebook Marketplace will immediately hit it off with its users.
Advertisement - Continue reading below
Market Potential
Facebook has for long been one of the major drivers of e-commerce on the internet albeit indirectly. Matter of fact, more than 450 million people visit local buy and sell groups every month. The introduction of Items for sale tab along with Offer and the growth of Facebook Groups fostered the growth of buying and selling of stuff by local communities. After all, the last thing anyone can be worried about on Facebook is numbers. Items on sale include electronics, household items, pets, land, apartments (rent), agricultural produce, e.t.c. In Uganda, Kampala Expats, Uganda Farmers Market are some of the most popular ones.
Window Shopping
Few websites can match the amount of time Facebook users spend on the site. Half the time is spent scrolling through feeds, reading comments, checking out pictures, videos and all that. This surprisingly has a correlation to window shopping. After a bit of time spent scrolling through what people are selling, you will find yourself spontaneously buying something.
---

Quotable: "We found that the vast majority of people just like to browse. They don't have a specific item in mind. They are just…scrolling through the feed and seeing if there's anything that might interest them"

"It mimics some of the offline shopping behavior of going to a Sunday market or to the mall. You might not know the items you want, but you're open to seeing them," Facebook Marketplace product Manager Bowen Pan (Source: TechCrunch)
---
Simplified vetting process
Facebook integrating a marketplace introduces a level of security you wouldn't normally get. A buyer can easily look up information about the seller and read comments on past transactions. While easily dismissed, what others say about you on Facebook is a good indicator of the sort of person you are. Also, you directly talk to the seller and do a bit of old-fashioned negotiations. Facebook can just as easily ban a flagged user from using Marketplace altogether
How it works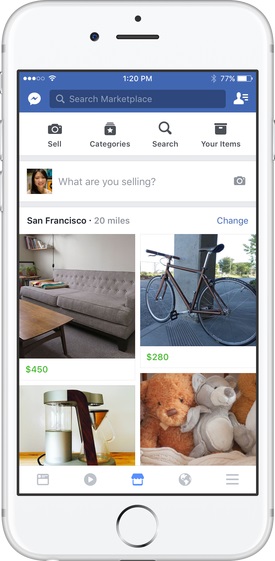 Advertisement - Continue reading below
When you click on the shop button in your Facebook app you will be directed to a Marketplace page. From there you can sell an item, browse categories and buy. Your search criteria can be specific or if you would rather scroll through everything until you find what you like. Your Items tab tracks past transactions, saved items and what you have put up for sale along with all your messages with people.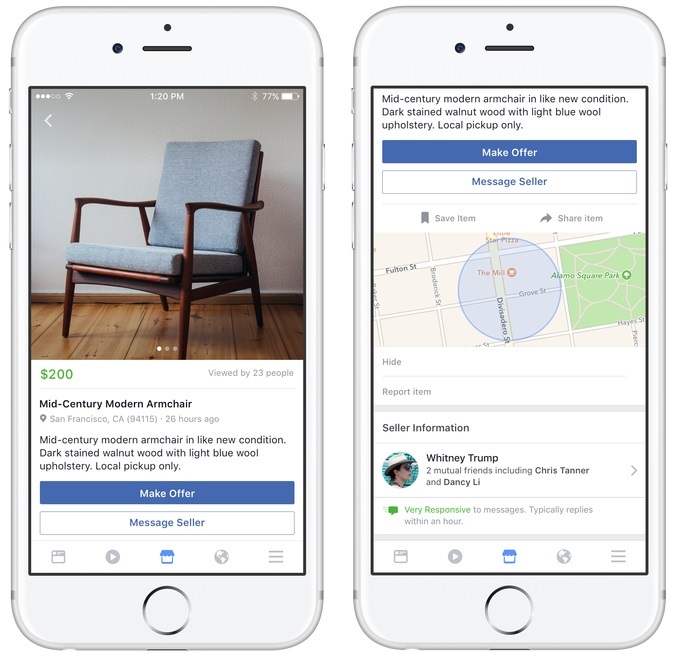 On finding something you might be interested in buying, you can make an offer or directly talk to the seller. Payments and delivery will be up to your discretion. This could either be by face meeting, postage, or pickup locations. Facebook does not facilitate payments and deliveries.