When it comes to Data Privacy, Facebook has been right at the center of controversy and scandals. Remember the Cambridge Analytica scandal? Then their battle with Apple over the use of people's data? Well, if you use Facebook, know you are treading on dangerous ground, and you need to make a few changes to your account to safeguard as much data as possible.
Here are eight Facebook privacy settings you need to change immediately for the sake of the safety of your private information.
Advertisement - Continue reading below
How to access your Facebook privacy settings
Before we go any further, here's how to access your Facebook settings:
Open the Facebook app and tap on the menu at the top right.
Scroll down and select Settings & Privacy, then tap Settings.
From here, you can select the setting you'd like to change.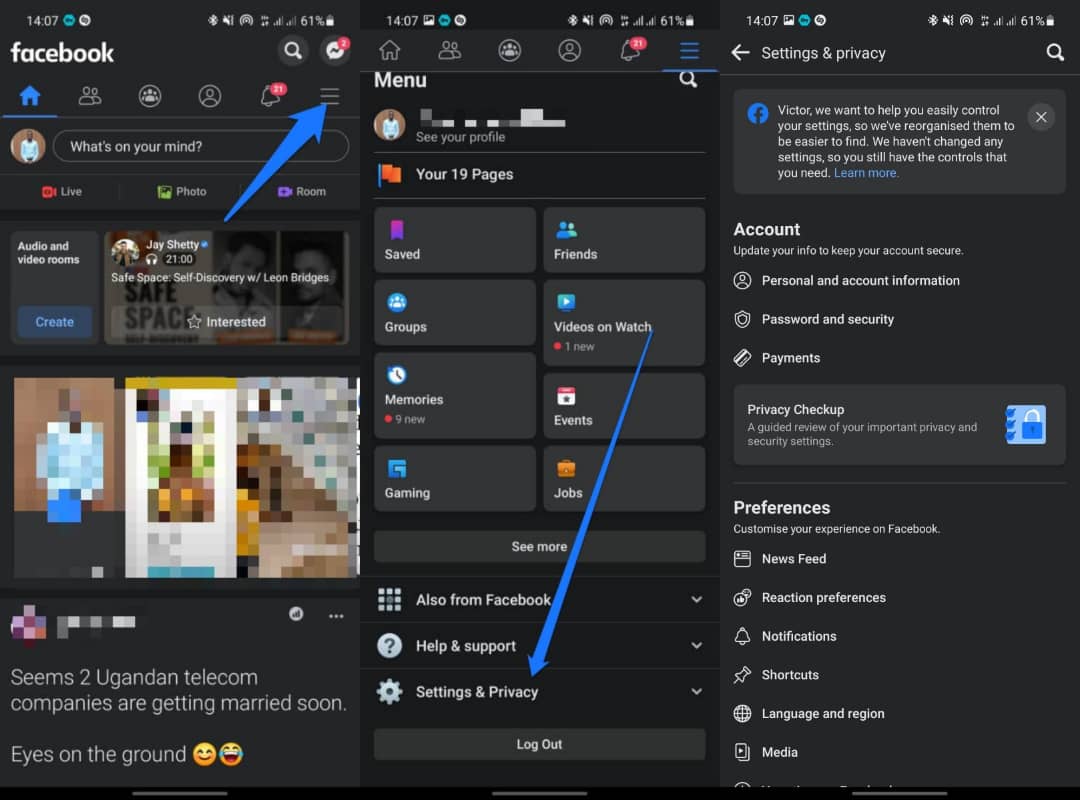 So, what Facebook settings should you change? Let's dive into it.
1. Clear and turn off your history using 'Off-Facebook Activity'
Clearing your history from the Off-Facebook Activity prevents you from getting targeted Ads that would be tailored using your Facebook history. To do this:
From your Facebook settings, scroll down until you find Off-Facebook activity.
Tap on manage your Off-Facebook activity. You might be asked to re-enter your Facebook password.
Tap on clear history and then click the three dots at the top right and tap manage future activity.
Toggle off the button that saves your off-Facebook activity.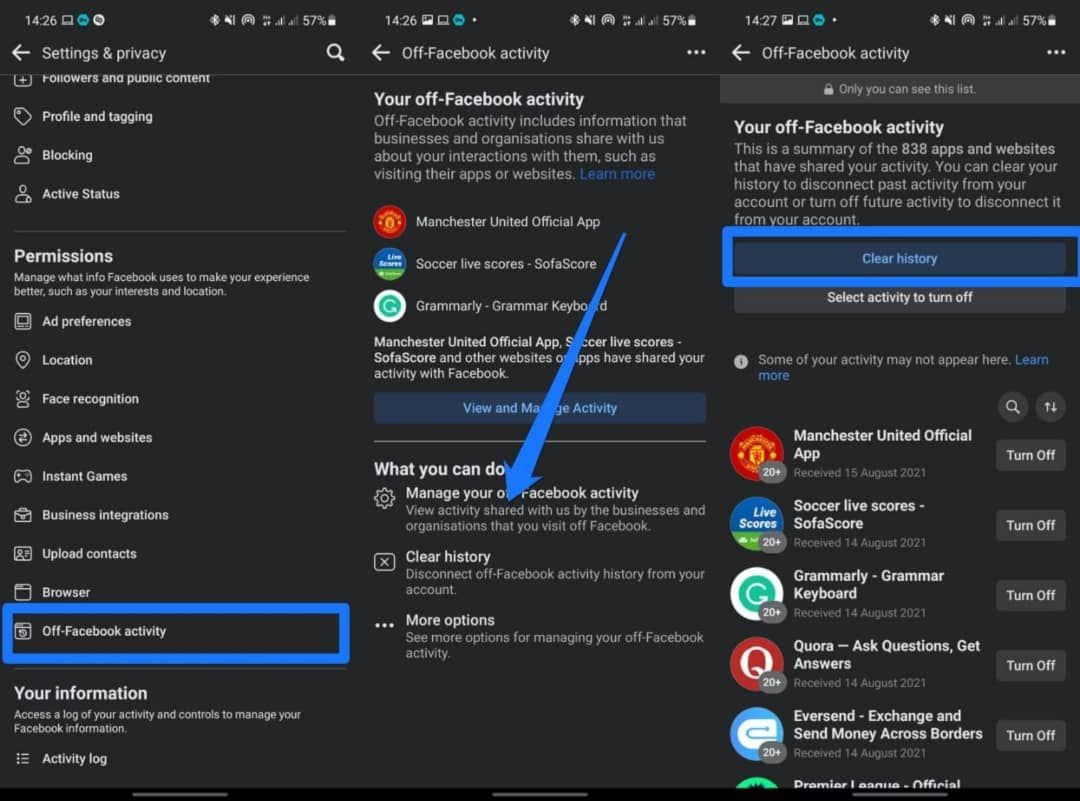 2. Hide your location
You don't want Facebook knowing where you are, do you? You can stop Facebook from tracking your location data completely or restrict it to tracking your location data only when using the app. To do so:
On your Facebook settings, scroll down to Location.
Tap on Location Access, you will be redirected to your phone settings then turn off Location access for Facebook.
Also, tap on Location history and turn off the ability for Facebook to build a history of precise locations received through the location services on your phone.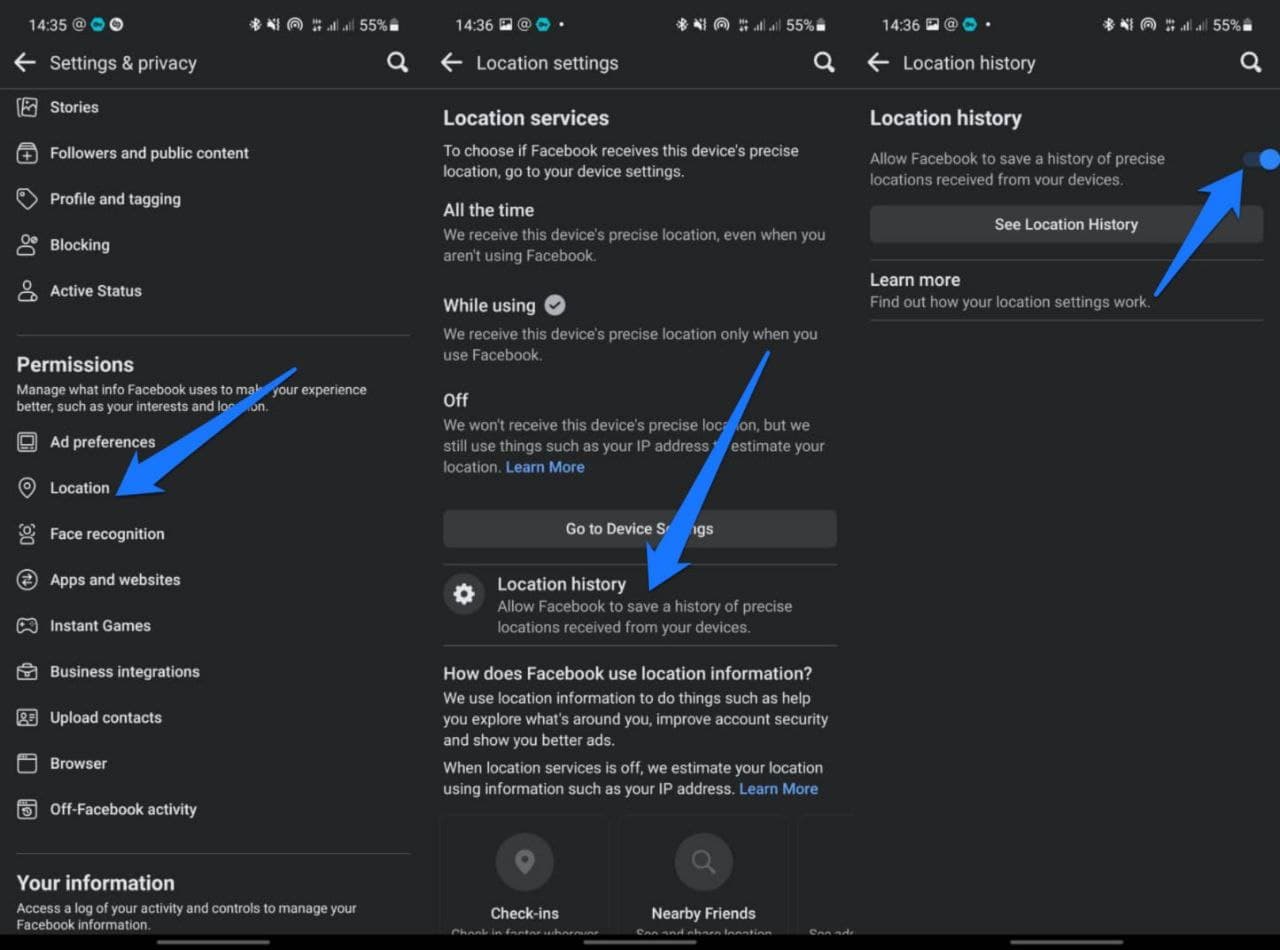 3. Disable Facial Recognition
For now, facial recognition on Facebook and many other apps aren't perfect. For example, the technology can mistake you for a look-alike and hence mistaken identity or impersonation. To prevent such instances, you need to disable this functionality. To do this:
On your Facebook app settings, scroll down to Permissions.
Tap on Face recognition.
Choose not to allow Facebook to be able to recognize you in photos and videos.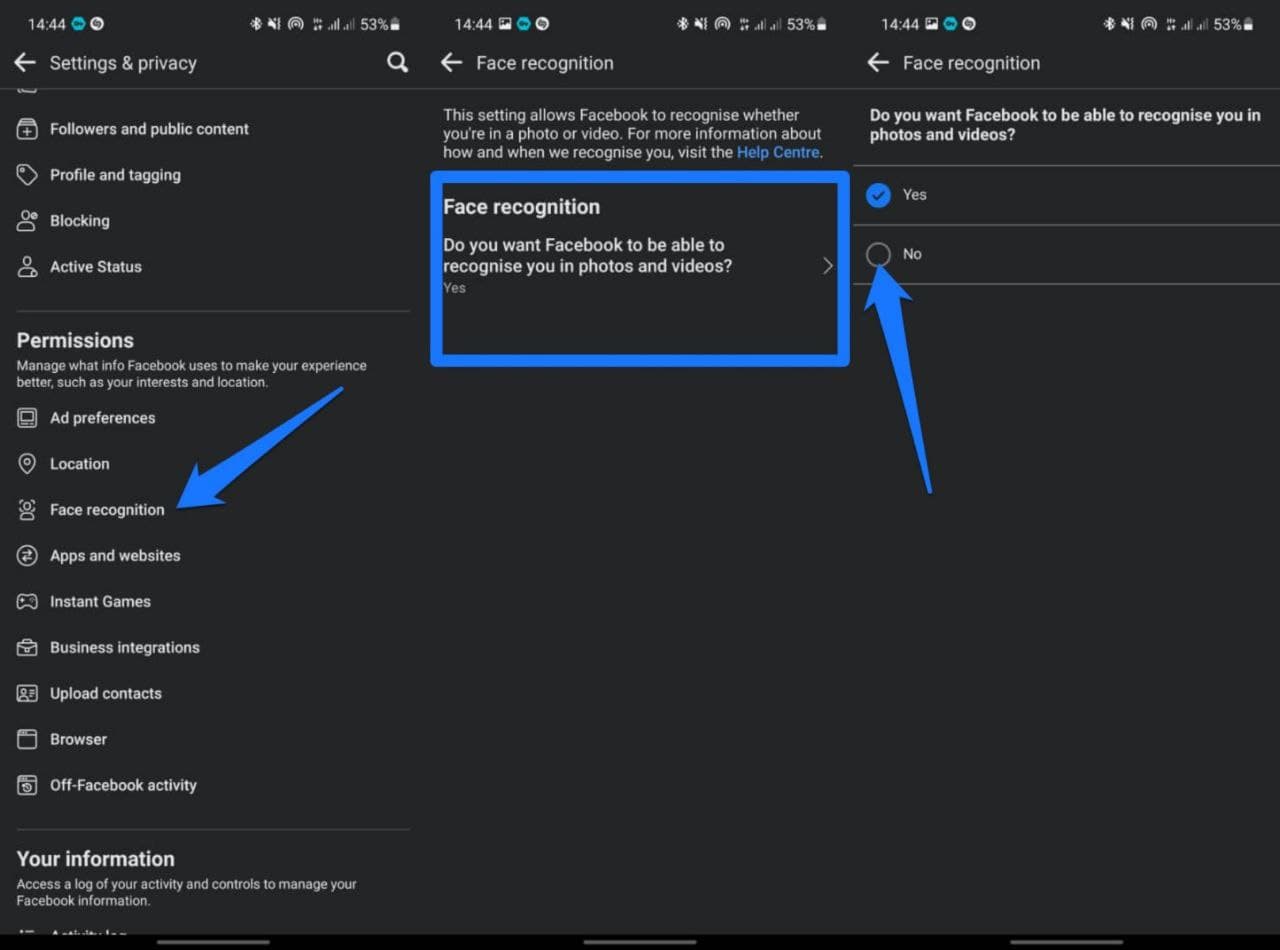 ---
Related Article: How to Disable Comments on Facebook, Twitter, and Instagram
Advertisement - Continue reading below
---
4. Get rid of apps that track you off Facebook
Facebook already has so much data about you. Now imagine other apps being able to track this data! It would be best if you got rid of these apps. Follow these steps.
From settings, go to Permissions and then click on Apps and websites. Here, you can see all the apps you've connected to on Facebook.
Select the app you wuld like to get rid of and then tap on remove.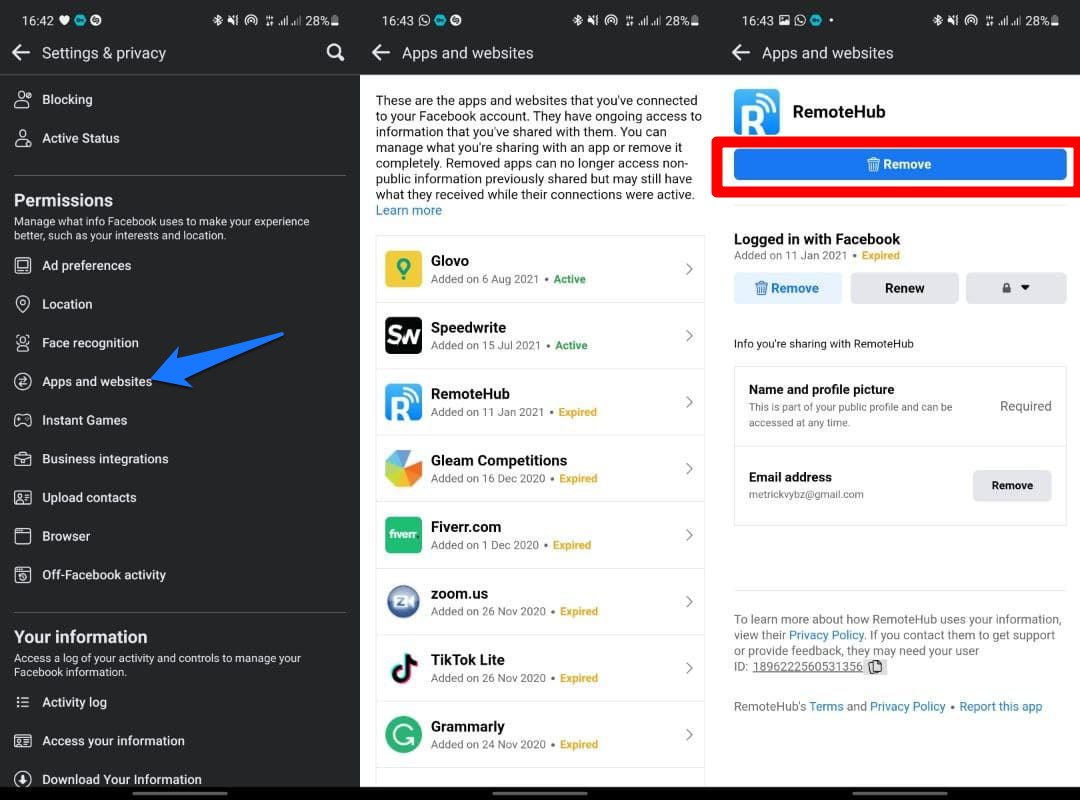 5. Enable two-factor authentication
Enabling two-factor authentication adds another layer of security as you log in to Facebook and hence reduces the chances of your account getting compromised by hackers. To enable it:
On the settings and privacy tab, go to password and security.
Scroll down and select Use two-factor authentication.
Choose the security method you want to add and follow the on-screen instructions.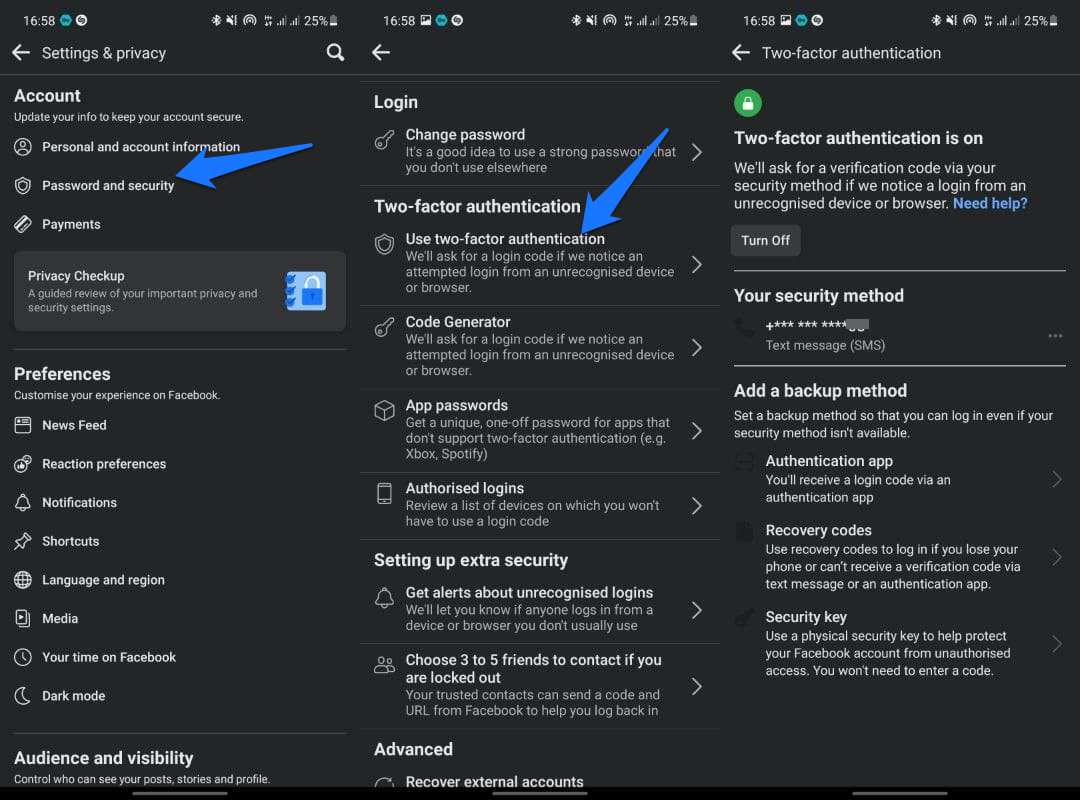 6. Stop Google from showing your Facebook account
Strengthen your account security by making it possible only for Facebook users to find your account using Facebook and not from a Google search. To do this:
Go to the privacy section of Facebook by clicking on that link.
You will be prompted to Log into your Facebook profile if you haven't.
Uncheck the box at the bottom of the page where it says "Do you want search engines outside of Facebook to link to your profile?"
7. Limit the audience for your personal posts
If you are posting something personal, you should consider limiting the audience of your posts only to close friends. To do so:
Click before publishing your post.
Click Restricted Audience at the top, then select the age and locations of the audience you want to see your post.
Click Save.
You can also limit posts you previously posted to your close friends only. To do so:
Go to Privacy shortcuts.
Go to your activity and tap Limit Past Posts and follow on screen actions to limit who can see past posts.
You can also from ere limit who can view future posts.
8. Clean up your Friends List
A cocktail of 'friends' might fill your friend list. You could have childhood mates, old girls, and old boys, work colleagues, among others. Within that friend list also exists some anonymous people. You need to manage this friend list since it harbors great networking potential but also potential for catastrophe.
Enter think link into your web address bar >> https://www.facebook.com/[your_username]/friends. Note: Substitute your username in the field with square brackets.
Hover the mouse over each username that looks suspicious to you. Select "See Friendship" from the drop-down menu and you will be able to see all the activity you and that person have had in the previous years. You will see information like when you became friends, any posts that you guys liked or tagged each other, comments, among others.
Proceed to group the different accounts in terms of close friends, aquantances and delete those friends you don't know or have never had any interraction with in the past.
Facebook can be a great way to keep in touch with people and see what your friends are up to. However, some of its settings put your privacy at risk, and there are things you can easily do to improve them.
Advertisement - Continue reading below