WhatsApp video calls are soon becoming a reality after spending more than a year on the rumour mill. So far, reports indicate that Windows Phone and Android users can make video calls, still at the beta stage, but good enough for us. The WhatsApp Beta Tester allows you to make video calls even as finishing touches are added to the world's most popular chat app.
To become a WhatsApp beta tester, go to your Play Store and locate WhatsApp to turn it on. And if you are the lazy type, copy this [https://play.google.com/apps/testing/com.whatsapp] in your browser. Don't be disappointed if it doesn't work out for you. Some regions are supported while others aren't as of yet.
Advertisement - Continue reading below

After you have activated the beta program, you will notice WhatsApp will now include video in the call icon. Unfortunately, you won't be able to video call somebody who doesn't isn't a beta tester. The call will automatically revert back to a voice call. Or it will cancel and say it couldn't place the call.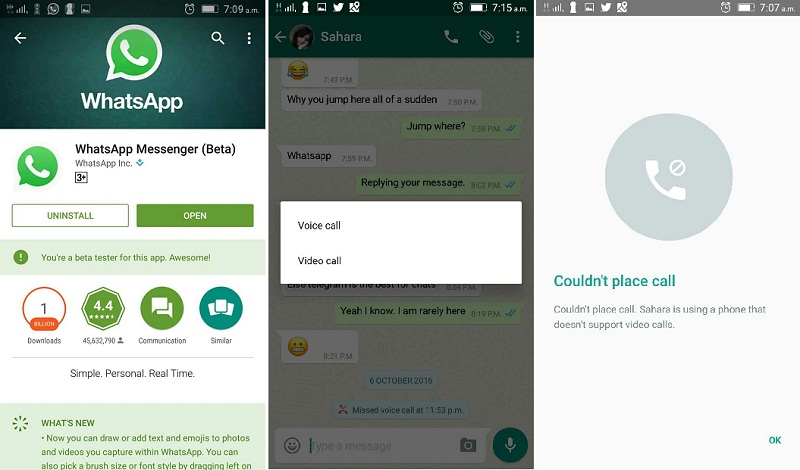 WhatsApp video calls have been rumoured about almost since voice calls were added to the chat app. This feature has been in development stage for some time now. It appears the rumours started soon after a call was sent out for volunteers to translate video call support into various languages.
Facebook which owns WhatsApp already offers free VOIP video calls on its Messenger platform. WhatsApp which exceeded 1 billion users back in February 2016 could obliterate Google's standalone video calling app, Duo which has downloads ranging from 10 to 50 million.
Featured Image: technewstoday.com
Advertisement - Continue reading below