Do you know that there is a paid subscription on TikTok? If you have less knowledge about it and would like to learn more, this post will answer the question, what is a TikTok Live subscription? How does it work? You will also discover whether the subscription is for TikTok users or content creators. So ensure you read to the end!
What is a TikTok Live Subscription?
TikTok Live subscription is a recent feature of the TikTok social networking app, allowing users to reward creators. As TikTok is still testing out its LIVE Subscription feature, it is available only to invite-only creators. It will subsequently be accessible worldwide to all creators on TikTok. If you are a content creator, enabling LIVE Subscription will let you earn more and grow your community.
Advertisement - Continue reading below
To qualify for the LIVE Subscription feature, you must be a content creator aged at least 18. You also need to have no less than 1,000 followers on TikTok. Besides, you must satisfy the age requirement to send or receive Gifts and Coins.
---
Related:
---
How Does TikTok Live Subscription Work?
You'll enjoy the following perks if you have an active LIVE subscription as a TikTok user:
Subscriber Badges: You'll receive badges shown next to your name on your TikTok profile. The badge upgrades over time.
Subscriber-Only Chat: The subscriber-only chat feature is accessible only to those with a LIVE subscription on TikTok.
Custom Emotes: You will also have exclusive access to emotes, personalized by creators to use during LIVE sessions.
How to Subscribe on TikTok
Take the following steps to subscribe to TikTok's LIVE Subscription monthly plan: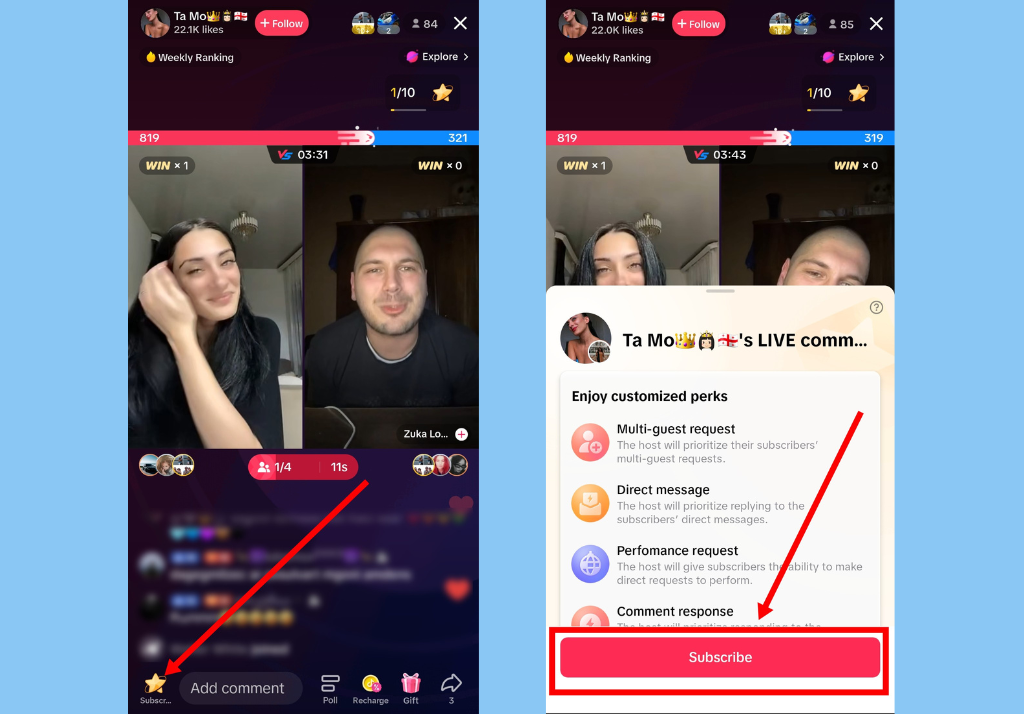 Go to the creator's profile and tap on LIVE Subscription. Doing this directs you to the creator's subscription page.
Scroll down to the end and tap on the Subscribe button.
Follow the prompts on your screen to complete the process. Be aware that you can opt for auto-renewal, allowing you to continue your subscription automatically every month.
Alternatively, you can subscribe when the creator is currently on a live video by following the instructions below.
Join the live video.
Locate the Star Icon at the bottom-left corner of the live video and tap on it. (Note that the icon indicates that they have subscriptions turned on.)
A pop-up will show, requiring you to tap the Subscribe button. Then follow the on-screen prompts to finish the process, including making an online payment.
Frequently Asked Questions about TikTok Subscriptions
How Much is a Subscription on TikTok?
Advertisement - Continue reading below
Tiktok's subscription costs $4.99 or £4.13 a month, payable online using a valid payment card, such as MasterCard.
Is TikTok Subscription Free?
No, you may pay a monthly fee to subscribe to TikTok LIVE Subscription. The amount charged is subject to change, as the feature is currently on a test.
Is TikTok a Monthly Subscription?
Yes, there is presently no yearly subscription plan for TikTokers who want to subscribe to support their favorite creators. Hence, you have no other option than to choose the monthly plan.
Conclusion
TikTok's subscriptions have made many creators become millionaires in what they love doing. On the other hand, TikTok users have been able to appreciate their most-liked creators and support them financially.