Telegram Messenger has debuted some new interesting features, including Instant View (does that sound familiar?) and anonymous blogging platform called Telegraph. Telegram has also thrown in searching for chat history by calender days, viewing entire sticker packs for recently used stickers, viewing Groups in common with a contact along with other various app improvements. You can jump over to the Telegram Blog to have a look at the whole shebang.
Telegram Instant View
For this post, we will mostly talk about the two big features, Instant View and Telegraph. Instant View brings to mind Facebook's Instant Articles, a tool which lets you read content from other websites without bothering to leave the social site at all. This marks the first time we can think of that Telegram has xeroxed a new feature from Facebook/WhatsApp. Normally they do the xeroxing. Not that we are complaining though.
Advertisement - Continue reading below
Anyway, Instant View allows for instant loading of articles from the URL links in Telegram with zero loadtime, within the app itself. Currently, only a handful of websites can pull off an Instant View, which announces itself at the bottom of a link in the app. Some of these include Telegram itself and Techcrunch along with Medium. We tried out a couple of articles and the experience is as advertised; the page loads in the blink of an eye. Snap! Just like that. Telegram intends to roll out Instant View for all websites in the foreseeable future. So fingers crossed.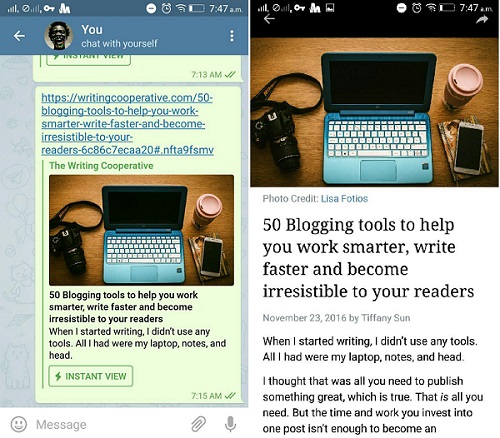 Telegraph blogging platform
As for the blogging platform curiously named Telegraph, the bare-bones publishing tool also sports an uncanny resemblance to Medium. The platform supports editing and embed tools such as uploading images from local storage, adding URL links from the likes of YouTube, Twitter, etc. What's more, using the platform does not require any signing up or signing in. It simply loads and you get to work immediately and anonymously. The only we could share a post was copying the link as far as we can tell.  We don't yet know if it's possible to peruse through other published posts without the links. If you'd like to have a go at it, head over to [telegra.ph]
---

Interesting Trivia: A telegraph is a message sent by an electrical telegraph operator or telegrapher using Morse code (or a printing telegraph operator using plain text) was known as a telegram. A cablegram was a message sent by a submarine telegraph cable, often shortened to a cable or a wire. Later, a Telex was a message sent by a Telex network, a switched network of teleprinters similar to a telephone network ~Wikipedia
---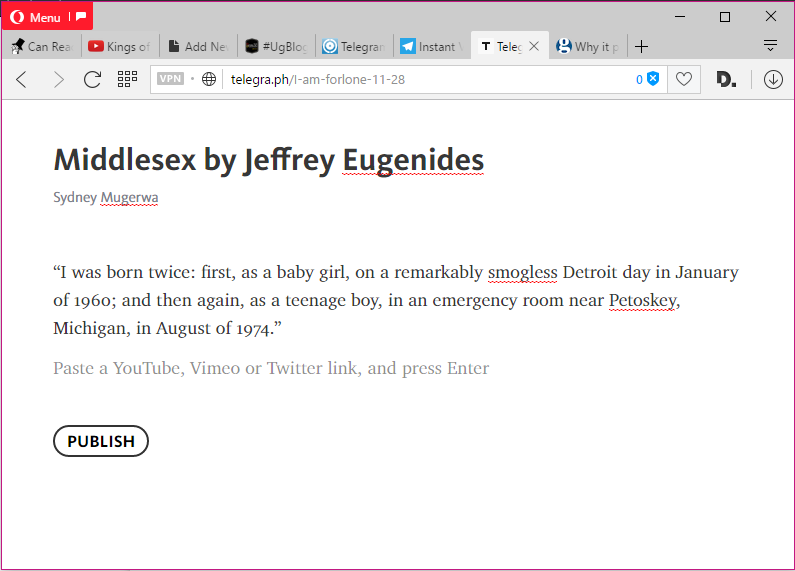 Other new features
Jump to date: Search your chat history by day of the month using the calendar tool.
View Pack for Recent stickers: Recently used stickers are all displayed in the same place regardless of which pack they belong to. Now you can tap on a particular sticker to go to lead you to the whole pack.
Groups in common: This feature allows you to see which Groups you share with a contact
App improvements i.e video compression, photo capture speed, improved security for passcode locks, new interface, e.t.c.
Advertisement - Continue reading below
---