The Uganda Communications Commission (UCC) made a directive to all telecoms in Uganda to switch off partially and non registered SIM cards. The directive also requires telecoms to verify/re-register all partially or non registered SIM cards with the new parameters of registration. These parameters only allow National IDs as the only valid ID to register a SIM card in Uganda.
Non – Ugandans are allowed to use passports, Companies will use details from the Uganda Registration Services Bureau (URSB), Refugees will use details from the OPM database.
Advertisement - Continue reading below
As per the UCC announcement, all SIM cards not verified by 20th April 2017 will be deactivated. In this post, we show you how to verify or re-register your SIM card details before the deadline.
Step by Step Guide on How to Re-register your SIM card on Airtel Uganda, MTN Uganda and Africell Uganda.
The procedure for Airtel, MTN and Africell is the same while Vodafone, Smile and Smart are different.
Step 1: Dial *197#
Step 2: You can verify if you are registered by selecting option 1 or option 2 to verify another number
Step 3: Select option 3 to enter national ID details
Step 4: Enter the NIN (National Identification Number) details. This is the 14 digit number on your ID that starts with CM or CF
Advertisement - Continue reading below
Step 5: Enter your Surname and then first name
Step 6: You will receive a message confirming the acceptance of your application and another confirming your registration status.
How to register your Vodafone SIM card
WhatsApp your Vodafone number and a copy of your national ID to 0723000723, email [email protected] or visit any of our Vodafone shops
How to register your Smile Uganda SIM card
An email from Smile stated that one had to visit any of the Smile shops, kiosks and bring with them their National Identification Card (Ugandan nationals) or Passport (Non- Ugandans) to complete/verify SIM card registration and ensure that you stay connected to the network.
NOTE
You cannot check if you are registered or not on MTN and Africell. Dialing *197# only allows you to re-register
Even if you had already registered, it is safer to re-register to avoid disconnection
UCC Announcement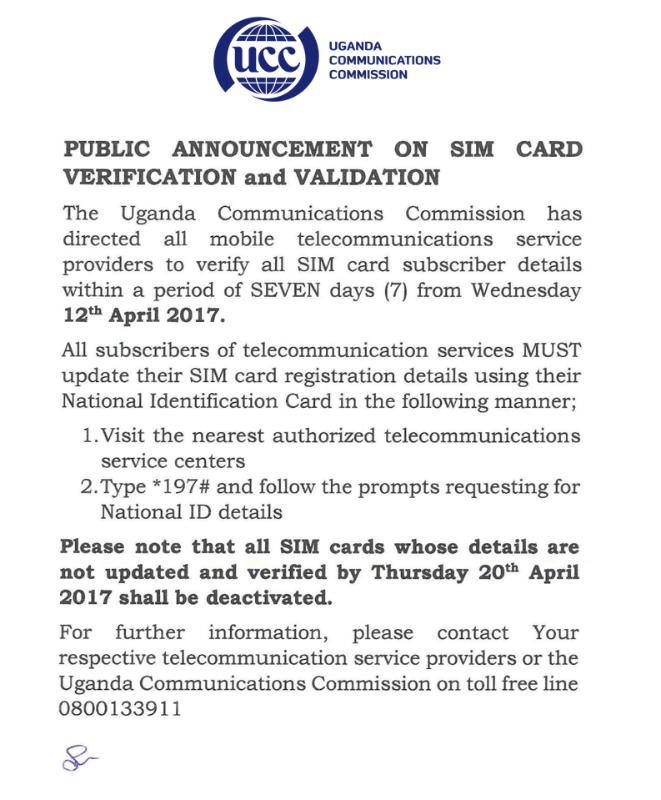 UCC Message on Facebook

Advertisement - Continue reading below