The situation can be hard when a wound, fully wrapped in bandage, hurts you to the extreme but your doctor is convinced that its progress is satisfying. It is not any different from when the doctor contacts you to check on how you feel, but you are keen to say 'All is well' without a slight knowledge of the exact condition.
5G technology is turning the tables round. Scientists at Swansea University are creating smart bandages to monitor the state of a wound, without any required visit to a doctor.
Advertisement - Continue reading below
Led by the University's Institute of Life Sciences (ILS), this smart 3D printed bandage will use a combination of 5G wireless data and nano-sized sensor chips to relay constant details about the wearer's health.
The nano technology will provide a platform for connection between the wound and a 5G infrastructure. This infrastructure will be mainly comprised of the patient's smartphone, which will capture data such as their current location and current activity, a basis for the doctor to assess and recommend a necessary treatment.
For example, a report indicating that the wound is healing fast under active patient conditions can give a doctor direction on when it is expected to heal. Similarly, a wound that is healing slowly, despite the patient being at home can provide an alternative prescription for the doctor to make.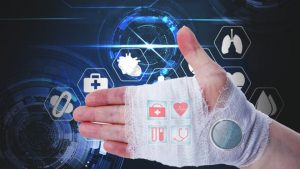 The doctor will be in comfortable position to combine all such intelligence for knowledge on the performance of the specific wound at any time, and then come up with a treatment module suitable for the individual and wound being handled.
This work is a part of the Swansea Bay City program, a £1.3 billion project aimed at creating a 5G test hub for trials on the next generation of mobile internet.
Advertisement - Continue reading below
Trials on the smart bandages are expected to resume with in 12 months, as a BBC report indicates.