For more than a decade, Sports betting houses have existed with a variety of games to stake on – soccer being primary – and a large clientele to attend to. They are open almost every other day, but the heaviest traffic is experienced on weekends, where long queues of customers fill out the place.
Given the advancement in technology, online betting emerged and gained firm roots on the Ugandan market. Its flexibility and ability to fix majority of the disadvantages that the manual system had, has made it a darling to many especially the youths. Some of them include the following:
Advertisement - Continue reading below
Time Saving
Standing in a long queue, served by a single person, can be tiresome. Such a delay in service only costs the customer. A person's shortlisted games could in the mean time kick-off implying that they are void and no longer applicable for the bet. Online betting makes it easier for a client to stake on their games with the least to worry about in terms of time, and this can be done absolutely anywhere. It may be at home, in a taxi, name it.
Privacy
Some people, in respect of their professional status and responsibility, find it very hard to step up in a betting house with a fear of recognition. They instead opt for Online means since it requires just the use of a PC or smartphone.
Invulnerable to Damage
The manual system requires a client to receive a receipt which indicates the games staked on, and the expected win amount. This small paper can easily tear into pieces, burn up, get wet by liquid, or even be accidentally dumped in the bin. The online system can not face such damage in anyway because the client is able to access their account wherever they can access an internet connection from.
Advertisement - Continue reading below
Automated Payments
Once a win is registered, the client's amount is automatically deposited to their account. This is unlike the manual system which requires one to move to the betting house and claim his win, of which he can not account for it if he does not claim it with in the next 30 days. Sometimes the employees at the house could not be in position to raise that exact amount, and the client has to wait until it is delivered from the head office.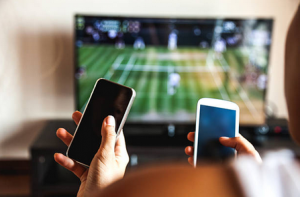 The above, coupled with the ease of use without requiring any school to learn, have given online betting a springboard rise over the traditional betting houses. However, not many people find favor in it. The requirement of an internet connection makes it a little expensive for some individuals. There are also charges levied on deposits and withdraws made from  one's bet account, a thing you wont find with the traditional system. It also requires an individual to register heir personal details before acquiring an account, which many find rather insecure.
Some of the popular online betting sites include BetPawa, BetWay, Sports Betting Africa, abaBET, World Star Betting, 256Bet, betin, and many more.
Note that betting is strictly for persons above the age of 18, and once a habit, it is addictive.