Passwords across numerous platforms can be rather hard to grasp and at one point, you may opt to use the same more than once. Microsoft is doing you a favor when accessing your account. You wont have to crack your head to remember the characters. All you need is the availability of your phone.
In a blog post from the company's Identity division, it was announced that the phone sign-in is now globally available for iPhones and Android smartphones.
Advertisement - Continue reading below
With the Authenticator app, you can set up your account on your mobile and just enable phone sign-in through the settings menu. Once you enter your Microsoft account handle, you will get a prompt from the app to approve the login; for which you are only required to just tap the Approve option, basically removing any need for passwords.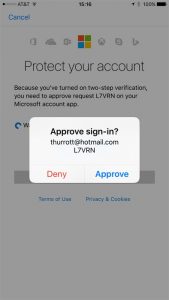 This applies for even when logging in to your Microsoft Account on the desktop. The only requirement is your username, and the phone will do the checks and balances of your account access. This is more secure because, if you receive a notification minus you trying to login into the account, you have an option of denying sign-in from your phone.
This new sign-in feature is prioritized for Android and iOS account holders, with Windows Phone users left out on it. Microsoft argues that Windows Phone makes up less than 5% of the active users of their Authenticator Apps but once it registers a big success on the two main platforms, they will evaluate adding support for the Windows Phone.
Here's how you set up phone sign-in:
If you already use the Microsoft Authenticator for your personal account, select the dropdown button on your account tile, and choose Enable phone sign-in. If you don't have it yet, you can download it here for Android or iOS
If you are adding a new account on an Android phone, Microsoft automatically prompts you to set it up.
If you are adding a new account on an iPhone, Microsoft automatically sets it up for you by default.
Microsoft has also put up the Microsoft Authenticator Forum for users to offer suggestions, ask questions, and engage with the support team on their account security.
Advertisement - Continue reading below