Global money transfer is becoming relative with many individuals, especially those in the diaspora, who wish to send money back home. Among the numerous platforms that provide the transfer service is MoneyGram, which has a network of more than 357,000 agent locations across the world.
With their same day service, your money can arrive in as soon as 10 minutes from the sender.  For you to pick it up from the agent, follow these three simple steps.
Advertisement - Continue reading below
Request the Reference Number
The person sending you money is given a reference number when the transaction is completed. So, as soon as they notify you on the completed transaction, ask for the amount of money sent and the reference number to make it easier and faster to pick up your money. This is strictly an 8-digit number, thus ensure that there is not more or less. Where applicable, you might have to ask for a test question too and its answer.
---
To start Sending money using MoneyGram from the UK to family and friends back home, start here
---
Visit your nearest MoneyGram location
Take your reference number, along with your National ID to the nearest agent location pick up your money. The location can be identified with a signpost at the entrance. At least most of the banking institutions have MoneyGram services available. If you happen to lack a national ID, go along with a valid passport, driver's license or Work ID. Ensure that the details on your ID card match exactly with those on the transaction or else you stand to be delayed by the verification process.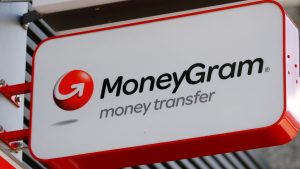 Complete a receive form
The agent will avail you with a receive form which is a requirement for you to pick up your money. You are expected to complete all the fields by including the reference number, the test question where applicable, your identification, the sender's identification, and the money expected. Once verified, you will receive your money in your local currency.
This procedure is simple and it takes very little time to access your money.
Advertisement - Continue reading below