In a bid to enhance the banking experience of customers as well as enable them to access a more convenient user control, Equity Bank Uganda Limited has launched its range of digital banking solutions into the market. This suite, dubbed Eazzy Banking, looks to offer an easy, comprehensive, and secure banking experience.
The suite is a complete set of ten products that includes an Eazzy Banking App, EazzyClub, EazzySave, EazzyRemittance, EazzyNet, EazzyPay, EazzyLoan, EazzyBiz, Diaspora Banking, and banking capabilities packaged as APIs through EazzyAPIs.
Advertisement - Continue reading below
Eazzy Banking App
This is a Mobile App mainly for smartphones that allows you to have the entire bank on your phone. Basically anything you would do in the banking hall can be done on the app, at your convenience. So you may pay bills, buy utilities, transfer funds, deposit and withdraw money, check loan and account details, et cetra.
The beauty is that you can actually withdraw cash from the ATM using the app, by just receiving a code that will link the machine to the App. You can also find out the status of your card, and even block access to it just in case you lose it.
This app is already accessible via Google Play and Apple Store.
Eazzy Net
This is banking for individuals, over the Internet. You can access it from your computer, Laptop, Tablet, or smartphone. You can do all the banking, buy bank shares, pay for utilities, send money, do electronic commerce, and even apply for a loan, all on the internet.
Advertisement - Continue reading below
This channel will also help one to open up an account via the internet.
Eazzy Club
This is targeted to people in investment groups to make it easier to manage and over look their saving associations. It allows members to keep up to date with all the details on their business club, an aspect of transparency, and makes it easy to know the progress of the club account.
Eazzy Pay
This is a new way to pay and receive benefits for goods and services. You can pay for bills, goods and services – be it a Rolex or a taxi cab. Merchants will be in position to accept payments through the app to their mobile money accounts or Equity Bank accounts for those that will have them. It is to make payments convenient for everyone.
Eazzy Loan
Here you can get a loan on your phone, without visiting the bank. So, without having to wait for the official banking hours, or in the long queues, you will be in position to get an instant loan without even filling a single form. The platform will give you access to amounts as much as you are limited to, at your convenience.
Eazzy Remittance
Advertisement - Continue reading below
This will allow companies and organizations that pay multitudes of employees the ability to make a single cashout to all of them at once. This is to save them from the burden of having to sign as many cheques for each of the workers which is both time costly, and not efficient.
Eazzy Biz
This is meant to make corporate banking easier. It will allow businesses to manage liquidity, for those that own several bank accounts by managing all of them within the same platform. It will also help in doing account reconciliation, with the ability to check them all at once.
Diaspora Banking
This is for the people working in the diaspora but wish to save and do banking in Uganda. The service allows one to open an account from wherever they are in the world, and be able to conduct all banking business from whichever part of the globe. It is more of to "work globally, and bank locally". The app will let you know the activity of your bank account in detail, all as you wish.
Eazzy APIs
This is meant for people who integrate banking systems with business. Basically, it is made to create a banking experience for creators, developers and intergretors. Equity Bank is willing to partner with whoever wants to do online payments, selling online, managing mobile money, and any thing of the sort.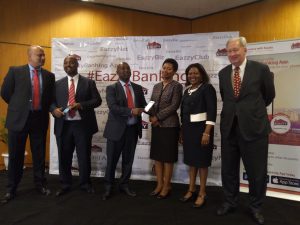 Advertisement - Continue reading below
These Eazzy Banking digital solutions are open to everyone, which is in line with Equity Bank's inclusive agenda, in a strategy to be the region's leading digital bank by delivering a remarkable client experience in key digital touch points.
Speaking during the event, the Managing Director of Equity Bank Uganda – Mr. Samuel Kirubi said that the launch marked a furtherance of the Bank's strategic approach of availing digital convenience in banking. He talked of banking being "no longer a place you go to, but rather something you do".
The same banking solutions were launched in Kenya last year and the adoption rate so far is amazing with an estimated total of 350,000 personal transactions daily, and over 200,000 agent transactions daily, are registered. This has gannered the bank's app an impressive Rating of 5 over 5.
Equity Bank Uganda's Eazzy Banking strategy is underscored by the forging of strategic partnerships with global leading experts in data security, big data capture and Analytics to ensure security, availability and interoperability of the different solutions. The bank employs a top secure Tier 3 database for its digital platforms that can accommodate up to 75 million transactions per second, the best and only for that tier in Africa.