Kwesé TV is giving viewers even more reason to choose Kwesé. The broadcaster has announced the addition of four new premium channels from the FOX Networks Group portfolio of channels, which will see the satellite Pay TV provider extending its entertainment offering to Kwesé TV subscribers across Africa. The additional channels include FOX Africa, FOX Life, National Geographic and Nat Geo Wild.
The FOX Networks Group is a leading entertainment network, and will be joining an extensive offering of over 70 entertainment and sports channels on the Kwesé TV bouquet.
Advertisement - Continue reading below
These popular channels from the FOX Networks Group portfolio, will give subscribers an all access pass to globally acclaimed series & dramas as well as a walk on the wild side with nature's inhabitants.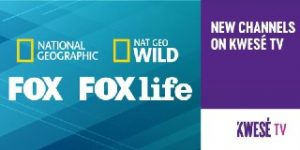 FOX Africa is a destination to some of the biggest television franchises in the world including the cult series "The Walking Dead" (now in its 8th season), cultural phenomenon "Empire" (now in its 4th season), and the award winning "Atlanta" (season 2 starting in 2018). With a unique mix of drama, comedy and animation, FOX also brings viewers "The Simpsons" which is the longest-running scripted show in television history. Coming in 2018, is a new eight-part visceral espionage thriller called "Deep State", starring Mark Strong from "Kingsman – The Golden Circle" and Joe Dempsie from "Game of Thrones", it is the first original drama commissioned by FOX especially for all Europe & Africa channels.
FOX Life which was recently repositioned and rebranded to have a stronger African focus, exudes a younger, current and a more urban feel appealing to young aspirational female viewers across Africa. It brings viewers popular telenovelas, the freshest dramas, sitcoms, lifestyle & cooking shows as well as local unscripted reality shows starring celebrities people know and love. Viewers can expect compelling programming such as "Preachers of" and locally produced content including "Vintage Z" amongst others.
National Geographic believes in the power of science, exploration and storytelling, to change the world. With an unrivalled media portfolio that reaches over 760 million consumers every month, National Geographic is the very definition of entertainment with a purpose. The channel is the ultimate destination for entertaining premium science and exploration programming, including innovative new shows like "MARS". The channel recently ventured into scripted content with the series "GENIUS" which chronicled the life of Albert Einstein. This series proved very popular across the African continent and will return with "GENIUS 2"in 2018. The second series will centre around the life of Pablo Picasso, whose role will be played by Antonio Banderas.
Nat Geo Wild is a channel dedicated to premium natural history content driven by wildlife. The weird, the wild, the familiar and the deadly are all found on Nat Geo Wild. Committed to exploring nature at its best, Nat Geo Wild gets viewers closer to the ecosystem & creatures of the earth through spectacular cinematography and compelling storytelling.
Advertisement - Continue reading below
Kwesé TV is available through Kwesé branded stores as well as mobile network operators, major retailers and dealers across the country. You can also order Kwesé through the Kwesé estore. Kwesé provides viewers with a flexible payment model which allows them to purchase 3, 7 or 30 day subscriptions which gives them access to premium programming on up to 5 devices through the Kwesé TV App available for Android and iOS.