Your smartphone is now your life. That means that you need to even be more vigilant with the kind of information and transactions you make with your phone. That means which photos, contacts, messages and apps you want exposed to any eavesdropper.
Chameleon OS's Xhide Apps can help you with your security detail. The app is like a secrete vault where you conceal sensitive apps, photos, videos, recordings that you don't want just about anyone who gets on your phone to use. For instance, you might want to hide banking apps, private note apps, gallery depending what you deem sensitive data. Xhide is part of a family of default apps such as XClub, XTheme, XWeather, XPower, XManager that ship with Infinix smartphones Chameleon OS. The sister brand Tecno unfortunately doesn't have a familiar app for their HiOS Mobile operating system. So owners of Tecno phones will have to get the app APK from Infinix smartphones.
Advertisement - Continue reading below
To hide an app, open Xhide, tap on App hide > tap on the plus/add icon and select the App(s) you wish to be hidden from the phone. The app will instantly not show up anywhere on your phone. Once you add an App to Xhide app, Xhide app itself disappears from your phone!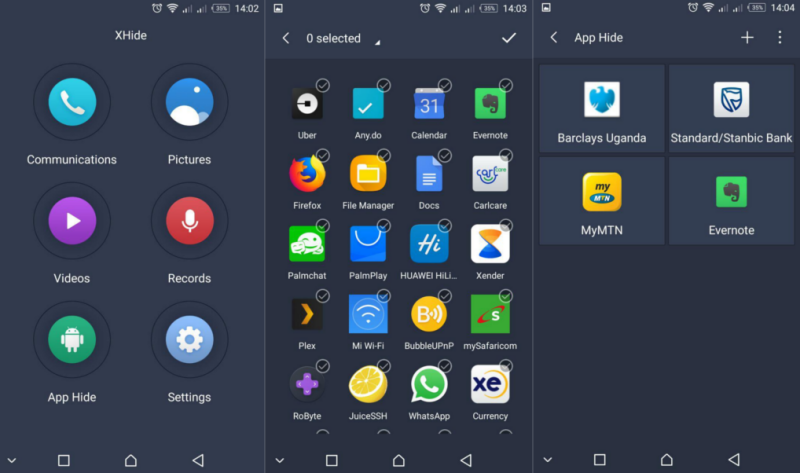 To use the concealed app, simply open the phone call app, type ##1234 which will bring up the Xhide app. Go to App hide and open the app you wish to use. To Unhide the App, tap on App hide, tap on the submenu and tab unhide. Then select the app you wish to unhide.

Xhide can come in handy for people who are more security and privacy conscious and it's one of our favorite apps from Infinix's Chameleon OS.
Image: Pixabay
Advertisement - Continue reading below