Remember the good old days of Nokia and Sendo phones? Feature phones. They would last you a week on a single charge. Smartphones are thirsty devices. They suck up your battery within hours and don't even get me started on the data plan. I have almost never gotten to the end of a month with my "monthly" data plan. One might argue that data consumption is dependent on usage and I agree. But sometime you just can't explain how quickly you've run out of your bundles.
Maybe you forgot you were on your mobile data and not wifi and ended up binge-watching one of BuzzFeedViolet's mini-series on YouTube (which you totally should by the way), only to get notified that you are 95% through your data plan. Maybe you ran a system update using your data. But all these are intentional. Sometimes you get that notification yet you haven't been extravagant. Some app has been sucking your precious bundles in the background.
Advertisement - Continue reading below
Today we'll take a look at how to nab those runaway apps that can wreak havoc on your data plan. As far back as Android 4.x, Android has made it rather easy to manage your data consumption. Follow these simple steps to see your data consumption per app basis.
Go to Settings
Tap on Data Usage
You should see a graph of your data usage and a list of your most hungry apps.
If you're on Nougat, you may have to click on Cellular Data Usage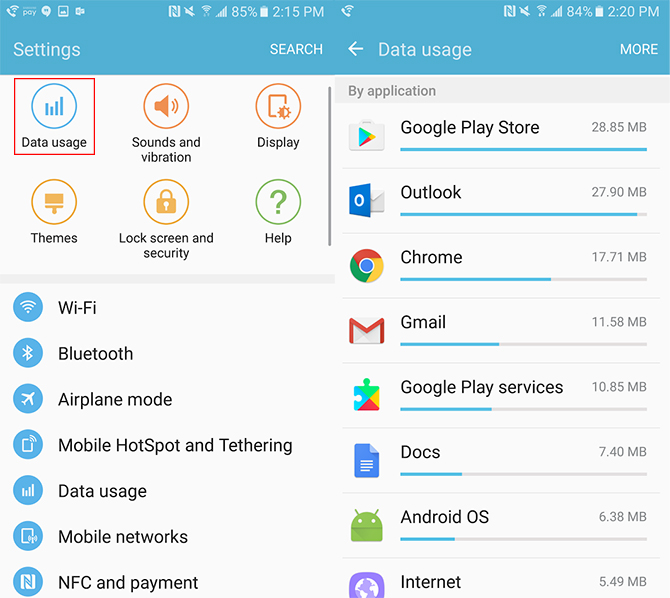 This list of apps is your report card. Your scoresheet. The apps on top of that list are the ones using up a lot of your data. Go ahead and restrict them from using data in the background. Also, bear in mind, if it is, say an Instant Messaging app like WhatsApp, Telegram, Facebook Messenger or the likes, you will not receive messages until you open the app.
You may also consider using an app like Datally. These are data managing applications that 'snitch' on your runaway data guzzlers before it is too late. They also offer options to cut off supply to said apps among other actions you could take.
Feature Image courtesy of AndroidPIT
Advertisement - Continue reading below