In the modern day, when time is an essential component of activity, very many of us would like to do almost everything at the best of convenience. Even online bus booking is part of the list, and with East Africa being an integrated community, it is quite easy to find commuter buses that cross borders without having to do sélection supplémentaire.
We are listing out for you some of the websites you can visit to book a bus that will help you in travelling about the region.
Advertisement - Continue reading below
UGABUS
UgaBus is a Ugandan online bus booking portal that brings together all bus transport operators across Uganda under a single window, thus facilitating users to plan their bus travel across East Africa. For inter-Town connectivity, UgaBus has a system that enables users to do trip booking and seat reservation, providing a full itinerary experience when bus booking.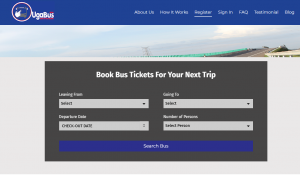 When you go to the home page, select your city of departure and arrival, along with your intended travel dates; whether one way or return trip. Click Search to display the available buses going to your routes and select the bus of your choice from the listing page. You will be required to provide passenger details, choose payment methods and provide payment details. Payment can be done using MTN mobile Money or Airtel Mobile Money.
After payment verification, a message will be sent to you. This message will be containing your ticket details. On your travel day, you simply present the mobile SMS printed to a representative at the bus terminal and your bus ticket will be issued for travel.
256BUS
For provision of ticketing services via call center, travel agents, via USSD, SMS, and via the mobile money outlet in your neighborhood while synchronizing with the respective bus offices in real time; 256bus is an ideal deal. It has a large network of bus operators in Uganda making it relatively easy for you to make options of bus seats on the site.
With 256Bus, you can choose your seat, book your bus tickets online or by phone, get your tickets home delivered and pay by cash on delivery, and you can choose from over 100 bus operators based on boarding points, timing and bus type.

Advertisement - Continue reading below
BUUPASS
BuuPass is a Kenyan market leader for online bus booking that enables travelers to reserve seats and make payments in a convenient and timely way. It is driven by young entrepreneurs who are passionate about solving real everyday problems by making simple and powerful solutions.

The booking procedure is very simplified;
Book your intercity bus travel tickets on the site and select your seat.
Pay for your ticket with M-Pesa, credit/debit cards, bank transfers and mobile money.
Receive your ticket via sms, email or printable ticket.
Present ticket to travel in  sms, email or printed ticket form on your travel date.
BUS CAR
Bus Car is another Kenyan site that helps you to book buses across East Africa. In three steps, you can be ready to travel with ticket at hand.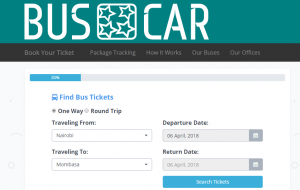 Search for the prefered departure and choose the prefered seats
Pay Your Fare using M-Pesa

On your cellphone, go to the Safaricom > M-PESA menu and select Payment Services > PAYBILL.
Enter Our Business Number: 827540
For the Account Number Enter: TICKETS
Enter the fare amount, Your PIN Number and Complete your transaction.
Wait for the MPESA confirmation SMS

Enter your name and ID number and print/download your ticket in PDF format.
Modern Coast
Modern Coast Coaches is a luxury coach company operating within Kenya, Uganda, Tanzania and Rwanda. It is one of the most recognised luxury bus companies operating in the region providing both first class and business class service on board.
With operation stationed in Kenya, online bus booking outside of Kenya could be a bit complicated. But with success, you can select your preferred available seats on the bus chart that appears and proceed to enter your personal details. Select a payment option of your choice (Mpesa, Visa or Mastercard). When you select MPESA, you will get an sms notification with the paybill number and account number. You should make the payment within 15 minutes after receiving the sms. You will receive another sms confirmation of your booking, which also has your ticket number.
Image: SafariBay
Advertisement - Continue reading below