Kampala is the capital city of Uganda, the pearl of Africa; and among the aspects of visiting the city is knowing how to travel around it. If you are new to the city, be assured of a calm welcome and reception, but do not think of it all as a walk-over. With an influx in the number of cars flowing in and out, the traffic can be tight for a random traveler especially at peak hours, and a boda could be a swift alternative to use as you'll find one almost everywhere. By Boda or Boda boda, we  mean Motorcycle taxi for the uninitiated. You might know them as Okadas if you hail from Nigeria.
Tricycle Taxis  also known as "Keke" in Nigeria or Tuk-Tuk popular in coastal areas like Mombasa or South East Asia are not common in Kampala because they were banned. A few are used for logistics but not passenger transportation.
Advertisement - Continue reading below
So what else should you know before taking a boda ride within Kampala? Is it just any boda, or should you hail with an app? We recommend the latter, because it is much cheaper, convenient, and won't keep you wondering how safe you are. However, there is much more to it than just deciding. Read on.
Get a SIM card
The first thing to do, especially if you plan on spending more than week within the city, is to get yourself a SIM card – that's if you don't have one yet. A SIM card will be helpful if you need to access local mobile data from your mobile phone, to make calls for service delivery and assistance, as well as to communicate with a few friends within the city and country.
The options tochoose from are many depending on the exact service you would like to receive, but the assurance you can have is that majority of the networks perform pretty well within the city. It can be MTN Uganda, Airtel Uganda, Africell Uganda, or Uganda Telecom. The process of acquiring a card is not any hard, all you need to have is your passport on you – and the knowledge of where to get it from.
For an MTN SIM card, you can visit Shoprite-Clocktower along Ben Kiwanuka street, Shoprite-Lugogo Mall, Forest Mall, Mukwano Mall, Kyaggwe Road and Kampala Road, Opposite Bank of Uganda.
For an Airtel SIM card, you can visit their Ntinda shop (opposite the mosque), the Head office shop (Clement Hill), Plaza-Jinja road opposite KCB, and Forest Mall shop-Lugogo bypass.
For an Africell SIM card, you can get a card from their Head Office shop and from Boulevard along Kampala Road; for a Uganda Telecom SIM card, you can get one at Shoprite Clock Tower- Ben Kiwanuka Street, Shoprite Lugogo Mall and Telephone House Business Center.
Advertisement - Continue reading below
Download a boda-hailing app
You could have made a choice of the boda-hailing brand you will ride with, I don't want to change or bias your mind. All you need to know is that we have a really competitive industry within the city. Besides the inaugural SafeBoda, 2018 alone has given birth to three names – Taxify Boda, uberBoda, and Dial Jack; with many more on the way.
So you can be sure of getting a boda ride across the city on any of them. Here's how to download the apps;
After downloading the app(s), you can take time to familiarize with how it works, as well as contact support for assistance. Note that your newly acquired SIM card will come in handy here. You will need the phone number to register with the boda-hailing app, and the network to get a mobile data plan that will get you going. These apps run on an active internet connection.
Request for a boda ride
Before you begin on your journey, know your destination and pick up location. These will guide both the boda driver that will pick you up, as well as to assist you in case you get a problem. Once you are ready to travel, feed in the details of your journey in the app interface, and request for the ride.
You should receive a call from the driver to pick you up, to confirm your location and to clarify on the amount of time you should wait.
Note the Rider/Driver Number
Your safety begins at this point. As the driver is on their way, note down their number and phone contact. This is because once they show up at the pick up location, the number reflected on the app should be similar to that on their helmet or reflector jacket. Otherwise, in case you get into any form of trouble with this particular rider, you can have a starting point when submitting a report to the customer support or the police.
If at all the rider arrives and, God forbid, they are not the reflection of what you saw on the app, abort the trip and inform them that you are not satisfied or ready for the trip. Go ahead and request for another ride.
Advertisement - Continue reading below
Request for an helmet
When the rider arrives, the perfect greeting is Gyebale ko (pronounced je-ba-le-ko), a very common luganda greeting for "Well done on your duties". Be sure for a rider smiling back in gratitude. If the rider is the one that contacted you, and you are comfortable to begin the ride, ask for an helmet. The rider should have a second helmet available for you, for your security and comfort.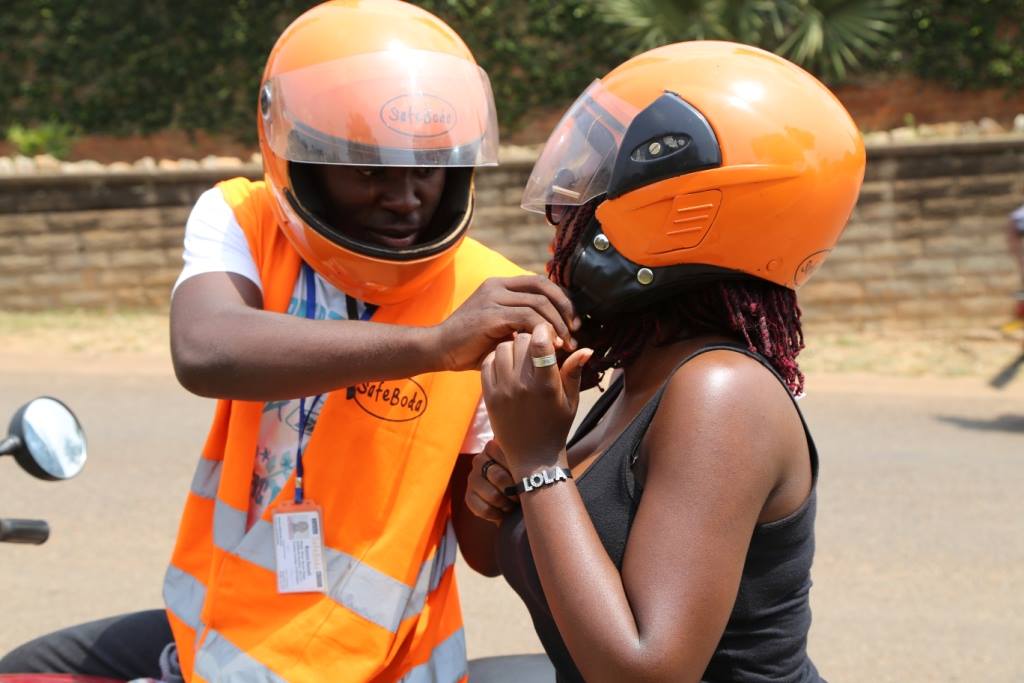 This helmet should also have the same number as on the rider's helmet and his reflector jacket. With an helmet should come a hairnet, to protect your hair from any dirt and dust that could have accumulated in it. So, it's your right to have one as well. If all is set, you can hop onto the boda for the ride.
Use Maps to track traffic and your motion
If Kampala is not your usual place, it is good if you open your Maps app to track your boda movement. The interesting thing about the Maps, whether Google or Apple, is that you can easily get the route on the go – as long as you have input your destination.
---
Related: Google Maps navigation now shows live traffic updates for Kampala
---
So, go ahead and punch in wherever you are heading to, and ask the app to give you directions. As the boda moves, the navigator on the Maps app will also be directing you on the alternatives to take, which will make you travel much more like a Kampalan. You can even tell the rider to make a turn, if that is what Maps is asking you to do! While you are at it, Google maps now shows live traffic updates around Kampala, so you want to use routes that have less congestion to make your ride even safer on a Boda.
Along the way, riders are always free and friendly to chat with. You can ask about whatever thing you see or could have missed, and be sure to get a bit from them.
Advertisement - Continue reading below
Reaching your destination
After reaching your destination, the rider should stop the trip, and a price break down will pop up on your phone and theirs. This break down comprises of the base fare, the price per kilometres, and price per minutes spent on the trip. You can compare the prices on our Pricegator.
After confirming that the price is as it should be, make payment and rate your rider. This should be a sincere report on how the ride has been, and customer support usually follows up on it.
So are you visiting Kampala and you want to get a ride taste of the city of 7 hills, get a Boda. It's the fastest and cheapest means of transport, but not the safest! If you are travelling in a group or have kids, you want to consider a real car. The chaotic public Taxis or Matatus or Uber/Taxify will do just fine.
Images; Safeboda Facebook page