When you want to quickly beat Kampala's Jam, you need a Boda boda not data bundles. That's why Safeboda has teamed up with MTN Uganda to offer you their app completely without internet.
Today, Safeboda has announced on their Twitter account that you can simply hail a ride through their app without data. This of course will only work for users on the MTN network for now.
Advertisement - Continue reading below
You can now use the SafeBoda app with zero data!

We are excited to announce that #SafeBoda and @mtnug have partnered to give customers access to the #SafeBoda app at zero MBs.

Simply open your app and order for a ride with your frequent locations. pic.twitter.com/aXSz8r9tru

— SafeBoda (@SafeBoda) May 4, 2018
MTN confirmed the deal from their Twitter too.
Advertisement - Continue reading below
You can now get your @SafeBoda ride at zero MBs. Just tap on the SafeBoda app and order a ride. You don't need MBs to use the app. #MTNPulse pic.twitter.com/f3TydpK1iE

— MTN Uganda (@mtnug) May 4, 2018
---
Related post: SafeBoda Updates App With Pairing Feature; The Nearest Rider is Yours!
---
But there's a caveat. Location search doesn't work on zero-rated platform as well as price estimations according to some users;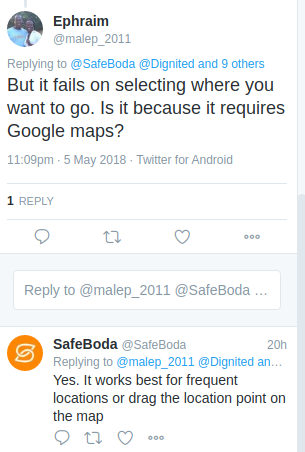 Safeboda wants to cement its position as the leading Boda boda hailing service in Uganda at a time when both Taxify and Uber added Boda feature to their app. The company is also rumoured to be expanding to Kenya after raising another round of seed funding from investors.