Safaricom's plan to take over the music streaming industry hasn't exactly been overly successful. Songa by Safaricom which was launched in February this year is the company's take on the world of music streaming, offering users access to millions of tracks, both local and international at a daily, weekly or monthly subscription fee.
Songa's uptake by the market has been slow but steady and they're just now hitting the 100,000 downloads mark. One of the factors for this could be attributed to the "less-Kenyan-friendly rates". Songa costs Ksh 25 per day and at launch. Later on Safaricom added a Ksh 150 weekly plan and a Ksh 500 monthly plan that offer complete access to the entire Songa music catalogue.
Advertisement - Continue reading below
Songa sasa ni shilingi tano kwa siku. #SongaNaTano

Furahia kudownload mziki ukistream bila kutumia data. Ina design mpya iliyo rahisi kutumia.

Stream sasa bila matangazo wala kukatizwa.

Download na uupdate app yako ya #SongabySafaricon sasa. pic.twitter.com/qfve4DUp28

— Songa by Safaricom (@songamusic) August 24, 2018

Today, Safaricom is seeking to boost the app's uptake by lowering the subscription fees. Safaricom has introduced a Ksh 5 per day plan dubbed Songa Gold. On this plan, users get access to all local and African music and to select international music. The Ksh. 25 daily plan, Songa Premium, still exists and that offers users complete access to the entire Songa Music library.
Advertisement - Continue reading below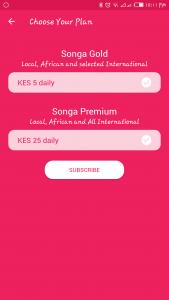 Data Free Streaming:
Safaricom has announced that users can now download an unlimited number of songs on Songa which will allow them to stream the downloaded songs offline. This is what Safaricom is referring to as "data free streaming". A little misleading if you ask me, but oh well, that is Safaricom.
The real issue with Songa
For all that Songa is and what it stands for, it still falls short of what is expected from a music streaming platform. For the average Kenyan, Songa offers an easy way to access tons of music at a fair price and that, that is all most people could ask for.
For the techie however, that just doesn't cut it. Songa's app for Android has grown in the months since its initial launch but still remains in beta, with bugs like random crashes when streaming music or automatically logging users out as well as failed new user sign-ups. Also, Songa doesn't quite offer a free tier music streaming plan. Without a subscription, users are stuck with 15-second previews of tracks. This limitation extends to Live radio, rendering Songa useless without a subscription.