The rate of technological innovations advancements in the tech world —particularly the smartphone ecosystem— is interesting, yet alarming. New features, trends, and developments are springing up as fast as they can… and these OEMs show no signs of slowing down either; they all want to be at the top of their games.
The dual rear camera trend began as far back as 2011 with LG and HTC but didn't really become a craze among many OEMs till about 2 years ago. Huawei, earlier this year, took things a step further when it pioneered the tri rear-camera technology on the Huawei P20 Pro. And while the next thing we expected to see (not even anytime soon BTW) was, maybe, a quad rear-camera smartphone, Nokia seems to have something else planned — 5 frigging camera lenses on the rear of its upcoming flagship device.
Advertisement - Continue reading below
Albeit there is no official confirmation to the above claim, there are rumours and image leaks that ups the likelihood of a Penta-Camera smartphone from HMD Global in the future.
The image above was obtained from popular gadget aggregation, rating, and discussion platform, SlashLeaks. The pictured device carries a Nokia label and a couple of other Chinese inscriptions on a tag.
The device looks very much like a prototype or a test device. The Chinese words on the tag translate to:
Sample Name: AOP. SKU3 Project Name: AOP
Sample delivery date: 2018-08-30 Sample donor: Zhang Dongfeng
Sample Information SN: AOPGA3H880300368 Extension:
Application No.: LH20180802080 Mobile:
Number of samples submitted for application: 5
"Speed ​​requirements: general parts
Test item: high temperature and high humidity test
(Note: EnvironmentFTC (LH)
The highlight of the image, however, are the number of image sensors embedded on the device. Although it seems as though there are six lenses and a LED flash but in actuality, the leaked image has a total of 5 camera sensors and a LED flash (as confirmed by NokiaMob).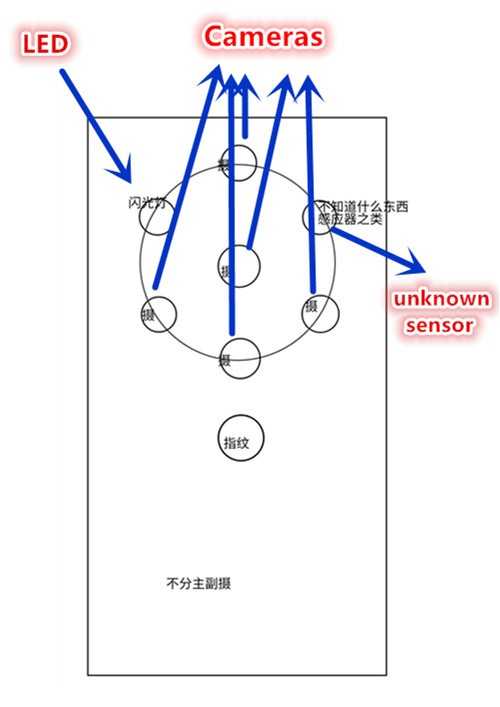 Advertisement - Continue reading below
Digging deeper, we found that only one of the 5 lenses is a regular lens. The other four are special function lenses: Monochrome lens, RGB lens, Telephoto lens, and a Wide Angle lens.
These lenses aren't entirely new as quite a number of OEMs have featured them on their flagships in the past. What is, however, new is these 5 lenses combined together on a single smartphone. That's some hot and unique stuff that, if true, will catapult smartphone photography (or phonography as it is colloquially called) to a whole new level.
No codename has been appended to this rumoured device yet. It is believed to be Nokia 9 though, succeeding the Nokia 8 that was released in the fourth quarter of 2017. For some reasons, some sources think, like Apple, Nokia will skip the '9' and name the device the Nokia 10.
The upcoming 5 camera Nokia smartphone would be an interesting piece of device if it comes to life. To add, if Nokia manages to pull this Penta-camera smartphone off at a time when many (big and small) brands are still sluggish about jumping on the tri rear-camera bandwagon, the Finnish OEM will definitely score a huge point.
Any thoughts about this rumoured Nokia Penta-camera smartphone?