It is no secret that the future is a smartphone with no bezel hugging the screen, at least that is the direction things are heading. The idea of a smartphone with an all screen surface sounds very appealing and looks quite good too. We have seen other smartphones like the OnePlus 7 Pro, Oppo Reno 10x Zoom, Xiaomi Mi 9T and the Lenovo Z5 Pro all having a full screen.
They all look absolutely stunning with a full screen going virtually from edge to edge with no ditraction in the form of a notch or punch hole. There is a catch though, all these smartphones have a pop up / sliding / rotating or a combination of any of them.
Advertisement - Continue reading below
Furthermore, you also have an underscreen camera as shown by Oppo still being perfected all in a bid to create the 'perfect display'. The notch trend is waning and you might be wondering why it is still on the iPhone 11 series.
Read More: Super Retina XDR: What you should know about the iPhone 11 Pro display
Why the iPhone 11 series still have a notch
Apple has invested quite a lot in their Face ID technology which is the successor to the pre-existing Touch ID on iPhones. Since it is the only proprietary means of unlocking your iPhone biometrically. The notch itself is a move to create more screen space thereby eliminating the chunky bottom bezel alongside the Touch ID/home button. However, Apple is big on security, more so than aesthetics it appears considering the fact that it is still keeping the notch.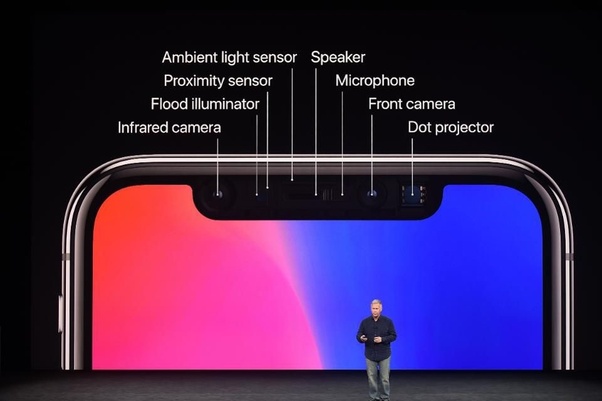 Although the notch on the iPhone 11 is smaller, the major reason for the notch being there is for the Face ID system. As we have seen in other smartphones, you can find a way around the proximity sensor, speaker, ambient light sensor and front cameras save for the ones involved in Face ID. There is no way you would do this without sacrificing the integrity of the Face ID security. With the new Face ID on the iPhone 11 series said to recognize vein pattern on users faces and also provide an in-depth mapping to differentiate identical twins.
All of this can't be done without the notch in place for now because they can't be hidden under the screen or squeezed to the edge of the screen. Apple is definitely not going to sacrifice the efficiency of the Face ID for a full screen which is why it's Face ID is by far the best at the moment.
Conclusion
The only way to get rid of the notch for now, is to bring back Touch ID as an under-display fingerprint scanner to replace Face ID but we all know that won't happen. Unless Apple finds a way to take the Face ID system from the notch which is very unlikely, the iPhone 12 series will have a notch too.
Advertisement - Continue reading below