Hard cash seems destined to disappear with the emergence and growth of the digital world. We've actually gotten to the point where we have digital taxi hailing businesses. Here I am to expound on a digital payment system, very popular in China and fast gaining prominence in the world over. This payment system is called Alipay.
Alipay is a virtual payment platform launched in 2004 by the Chinese private firm Alibaba Group which was founded by Jack Ma in 1999. One of the first start ups of this Alibaba was the online shopping platform Taobao. Alipay was created from the need to give Taobao users a safe and practical method for making payments on this platform.
Advertisement - Continue reading below
What is Alipay and how does it work?
Alipay is a virtual payment platform that by protecting the consumer's privacy, allows you to make safe payments online.
Alipay cooperates with about 65 financial institutions, among which are Visa and Mastercard, so if you already have a credit card all you have to do is download the Alipay app and register in a few simple steps. However, some of the fuctions only work if you use a Chinese credit (or debit) card.
Once you finish downloading the application, open it and proceed to the registration: you'll first be asked to enter your cell phone number, later you'll receive a message with a numeric code that you'll have to enter in the app to continue with your registration.
On the Alipay home page, will open, you will have to add your credit card. To do this, access your profile by clicking on "Me" and then click on "Bank Cards" and proceed with the compilation or requested information, such as credit card number and your name and last name. Later Alipay will ask you to also enter a password to allow you to make payments with this application.
How to pay (or receive money) with Alipay
The application has two useful buttons: "Scan" and "Pay". The "Scan" button is for scanning QR codes. When paying at some stores and restaurants they'll ask you to scan their QR code on your phone to then enter the amount to pay along with your password to enable payment.
The "Pay" button will make a bar code appear on the display of your smartphone to show in restaurants and scanner-equipped stores for payment: your bar code will be scanned and without even having to enter your password the money will be directly transferred from your account.
Advertisement - Continue reading below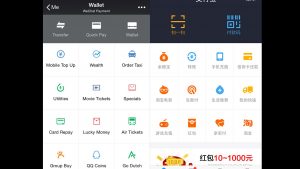 Alipay has many other interesting uses, for example the "Collect" button that opens a new QR code to show people who owe you money. You can specify the amount that they owe you by clicking on "Specify an Amount" before having them scan your code or letting them enter the amount they have to pay you back.
---
Related Article: How to easily set up we chat payments
---
The Chatting Function
The Alipay app works similar to Wechat and allows you to chat with friends: click on "Friends" and it will open up a page with your friends on Alipay, to add new friends, just scan the QR code of the person you want to add to your page. You can use this chat to transfer money over long distances by using the "Transfer" button inside the chat.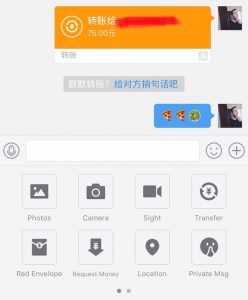 Alipay also helps you keep track of your transactions. Do so by clicking "Me" then on "Transactions" and then you will be able to see a history of transactions on Alipay, with a list of all the payments made.
The "Balance" button, indicates how much money is left in your Alipay account. This application however doesn't tell you how much money you have available on the credit card tied to it, but only the money you have available in your Alipay account.
Alipay has lots of other features like booking a taxi, booking food at a restaurant and booking other services. With this, it is safe to say that Alipay truly simplifies many aspects of your day to day life. With this however comes increased dependence on your phone, if the battery dies or it breaks, you're literally finished.
Advertisement - Continue reading below