It's is of great importance to identify the version of the Bluetooth version that your smartphone supports. If the devices connecting to your new smartphone also support the latest standard, there will be greater efficiency and performance and likely less interference.
Bluetooth is a wireless technology standard for exchanging data over short distances using short-wavelength UHF radio waves in the ISM band from 2.4 to 2.485 GHz. It was invented in 1994, originally conceived as a wireless alternative to RS-232 data cables.
Advertisement - Continue reading below
There have been 10 iterations of the Bluetooth standard, Bluetooth 5 being the most recent one. Bluetooth exists in several products such as telephones, speakers, tablets, media players, robotics systems, laptops, and console gaming equipment as well as some high definition headsets, modems, hearing aids.
The Bluetooth version supported by your device determines what features you have access to. Bluetooth 4 and 5 are currently the most popular versions found on smartphones, laptops, headphones, speakers and earbuds. Bluetooth 5 is twice as fast as 4.0, supports longer distance up to 40m indoors compared to 10m with the previous version and features better power management. Bluetooth 5 is backward compatible with Bluetooth 4 ensuring that newer products can still work with older models.
To make the most of your device supporting Bluetooth 5.0, you want to make sure that the device they are connecting to also supports the same latest standard. Otherwise, you'll be limited to features of the oldest Bluetooth version both devices support. For instance, if your smartphone has Bluetooth 5 and connects to wireless headphones with Bluetooth 4, then you'll be limited to only features supported by Bluetooth 4.0.
Now almost every smartphone comes with Bluetooth. But knowing the Bluetooth version your phone suppo
Method 1: Here are the steps to check Bluetooth Version of Android Phone:
Step 1: Turn ON the Bluetooth of Device.
Step 2: Now Tap on Phone Settings.
Step 3: Tap on App and Select the "ALL" Tab.
Step 4: Scroll Down and Tap on Bluetooth Icon named Bluetooth Share.
Step 5: Done! Under App Info, you will see the version.
However, make sure that you power on the Bluetooth or otherwise the info won't show! This method will most likely not work for most people, so we check on Method 2 & 3 below.
Method 2: Check the device Specs sheet
If method 1 doesn't work and it won't work for several phone models, then you can find the Bluetooth version of your smartphone by reading the Specs sheet. Gsmarena has a pretty comprehensive database of smartphones and their specs, so you can search for your phone check the Bluetooth field. This is by far the most reliable method.
Advertisement - Continue reading below
Method 3: Install Bluetooth checker App
Alternatively, you can install a Bluetooth version checker on your phone to make the process easier for you. There are many apps that can do this on the Google play store, find one by making a quick search.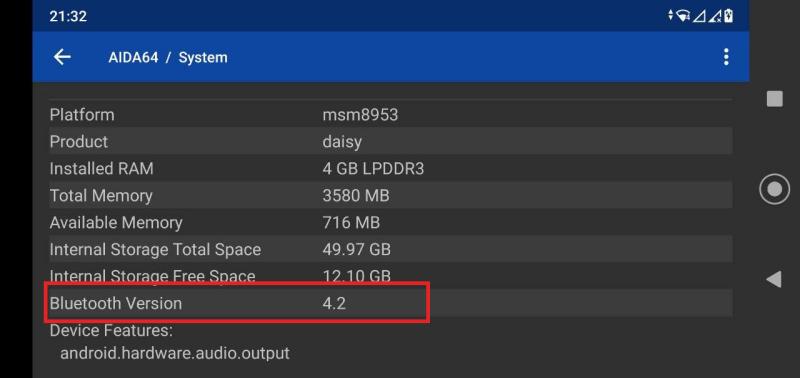 I would recommend AIDA64. If you download and install it, simply tap system and then scroll to the Bluetooth row.
Update: Here's a video we made on how to tell Bluetooth version on your smartphone. 
Can I upgrade Bluetooth version?
You cannot upgrade the Bluetooth version of your phone to a newer version. This is because the wireless radio is part of the SOC. If the hardware itself only supports a certain Bluetooth version, you can't do anything to change it.
You might like: Tips to stay safe from Bluetooth hacks