An apple a day, keeps the doctor away. But what if it's time to find a doctor's advice? Introducing Mirembe chat bot, an artificially intelligent health adviser that helps you make health decisions based on your symptoms. It offers free triage and care advice to health symptoms in Facebook Messenger
Mirembe chat bot is the first of its kind in Uganda and the entire African continent. Made by The Medical Concierge Group (TMCG), the new chat bot is custom-made as a female personal health adviser named "Mirembe". 'Mirembe' directly translates to "Peace" in Luganda, a widely used language in the Central area of Uganda. It offers free triage and care advice to health symptoms in Facebook Messenger.
Advertisement - Continue reading below
In 2017, Facebook challenged developers in Africa to create innovative bots in the Bots for Messenger Developer Challenge. Chat bots possess an interactive ability and are programmed to process natural language. When someone interacts with a chat bot, it scans their message for a trigger and responds with predefined messages.
Mirembe's AI is crafted to process the health symptoms provided against a user's age, gender, symptom severity and any known medical problems to provide a triage recommendation and advice.
How to use the Mirembe chat bot in messenger
To interact with Mirembe chatbot, a user must open Facebook Messenger, type "Mirembe" in the search tab and then search or by simply following the direct link http://m.me/mirembebot.
When you click open Mirembe in Messenger for the first time, select the "Get Started" button. For users that have already interacted with the bot, just say 'Hi', and Mirembe will be at your service.
After introducing herself briefly, Mirembe will get straight at what she does best. Checking Symptoms. She will then ask the user a few questions to provide the best advice. Just like Human doctors, she expects the user to answer them accurately.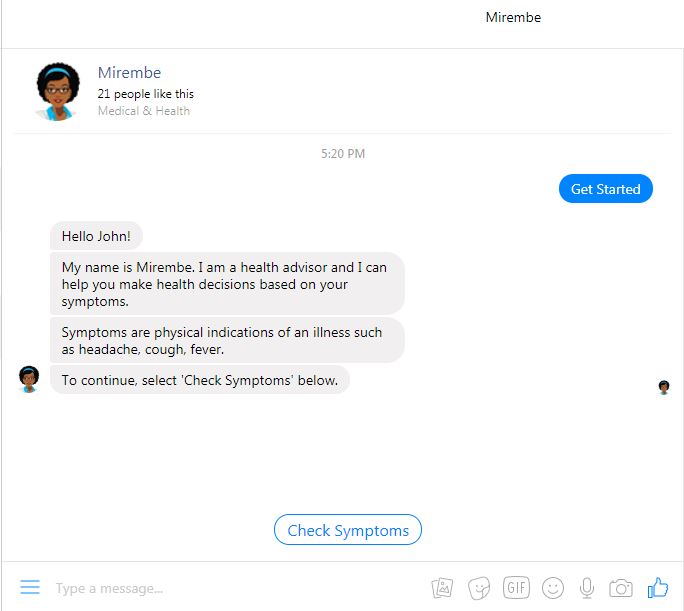 Advertisement - Continue reading below
After establishing who the checkup is for, the user's age, sex and location, Mirembe will then ask them to tell her about their health issues in their own words. This can be brief for example "I have a face rash" or detailed for example "I fell down and hurt my wrist and now my wrist is very swollen."
Like a pro, Mirembe Chat bot will instantly determine what the user's health issue is and will then ask them further questions regarding that health issue. The next couple of questions will help Mirembe make a report that answers three main questions. "Do I need to see a doctor? ", "How serious might this be?" and "When and where should I go for care?".
The Doctor says: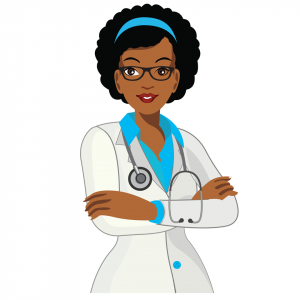 After asserting that she's not meant to replace the users doctor or your doctor's medical advice, diagnosis or treatment, Mirembe Chat bot gives her recommendation. Her recommendations show the level of emergence on how soon you should see a doctor. It's a gradient that turns from Green, to yellow and to Red if the matter is very severe.
For further assistance, a user can request a callback from qualified and licensed Medical Doctors at The Medical Concierge Group (TMCG).
We talked to some personnel at TMCG about how many people use the messenger-based service currently. However, he could not establish the numbers right now since it is still early days for such comments. Nonetheless, he noted that the company has more plans this year of furthering the integration of advanced AI into their tele-medicine offerings. "We know that so many people spend a lot of time on social media platforms. Mirembe will provide faster and more accurate clinical decision support to reach even more people in Africa." he said.